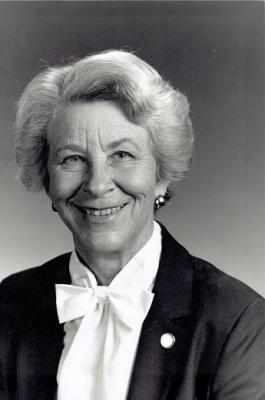 The Honorable Ruth May Robinson, of Jonesborough, passed away on April 28, 2016 after a protracted illness.
Mrs. Robinson, a lifelong resident of the area, was a proud homemaker, mother, grandmother, and great grandmother. She also served the citizens of Washington County and the state of Tennessee as an educator, business person, legislator, and volunteer.
She was born Ruth Marie May on June 11, 1921, the daughter of Pearl and Blain May.
She graduated from Washington College Academy in 1938 and earned a Bachelor's Degree in 1942 from State Teachers College, which would later become East Tennessee State University, and she then became a certified teacher.
She married Palma L. Robinson and for many years helped operate the family dairy farm. Mr. Robinson was elected to the Tennessee State Legislature in 1969, and upon his death in 1981, Mrs. Robinson was appointed to fill his unexpired term. She continued to be re-elected to fill that seat until her retirement in 1991. During her time in the Tennessee General Assembly, Mrs. Robinson was a member of the Agriculture, Health, Human Resources, and House Ethics Committees. Additionally, she was named ETSU Outstanding Alumna in 1993, served on the National Dairy Board, the Washington County Farm Bureau Board, and the Mountain States Health Alliance Washington County Board of Directors. She also served as an elder and Clerk of the Session at Salem Presbyterian Church, chair of the Area Council on Aging, a member of the Advisory Committee of the Jonesborough Senior Center, and a member of the Board of Directors of the Appalachian Girl Scout Council.
Mrs. Robinson is survived by her daughter Pamela May Robinson, her son Robert David Robinson, her grandson Ryan Robinson, her granddaughter Romilly Ruth Robinson, along with Romilly's husband Brian Hailey, and her great granddaughter Sadie May Hailey.
Mrs. Robinson's family would like to thank many of the people at the Christian Care Center of Johnson City and also close family friends Carol Crosswhite and Cassie Watts for their assistance in caring for her.
In accordance with Mrs. Robinson's final wishes, there will be a visitation at Dillow Taylor Funeral Home on Tuesday, May 3rd from 4:00 to 7:00 PM, and her ashes will be scattered at a later date by the family.
It is requested that in lieu of flowers, contributions be sent to the American Alzheimer's Association 207 N. Boone Street Suite 1500 Johnson City, TN 37604.
01/13/2019
Robert Emerick
Ruth, it was a pleasure meeting with you the year of 2014. It was a pleasure meeting with a descendant of Casimir May, who came to America the year of 1773 with my ancestral grandfather, Andreas Emmerich and a friend, Caspar Adam. Leaving Langendiebach, pre Germany, arriving at the port of, Philadelphia, Oct 19, 1773, Ship Charming Molly. Robert Emerick. remerick@ligtel.com
Pam & David - My deepest and sincere sympathies for your loss. I have many cherished memories of you Mom from the political arena working side by side with your Dad and beyond. But my most fondest memories of those from the bowling alley, softball fields and just hanging out at the farm since moving back from TX. She was a fantastic woman and will be truly missed.
My sincere condolences for the loss of your mom. She will never be gone as long as you keep her in your heart and remember all that she contributed to her family and community.
05/02/2016
Marilyn Goodman, Jerry and Beverly Lovegrove
Pam, David and family, We are so sorry for your loss. Your mother was a wonderful Proverbs 31 woman. We like to think that she was paroled from the prison of Alzheimer's disease. We are happy your mother is now healed and in the arms of Jesus. We have also traveled the long painful journey of Alzheimer's disease with our mother since 2002. With prayers and sympathy, Shirley Shadden's family at Christian Care
05/02/2016
Steve and Linda Greenwell
David and Pam - God bless you and give you peace and comfort. Know your mom was very special to you and that you loved her deeply. Praying for you and your family.
05/01/2016
William W. May
I have many fond memories of cousin Ruth and summers visiting the home place with my dad. My deepest sympathy to her family and friends. Bill May
05/01/2016
Carolyn Enkema Harkey
Bob and Family, My condolences in the loss of your Mother. I read her Obituary and she and your Dad sounded like very special people.
David and Pam, I send my most sincerest of sympathies on the loss of your special mom. She was quite the lady, and I know you were such good kids to her. May you find peace in happy memories.