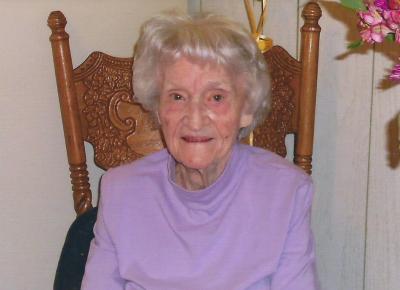 Mrs. Goldie Ann Aldridge, Jonesborough, passed away Wednesday, February 3, 2016 on her 97th birthday, at the Agape Nursing & Rehab Center.
Mrs. Aldridge was born in Washington County and daughter of the late Eli & Lavada Bell Masters. She was also preceded in death by her husband, Albert E. Aldridge, daughter, Sylvia Sarvis, three brothers, William Arthur, James Howard and William Eli Masters, Jr., sisters, Ruth Masters and Jessie Violet and an infant brother, Wayne Wallace Masters.
She was of the Baptist faith. She was a loving, mother, grandmother and great-grandmother. After the death of our father, our mother raised us and we never wanted for anything. She taught us that through hard work anything is possible.
Survivors include two sons Gordon Aldridge (Betty) and Kelly Aldridge (Dinah); two daughters, Lana Phipps (Jess) and Shiela Aldridge, of the home; eight grandchildren, Amy Phipps Smith, Holly Weyers, Haven Taylor, Tim Phipps, Travis Phipps, Russell Sarvis, Brandon Aldridge and Scott Aldridge; thirteen great-grandchildren; and two step great-grandchildren.
The family would like to send special thanks to Agape Nursing & Rehab for the loving care given to Miss Goldie.
Funeral services will be conducted 2:00 pm Saturday, February 6, 2016 at the Dillow-Taylor Funeral Home with Rev. Gary Seaman officiating. Music will be provided by Jennifer Armstrong. Interment services will follow at Seviers Cemetery.
Pallbearers will be Tim Phipps, Travis Phipps, Norman Smith, Russel Sarvis, Jerry Taylor and Brandon Aldridge.
02/11/2016
Marjorie (Brooks) Kipps
Gordon, Kelly, Lana & Sheila I was so sorry to hear of Goldie's death. I have very fond memories of her when I was growing up and living up in the woods above her house. One of my best memories is that she gave me my very first glass of orange juice. May God give you strength and comfort at this time. Love, Marjorie
02/06/2016
Linda Hatcher Tolley
The family of Bert and Effie Coffee send our condolences to the Aldridge family! I can remember when I would visit my grandparents we would always go visit Ms. Goldie! I can remember her being such a sweet lady! Linda Hatcher Tolley Lavonne Emmert Hatcher Connie Hatcher Hicklin Nancy Hatcher Fender
02/05/2016
Paul and Debbie Masters
Dear Gordon, Lana, Kelly and Shiela: You are in our thoughts and prayers during this loss of your mom. We loved Aunt Goldie very much. She was a wonderful lady. She will be missed very much. May God Bless You. Love, Paul, Debbie, Landon, Andrew, Kari and Colton
02/05/2016
Steve and Martha Ottinger
Gordon, we just read in the newspaper that your mother had passed away and are so sorry for your and your family's loss. Our prayers are extended to all that survive her. May your bereavement be consoled by the Almighty God whose compassion is without limit.
I am sorry for your loss. I have heard so much about Miss Goldie from Paul and Debbie Masters. They loved her dearly. May you find peace knowing that she is in a much better place.