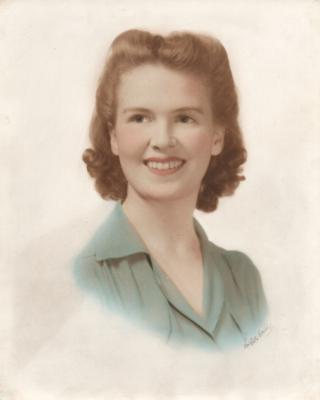 Lena Frances Moody DeLoach passed away Monday May 4, 2015 at the Life Care Center in Gray. She was born on August 13th, 1920 in Pulaski County, Kentucky, the daughter of the late Robert Lafette Moody and his wife Aleatha E. Tolley. Her mother died when she was 8 years old, so she helped raise her younger brother and sister.
She grew up during the Great Depression, and her family moved several times between Kentucky and Tennessee seeking employment. In 1938, she met and married Javan Astor "Mike" DeLoach in Johnson City, Tennessee. Over the next 25 years, they had five children: Michael in 1938, Craig in 1940, Eric in 1947, Joseph in 1960 and Jane in 1963. She liked to tell people that she had children in school for forty years, Michael starting school in 1943 and Jane getting her master's degree in 1987.
Lena and her husband loved the outdoors, taking frequent hikes in the mountains with the children. She also enjoyed Sunday car rides and picnics, and she dearly loved her farm.
Lena was a traditional stay at home mother for most of her life. She was a Den Mother for Pack 38, sponsored by the Calvary Presbyterian Church. In 1959, they bought a farm in the Fairview community of Washington County, Tennessee. There, the family became members of the Fairview United Methodist Church.
After her youngest children were in elementary school, Lena got a job in the cafeteria at Jonesborough Middle School. During that time, she went to night school and got her high school GED diploma. After getting her diploma, she worked in the math learning lab at Jonesborough Middle School. Her husband Mike DeLoach predeceased her in 1996. Left to grieve her passing are her five children: Michael and his wife Dorothy, Craig, Eric and his wife Judy, Joe, Jane Morison and her husband Whit; nine grandchildren, thirteen great-grandchildren and one great-great-granddaughter.
The family will receive friends on Thursday, May 7th from 6:00 until 8:00 PM at Dillow-Taylor Funeral home in Jonesborough. Graveside services will be held at 11:00 AM on Friday, May 8th at Fairview Cemetery, with Rev. Dennis Loy officiating.
Pallbearers will be family and friends.
05/06/2015
Herman and Nancy Tester
Please accept our sincerest condolences on the loss of your wonderful mother. Those of you we have the pleasure of knowing and had the pleasure of working with in school reflect just what a great mother she was. We are sorry for your loss and wish you the best. Love. Herman and Nancy
05/06/2015
Liz Nolen Hillick
Sorry to hear of your loss. Lena was a wonderful person with a loving family. I know she will be deeply missed.
05/06/2015
Michelle Pippin,RMA,CNA
I had the pleasure of assisting Lena at Wellmont Madison House. She was very proud of her children and often bragged of their achievements. Prayers for the family. I know she is missed.