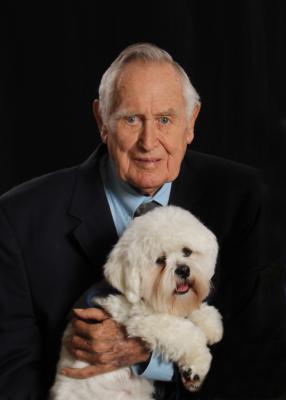 Mr. Jack Cope, age 86, Jonesborough, passed away Tuesday, April 1 2015 at the Johnson City Medical Center.
Mr. Cope was born in Sylva, North Carolina son of the late Dillard and Hattie Grace Sherrill Cope. He was preceded in death by his son, Robert Michael Cope.
Mr. Cope was a United States Army veteran and was wounded in Korea. He retired from General Telephone Company in Florida, where he was a supervisor of telephone equipment installers. Mr. Cope was a lifetime Master Gardener, member of the Southern Appalachian Plant Society, and a member of the Watauga Valley Chapter of the National Railroad Historical Society where he worked as a member of the mechanical crew.
Survivors include his wife of 62 years, Jeanne Cope, Jonesborough; son, Charles Douglas Cope, California; daughter-in-law, Carolyn Cope, West Virginia; granddaughters Corinna and Delilah, California, and cousin Walter Cope, South Carolina.
A memorial service will be held April 23rd, 2015, 2 PM, at Jonesborough Prebysterian Church.
In lieu of flowers, Jack requested donations be made to the George L. Carter Railroad Museum on the campus of East Tennessee State University (P.O. Box 70703, Johnson City, TN 37614).
Condolences may be sent to the Cope family online at www.dillow-taylor.com.
Dillow-Taylor Funeral Home & Cremation Services, Jonesborough, 753-3821
04/10/2015
GERALD W. KEENEY, Sr.
My Dear Eloise Jeanne, I was very, very saddened to learn through Richard of Jack's passing on April one. He will be long remembered by many for his quiet - kindnesses. The two of you worked through many memories-both happy and sad- with strength and love. God bless you. Always your loving brother, Jerry, and Rose.
04/09/2015
Anne Keeney Madsen
Dear Aunt Eloise... was so incredibly sad to learn of Uncle Jack's passing. I have such fond memories of him from my childhood and though we have not seen each other for a time wanted to send loving thoughts and prayers your way. Love... Anne, Sydney and Jack
Jeanne, sorry to hear about Jack, my prayers are with u. Will miss seeing him for sure. Love ya,
04/08/2015
Kathy Smith (Erwin and works at ETSU)
Jeanne: I'm sorry for your loss and I am praying for you through this time of sadness. God's peace and Grace to you and your family. Am old from a while ago. Kathy Smith Erwin
Jeanne, you and Jack have always been great supporters of the Carter Railroad Museum and were always special visitors. Hundreds to thousands of people have gotten to view and enjoy the HO layout, "The Cope Traveling Layout" that Jack donated to the Mountain Empire Model Railroaders as it has been the public face of the club and the museum at special community events around the area for many years now. Most special to me have been the biology classes you and Jack attended because of your interest in learning and your love of nature. You are both very special people and we will miss Jack very much. Know that my thoughts and prayers are with you in this time of sadness and transition. My mentor, a biologist, once said as we spoke of our mortality something I wish to pass on to you, "Death is a small price to pay for the privilege of having lived". Jack lived well. Love, Fred
Jeanne, I just read in the paper that Jack had passed away. We were in Kentucky for Easter and I did not read the paper. I am so sorry to hear of his passing. I wanted to let you know that if there is anything I can do for you during this difficult time in your life or any other time, all you have to do is call. I love you my friend and will be praying for you and your family. Please call me if you need me.
Jeanne, Love & light to you. So sorry for your loss. I'm thinking of you. Let me know if there is anything I can do for you.
Dear Jeanne, We met at the Community Center for exercise. Debbie had told me that Jack became ill and was in the hospital. I'm so sorry for the loss of you beloved mate of 62 years. May you be comforted by our God in this sad time. Pat Wroe
04/04/2015
Bram and Barbara Bekooy
We have lost a very dear friend that we will miss greatly. Each time we hear a train whistle we will remember our dear friend with fond memories and happy thoughts. Bram and Barbara Bekooy