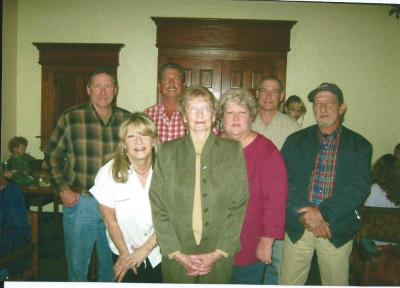 Betty Jo McCracken Hartman Webb 84, of Jonesborough, went to live forever with her Lord and Savior Jesus Christ, on March 6th, 2015. When told her, son, Eric, was waiting on her-she gladly took his hand and followed him Home.
Betty was born on November 28, 1930, at Washington College, Tennessee. She attended Bowmantown School and graduated from Sulphur Springs High School. She married Harry Gene Hartman in 1948 and was a loving and faithful wife for 50 years.
Betty was a wonderful, precious Mama to her six children. With her self-taught talent as a seamstress, she had them looking like bright, shiny pennies every Sunday morning. She was an avid reader and like her Mama served as church librarian for many years. She loved to travel. Betty was a beloved Sunday School teacher, faithfully studying her Bible from childhood. She was President of the W.M.U. for many years and belonged to the Christian Woman's Club. She taught Headstart and loved the kids like her own. She loved music and sang in the church choir for her entire life. Betty had very high standards and led by example. She believed in wasting nothing. She was a true daughter of God. She loved and welcomed all who came to be part of her family. She was very hard working and extremely intelligent. She suffered, but didn't complain. She was a beloved Mamaw to eleven, great Mamaw to thirteen and great great Mamaw to three.
Betty was a member of Sulphur Springs Baptist Church for 50 years and of Oak Hill Baptist Church for the remainder of her life.
Betty was preceded in death by her parents and her brother, Sam. She was also preceded in death by her husband, Gene, in 1998, and her son, Eric, who cared for her lovingly until his unexpected death on February 28, 2015. She was also preceded by her second husband, John W. Webb, Sr.
Betty was survived by her daughters, Sherry Hartman Hyatt (Doc), Joy Lea Hartman Horton (Bryan), her sons, Terry Gene Hartman (Sandy), Bill Hartman, and Randall Hartman (Betsy). She is also survived by her dear friend of 75 years, Betty Jo McGhee.
Funeral services for Mrs. Webb will be Tuesday March 10, 2015 8:00 PM at Dillow-Taylor Funeral Home will Pastor Victor Wallace officiating. The family will receive family and friends from 6:00- 8:00 Pm prior to the service.
Graveside services will be Wednesday March 11, 2015 11:00AM at Sulphur Springs Cemetery. Pallbearers will be her surviving children.
03/10/2015
Linda Winegar Greenwell
What precious memories I have of your mom and dad! They were both such special people and loved by everyone they met. I will never forget the times us kids played together at your mom's parent's house in Bowmantown (loved them dearly, too). This world definitely needs more people like them. You are in my prayers in the loss of your mom and Eric but rejoice they are with our Lord in their eternal home together, and we will see them again when the Lord calls us Home. May you feel God's comfort, love and peace through these difficult days.
Terry, I am so sorry to hear about your mother passing. I will keep you and your family in my prayers. Moose McGhee
When I came to Sulphur Springs Baptist and started singing in the choir, Betty took me under her wing so to speak and made sure I had what I needed, knew the in's and out's of the group, and generally made me feel at home. She gave us our first jigsaw puzzle and started us on doing hundreds of them as a hobby. I knew she had health issues, but if you asked her, she was "just fine." She was friendly and down to earth. I was pleased to count her as a friend, and I and the whole community will miss her. My sincere condolences to the family, and especially in this double loss.
03/09/2015
Charisse Peeks
Just wanted to express my sympathy at the loss of your mother and let you know my thoughts and prayers are with you.
03/09/2015
Sam and Betty Hilbert
We were blessed and privileged to have Gene and Betty Hartman and children as our neighbors when we built our house across the road from them. They were friendly and always willing to lend a helping hand when we needed them. Betty was certainly faithful to her church and made sure that her children attended as well. May God bless her family and many friends during this time.
03/08/2015
Deb and Steve Light
Betty was a wonderful Christian lady,mother,wife and friend? she will be missed by all.Thoughts,!hugs,love and Prayers for the family.She is with Eric and Gene and free of pain.hold your memories in your hearts forever.We will never the forget the cruise she went on with us and all the fun she and mama had.God Bless,Deb and Steve
03/08/2015
Brenda & David Huff
We are so very sorry to hear of the death of your mother, over the years eric spoke of her often. Eric lived next to us for 20 years and was a great friend, your mother and him are at at peace now, resting with God till we see them again. Again we are very sorry.