Ben D. Slemp
01/18/2015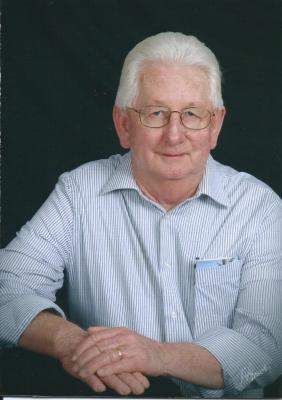 Mr. Ben D. Slemp, age 71, Jonesborough, passed away Sunday, January 18, 2015 at his residence.
Mr. Slemp was born in Johnson County and son of the late Samuel "Tine" Slemp & Lucy Cable Slemp. He was also preceded in death by three brothers, Joe Slemp, J.L. Slemp and Ray Slemp.
He loved the Lord, his dear wife, three girls and six grand kids (all of whom he spent much time with), his many friends (especially his Retired Old Men Eating Out a.k.a ROMEO buddies and church men's breakfast group), his dad's old Ford tractor, the view from his recliner, good humor (he loved to lighten the mood), honor, a warm fire, things of sentimental value, little notebooks where he recorded information to remember and nice countryside drives. He was a man who loved deeply and was deeply loved. He wasn't wealthy but left an immense and most importantly an eternal inheritance for his children's children (Proverbs 3:12). He was a cherished husband, father, "Pawpot", friend, and brother. He was a member of Cherry Grove Baptist Church. Mr. Slemp was a United States Air Force Veteran. He retired from being a Data Technician at CentryLink Telephone Company. He was also a memeber of Communication Workers of America and Lamar Ruritan Club.
Survivors include his beloved wife, Frances Cable Slemp, Jonesbrough; three daughters and sons-in-law, Angela & Mark Forget, Mendon, Massachusetts, Denna & Johnathan Boone, Johnson City and Renee & Greg Honaker, Jonesborough; six grandchildren, Matthew Forget, Shawn Forget, Joshua Boone, Benjamin Boone, Makayla Honaker and Makenzie Honaker; one brother and sisters-in-law, Ed & June Slemp, Louisana; sister and brother-in-law, Bess "Mae" & Dennis Prichard, Georgia; special cousins, Ralph Triplett and Mitch Triplett both of Jonesborough; and several nephews and nieces.
The family would like to thank the nurses and staff at Caris Hospice and the Cherry Grove church family for all their precious love and support.
Funeral services will be conducted 7:00 pm Thursday, January 22, 2015 at Cherry Grove Baptist Church with Rev. Jimmie Rogers and Rev. Tommy Clark officiating. The family will receive friends from 5:00-7:00 pm Thursday prior to the service.
Graveside services will be Friday, January 23, 2015 at 2:00 pm at Cherry Grove-Kiplinger Cemetery. Family and friends are asked to assemble at Dillow-Taylor Funeral Home to go in procession to the cemetery, leaving at 1:30 pm.
Pall bearers will be Greg Honaker, Johnathan Boone, Mark Forget, Clyde Story, Clifford Huffine, John Bannister, John Verble, and Mitch Triplett.
Leave an Eulogy or Condolence for Ben D. Slemp
EULOGIES & CONDOLENCES
01/22/2015
Brenda hartley
I didn't know Mr slemp but I knew his wonderful daughter Denna a very special lady I am sorry for your loss
01/22/2015
Loretta Adams-Chafin
It brings much sadness to learn of Ben's passing. Our prayers are for the Holy Spirit to bring understanding and peace to each of you as you go through this difficult transition. I remember Ben as a fine employee. He reported to me during 2000-2001. I found him to be a delight to work with, always willing to perform all of his duties with no complaints. I once "lovingly" told him that he reminded me of the character, Pa-Pa Smurf, who I remember as a kind, gentle soul, and a leader of all of the other Smurfs in our work group. He found this to be quite humorous. Keep all of your fond memories deep at heart and hold dear that he is safely being held in our Savior's hands.
01/22/2015
Jay and Mary Walker
Dear Bess,Dennis and Family, We know your hearts are aching at this time, but we know that your strong faith will give you the comfort and peace that only the Lord can provide. Please know that you are in our prayers and our thoughts during this time.
01/22/2015
Jeanie Davenport-Devore
Renée very sorry for the loss of your Dad. God bless you all through the healing.
01/21/2015
Roma Bowers-McCravy
I was so sad to hear of the passing of my uncle. I will always remember what a kind and gentle man he was. You are in my thoughts and prayers.
01/21/2015
Barbara Bradley
I met the family when I was only 13 years old, so Ben was like my daddy too. One of my favorite memories is when my son was a baby and Denna and I went to see mom and dad. And he was outside on his tractor so we went running through the field chasing him down so we could let Derek see his tractor. Memories i will always hold in my heart
01/21/2015
John B. Verble
What a man in the Lord! What a witness for the Lord! What a family in the Lord! What a witness for the Lord! What an honor and privilege to have our lives orchestrated together in the Lord! Ben is missed, but his legacy is great and will continue on as the Lord promises through Ben's children and children's children.
My condolences in the loss of your loved one. Love and prayers for the whole family, may GOD give you the strenght during this sad times. We love you and will miss you, Ben!! RIP
So sorry to hear of Ben's passing. My father had major surgery at Vanderbilt last Wednesday and my dad found out of his death. My dad, Dale Laughlin, retired from Sprint about 15 years ago and I too worked for Sprint and was the IT technician and remember Ben. I left the company over 10 years ago. He was really nice to me. May God be with you in this time of grief.
01/20/2015
Betty Brown Lunsford
My sincerest sympathies and prayers to you all.
01/20/2015
Chris and Denise Bennett
we are so sorry for your loose we love you all so much it was a joy to know him if you need anything please let me know we are praying your family in this time of sorrow
01/20/2015
Joel & Connie Paden
We met Ben at Cherry Grove Baptist Church and conversed with him every Sunday. We knew Ben to be a very kind and gentle man that we will miss dearly. Our condolences to all of Ben's family and friends, May God Bless.
Forget & Family, Angela so sorry to hear about your father. He was so nice and friendly the day I met him in your yard. Sending hugs and prayers. Your friends and neighbors The Round Family
01/19/2015
Gene & Linda Rutherford
We are so very sorry to hear of Ben's passing. He will be missed by so many people who knew him over the years. Our thoughts and prayers are with you.
01/19/2015
Melissa Bowers Smith & Family
Our thoughts and prayers are with you.
I'm so sorry to hear about Ben's passing. You and your family are in my prayers.