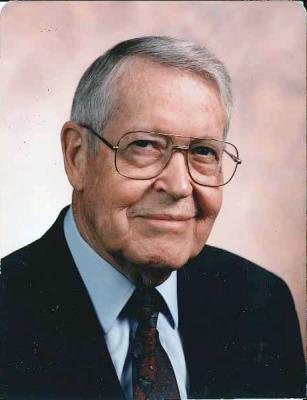 Frank Stewart Smith died at age 93 Tuesday, May 27, 2014, at the Johnson City Medical Center. He was born August 19, 1920, in Williamsburg, KY, to Walter Clyde and Jerusha Hassie Ann Smith, both natives of Upper East TN.
He is survived by Hylda Young Smith, his wife of 71 years; by daughter Nancy Ross and her husband, Calvin; daughter Jackie Weaver and her husband, Cy; son Walter Smith and his wife, Miriam; and son Stewart Smith and his wife, Beth; and by 12 grandchildren and 21 great-grandchildren.
Frank attended Stetson University, Deland, FL, 1938-40. He graduated from Butler University (A.B.), Indianapolis, IN, 1943 and from Christian Theological Seminary (M.Div.), Indianapolis, 1954.
Formally ordained to the Christian ministry by the Central Christian Church, Bristol, TN, he was minister for congregations in Illinois and Indiana from the early 1940s to 1950. After a 27 year ministry with the First Christian Church, Aurora, Il, he was minister of Grandview Christian Church, Johnson City, TN (1977-87), retiring in 1987 with the honorary title of Minister Emeritus. Twenty-five of his sermons have been selected and published in the book, I Believe in the Church, by Frank S. Smith (1997).
Frank served long tenures on numerous boards, often as president, including Christian Missionary Fellowship, Chicago District Evangelistic Association, European Evangelistic Society, and Emmanuel Christian Seminary. He was a delegate to the World Convention of Christian Churches in Edinburgh, Scotland,1960, and Adelaide, Australia,1970.
His memorial service will be Sunday, June 1, 2014 Grandview Christian Church, Johnson City, at 5:00 pm with Aaron Wymer presiding. In lieu of flowers, family and friends may send memorial gifts to Emmanuel Christian Seminary, One Walker Drive, Johnson City, TN 37601.