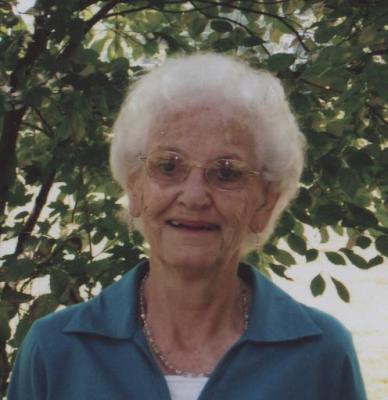 Mrs. Mildred Ruth Vaughn Britt, age 83, Jonesborough, passed away Wednesday, January 1, 2014 at Broadmore Assisted Living in Johnson City.
Mrs. Britt was born in Jonesborough and daughter of the late Ralph & Rosa Mae Erwin Vaughn. She was also preceded in death by her husband Walter Britt, Jr. in 2004, a sister and brother-in-law, Pansy & Lode Britt and two brothers, Jack Holsclaw and Carl Holsclaw.
She was a lifetime member of Mt. Zion Baptist Church and Ladies Circle.
Mrs. Britt worked at Burlington Industries for over 50 years, retiring in 1996, having worked in the weave room as a creeler.
Survivors include one daughter and son-in-law, Brenda K. & Bill Adams, Johnson City; one son, Timothy W. Britt, Jonesborough; granddaughter, Sharon Guess and husband Gary, Jonesborough; great-grandson, Dorian J. Guess, Jonesborough; brother, Ralph Vaughn, Jr., Jonesborough; special nieces, Peggy Henderson and Sherry Backers, both of Johnson City; and several other nephews and nieces.
Funeral services will be conducted 2:00 PM Saturday, January 4, 2014 at Dillow-Taylor Funeral Home with Rev. Bill Ponder and Rev. Brian Nulf officiating. The family will receive friends from 1:00-2:00 PM Saturday prior to the service. Interment services will follow at Mt. Zion Cemetery.
Pallbearers will be family & friends.
The family would like to extend a special thank you to the Broadmore Assisted Living Staff, Caris Hospice Staff and Pastor Mike Garland for their wonderful care and support.