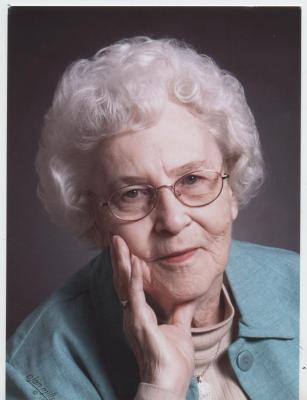 "Who can find a virtuous woman? For her price is far above rubies. Her children arise up, and call her blessed; Favour is deceitful, and beauty is vain; but a woman that feareth the Lord, she shall be praised."
Proverbs 31:10, 28, 30
With her family surrounding her, Elizabeth Ferguson, Jonesborough, passed away from this life to walk with Jesus on Saturday, December 28, 2013 at the Johnson City Medical Center.
For over 84 years, she lovingly cared for her family and the families of untold others through the years. Her compassionate heart led her to always put the needs and worries of others before her own. Her strong spirit has led her to work hard her entire life to provide and care for those she loved. Her faith has sustained her through her life of joys as well as struggles.
At a young age she left home to become a caregiver to various families to care for their children and their homes. She took a factory job and worked till her retirement from Klopman/Burlington Industries. From then on she lovingly cared for and nurtured her precious children and grandchildren until her passing. She was well known for her soup beans as well as potato soup when sickness came and the thousands of canned goods from her boy's big gardens.
She was born on January 16, 1929 to the late Jim & Osie Conley McGee. She was also preceded in death by her husband, Howard Ferguson, two brothers, James & Frank McGee, sisters, Kate Barnes, Ruby Payne and Sadie Mae McGee, grandson, Skipper Morrell and a great-grandson, Jacob Leedy.
Survivors include her children, Bob Ferguson and wife Terry, Bill Ferguson, all of Jonesborough, Carole Chandley and husband Jerry, Frances Ayers and husband Charles, all of Telford, Betty Stevens and husband Jerry, and Becky Yarbor, all of Jonesborough, and Lois Peterson and husband Randy, Gray; sister, Ann White, Jonesborough; sister-in-law, Betty McGee, Blountville; sister-in-law, Louise McCurry, Telford; grandchildren, Robert Ferguson and wife Kim, Dale Ferguson and wife Tonya, Greg Ferguson, Bobby Chandley and wife Tammie, Judy I'Dell, Reba Leedy and husband Richard, Angela Jenkins and husband David, Emily Ferguson, Logan Peterson, Hannah Peterson and Amy Morrell; great-grandchildren, Jonathan Ferguson, Cody S. Ferguson, Cody J. Ferguson, Tiffany Norton and husband David, Hayden Chandley, Hunter Chandley, Justin Bryant and wife Ashley, Rachel Leedy, Jonah Leedy and Samuel Jenkins; great-great grandchildren, Tiger Ferguson, Kayden Curtis, Ryleigh Bryant and Lyla Norton; and numerous nephews and nieces.
Funeral services will be conducted 7:00 PM Monday, December 30, 2013 at the Pleasant Valley Church of the Brethren 773 Brethren Church Rd. Jonesborough, with Pastor Don Hilton officiating. The family will receive friends at the church from 4:00-7:00 PM Monday prior to the service.
Interment services will be conducted 11:00 AM Tuesday, December 31, 2013 at Fairview Cemetery.
Pallbearers will be grandsons and great-grandsons.
Memorial donations may be made to Pleasant Valley Church of the Brethren 773 Brethren Church Rd. Jonesborough, TN 37659.