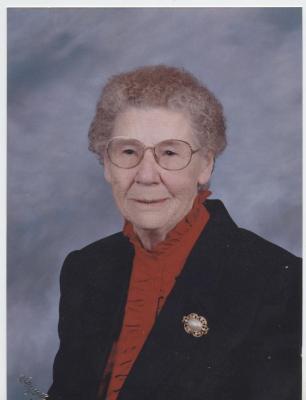 Mrs. Vada Mae Murray, age 98, Jonesborough, went to be with her Lord on Tuesday, December 3, 2013 at the Christian Care Center of Johnson City.
Mrs. Murray was a native and life long resident of Washington County, Tennessee. She was a daughter of the late George & Melinda Shelton Vest. She was preceded in death by her husband, W.O. Murray, an infant granddaughter, brothers, Orvel Vest, Ollie Vest, Bob Vest, Raymond Vest, Claude Vest, B.N. Vest and Dee Vest.
She was a life long homemaker who at the age of 53 returned to school and received her GED. She then continued her studies and became a licensed LPN and was employed by Unicoi Memorial Hospital for four years before retiring in 1972.
Mrs. Murray had been a member of Limestone Freewill Baptist Church for 60 years prior to becoming a member of Nolichuckey Baptist Church where she was a member at the time of her death.
Survivors include three sons and daughters-in-law, Dean & Jerry Murray and James & Barbara Murray, all of Jonesborough and Cleates & Phyllis Murray, Johnson City; grandchildren, Susan Schiwitz and husband Richard, Sharon Arredondo and husband John, Richie Murray and wife Penny, Bill Murray and wife Christie, Suzanne Hartley and husband Joey and Andrew Murray; thirteen great grandchildren; one great-great grandson; special nephew, J.W. Gentry, Greeneville; and several nephews and nieces also survive.
Funeral services will be conducted 8:00 PM Thursday, December 5, 2013 at the Dillow-Taylor Funeral Home with Rev. Richie Murrary officiating. Music will be under the direction of Rev. Bill Murray. The family will receive friends from 6:00-8:00 PM Thursday prior to the service.
Interment services will be conducted 11:00 AM Friday, December 6, 2013 at Roselawn Memory Gardens.
Pallbearers will be David Whisnant, Kevin Moore, Matt Tittle, Monty Treadway, Walter Vest and Jimmy Murray. Honorary pallbearers will be Dr. Charles Cole, Dr. David Jones, Rev. T.F. Lewis, Rev. Alfred Cutshall, Tom Jones, Fay Mitchell, Lowell Ramsey and Harvey Crain.
Flowers are appreciated, or memorial contributions may me made to the Nolichuckey Baptist Church 288 Hwy. 107 Jonesborough, TN 37659.