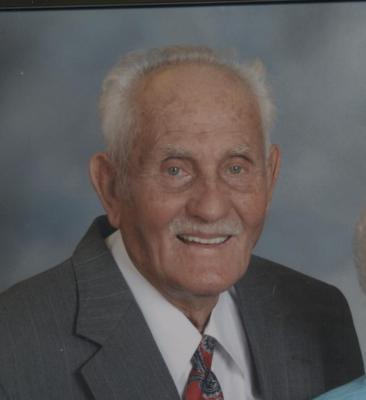 Mr. William McKinley Mitchell, age 86, Limestone, passed away Wednesday, October 9, 2013 at the Wellmont Holston Valley Hospital.
Mr. Mitchell was a native of Washington County and son of the late Hidie & Mary Estepp Mitchell. Mr. Mitchell was also preceded in death by granddaughter, Carol Robinson, five brothers, two step-brothers, two sisters and two step-sisters.
He attended Limestone Freewill Baptist Church.
Mr. Mitchell retired from the State Forestry Service and was a Farmer. He enjoyed farming, gardening, visiting friends, riding in the mountains, laughing and watching others laugh.
Survivors include his wife, Arlene Bailey Mitchell, Limestone; children, Patsy Castor (John), Dale Mitchell (Lana), Dwight Mitchell (Debbie), Danny Mitchell (Belinda), Peggy Dickerson (Roger), Pam Keeton (Doug) and Paulette Potter (Dan); grandchildren, Tina Lowe, Leah Booker (William), Isaac Mitchell, Danielle Mitchell, Brooke Dickerson (Brandon Bledsoe), Caleb Dickerson (Brittany), April Ausmus (Travis), Adam Keeton (Julie), Krysten Baxley (Jeremy), and Ryan Potter (Miranda Lilly); great-grandchildren, Hannah, Zachary, Lucas, Bailee, Sera, Christian, Kasey, Cody, Haley, Ben, Easton, Katelyn, Weston, Emery, Abby, Sutton, Avery, Ellie and Molly; sister, Anna Margaret Bowers; special friend, Bill McCurry; and several nephews and nieces.
The family will receive friends at the Limestone Free Will Baptist Church Saturday, October 12, 2013 from 4:00-7:00 pm.
Funeral services will be conducted 3:00 pm Sunday, October 13, 2013 at the Limestone Free Will Baptist Church with Rev. Maurice Quillen and Rev. Tim Roach officiating. Interment services will follow at Urbana Cemetery.
Pallbearers will be Grandsons & Great-Grandsons.
In honor of McKinley, memorial donations may be made to help with expenses of a heart and double lung transplant for his great-grandson Weston McKinley Keeton, make checks payable to COTA for Weston Keeton 2501 West Cota Dr. Bloomington, IN 47403 or online at www.cotaforwestonk.com.