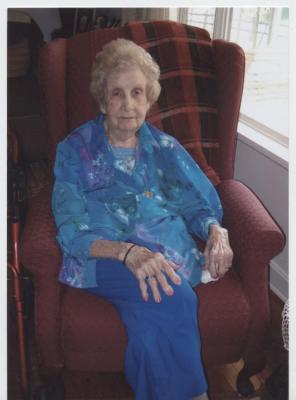 Marian Hays, 96, passed away Sunday, August 25, 2013 at the Johnson City Medical Center.
Marian was a loving mother, grandmother, great-grandmother and great-great grandmother.
She was a member of the First United Methodist Church in Johnson City and was a staunch Republican.
She was preceded in death by her husband, Norman Hays, son, N. Wayne Hays, grandson, Jon Hays, her parents and her siblings.
She will be greatly missed by her family Lisa Hays (granddaughter), Brian and David Behnia (great-grandsons), George (cousin) & Mary Ruth Campbell, her caregivers, Lillian Pierce and Jimmy Johnson and her many friends and extended family.
Marian was a resident of Appalachian Christian Village in Johnson City. Memorial services will be held there in the "Pine Street" Chapel on Friday, August 30, 2013 at 2:00 pm. Please make a contribution to your favorite charity in lieu of flowers. Marian was a lifelong benefactor to many charities and causes. She even donated her body to Quillen College of Medicine.
Marian would have been 97 on September 21st, and she wanted to meet her new great-great grandson, Gabriel Behnia who will be visiting then with his mother and father.
The family would like to say a special thank you to George, Lillian and Jimmy for taking care of her so well and lovingly.