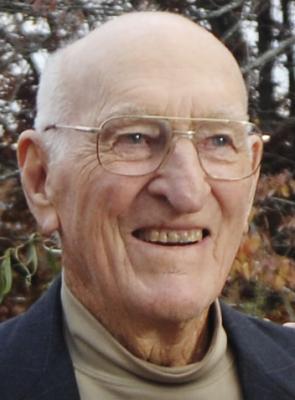 John Edwin Falls Jr. died Wednesday, June 12, at his home in Johnson City at the age of 90. Dr. Falls was a retired professor of Industrial Education at East Tennessee State University.
He is survived by his wife of 69 years, Louise Davidson Falls, of the home, and sons, John Edwin Falls III of North Carolina and William David Falls of Oregon. Other survivors include one brother, Joe Falls of Ira, Texas, five grandchildren and four great-grandchildren. He was the son of the late John Edwin Falls and Minnie Verle Falls and was preceded in death by another brother and three sisters.
A native of Ira, a West Texas farming community, Mr. Falls served in the U.S. Army Air Corps during World War II. Following his military service he graduated from West Texas State College with a Bachelor's degree in Education. He went on to earn his Masters and Doctorate in Education from Texas A&M University, before joining the faculty at East Tennessee State University in 1968.
"Jiggs", as he was known to those closest to him, or "Dr. Falls," as he was known to all those who came to know and respect him, was first and foremost a teacher, an educator who believed passionately in and dedicated much of his life to public education. He was a longtime member First United Methodist Church where he ended his teaching career in the Sunday school class.
He was a Master Mason in Good Standing of the Grand Lodge of Texas, Ira Lodge and this year received his 60 year pin. He was an active volunteer in the community, especially ardent in his support for the Area Agency on Aging and Disability, the local chapter of the American Association of Retired People, the S.A.L.T. Council, ETSURA, and the Washington County Retired Teachers Association, among others. He was a skilled woodworker his entire life and contributed countless happy hours (and wooden toys) over the years to the Toys for Tots program.
A memorial service is planned Sunday, June 23 at 3:00 PM at First United Methodist Church. The family will receive friends beginning at 2:30 PM. In lieu of flowers, please consider a contribution to the charity of your choice.