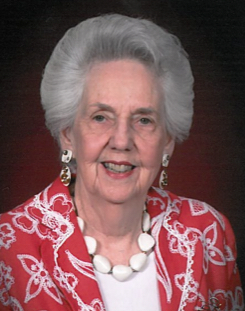 Dorothy (Dot) McNutt Egli, 86, entered into her Savior's rest on May 20, 2013 at her home in Gatlinburg, TN. A 53-year resident of Gatlinburg, Dot was born and raised in Haleyville, AL, graduating from Auburn University and moving to Oak Ridge, TN to teach elementary school where she met Ralph Egli. Dot and Ralph were married in 1959. Daughter of Robert Henry McNutt and Ora Dean Britton McNutt, Dorothy was the first public kindergarten teacher in Sevier County at Pi Beta Phi Elementary. In 1972, Dot and Ralph established Mountain Laurel Chalets and have continued to own and operate this Gatlinburg business for 41 years.
She is survived by her husband of 53 years, Ralph Egli and three children Randy Egli, wife Julie of Jefferson, MA; Susan Goodwin, husband Tom of Roswell, GA; and Carol Jordan, husband Brent, of Knoxville, TN. She found great joy in her grandchildren Ben Egli, wife Tiffany, Claire Egli, Tim and Will Egli, Dorothy Grace, Lily, Anna, Phoebe and Lucy Goodwin, Kathryn, Britton and Daniel Jordan, great grandson Cael Randall Egli and many loving extended family members and dear friends. She is preceded in death by both parents, and seven siblings, most recently Edna McNutt of Gatlinburg.
A member of the First United Methodist Church of Gatlinburg for 53 years, Dot was also involved with Smoky Mountain Area Rescue Ministry, Friends of the Smokies, Garlands of Grace Ministry, Gatlinburg Garden Club, Gatlinburg Chamber of Commerce, Holston Home for Children, Jesus Film, Campus Crusade for Christ and many charitable causes.
A Memorial Service and Celebration of Life with reception following will be held Saturday May 25 at 2:00 pm at the First United Methodist Church of Gatlinburg. In lieu of flowers, the family requests donations be made to Jesus Film Project PO Box 628222 Orlando FL 32832, Friends of the Smokies PO Box 1660 Kodak, TN 37764, Smoky Mountain Area Rescue Ministry PO Box 5968 Sevierville, TN 37864 or a charity of your choice.