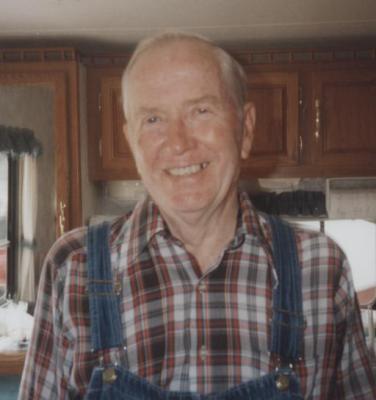 Mr. Cecil Forrest Boreing, age 86, passed away March 24, 2013, at his home. Mr. Boreing was a native of Washington County and the son of the late Harry Boreing and Etta Boreing. He was also preceded in death by three half-brothers Emmett, Everett and Harry Cole and a sister Norma Nolen.
Mr. Boreing was a follower and lover of Jesus. He was a member of and teacher at Cherry Grove Baptist Church for the last twenty-five years. He also served as a deacon, teacher and member of Sulphur Springs Baptist Church for over thirty years.
Mr. Boreing was born September 8, 1926 in Jonesborough, Tennessee. He graduated from Lamar High School and went on to earn bachelors and master's degree in Agriculture Education from the University of Tennessee at Knoxville. Mr. Boreing taught agriculture at Sulphur Springs High School and Daniel Boone High School. Mr. Boreing was passionate about teaching, working with young people, hunting, fishing, traveling with his wife, spending time with his family and sharing the love of Christ. He also worked for the State Department of Education as a Regional Vocational Agriculture Supervisor. Mr. Boreing was an active member and supporter of the FFA, receiving his Honorary American Farmer Degree, National VIP award and numerous other state and national awards. He was also a long time Tennessee Hunter Education Instructor.
Survivors include his wife Kathryn Boreing, Jonesborough; three sons, Forrest and wife Sharon Boreing, Jonesborough; David and wife Annette Boreing, Jonesborough; Brent Boreing, Sulphur Springs; one daughter, Pamela Proffitt, Sulphur Springs; eight grandchildren, Heather Boreing, Andrew Proffitt, Todd Proffitt, Ryan Proffitt and wife Amanda, John David Boreing and wife Rachel, Carla Boreing, Jillian Boreing, Julie and husband Kirby Carty; four great-grandchildren and several nieces and nephews.
Funeral services will be conducted 8:00pm March 26, 2013 at Cherry Grove Baptist Church with Rev. Jimmie Rogers and Rev. Tommy Clark officiating. The family will receive friends from2-4pm and 6-8:00pm prior to the service.
Interment services will be conducted 11:00am March 27, 2013 at Union Church of Christ Cemetery.
Pallbearers will be Andrew Proffitt, Todd Proffitt, Ryan Proffitt, John David Boreing, Kirby Carty, Gary Waters, and Micky Keplinger.
Memorials may be sent to Cherry Grove Baptist Church New Garage Fund, 104 Cherry Grove RD Jonesborough, TN 37659 or TN FFA Alumni at www.tnffa.org/alumni.