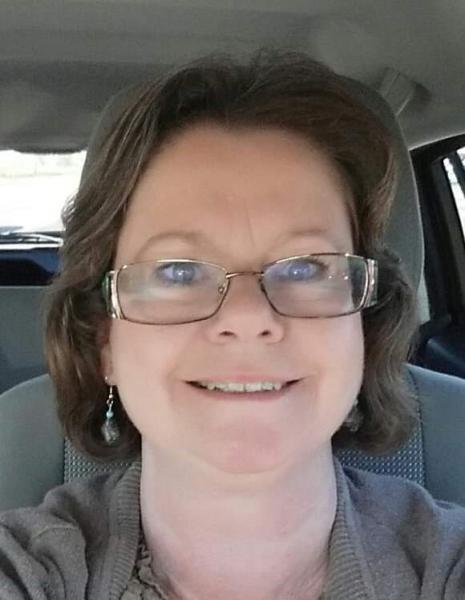 Mrs. Brenda Huff, 61, of Jonesborough, passed away Tuesday, March 23, 2021.
Brenda had a love for making earrings, coffee, and collecting coffee mugs. She did not have the greenest thumb, but that never stopped her. Her favorite pastime was spending time with her grandchildren and watching the birds.
She is survived by her children, Cynthia, Michael, Andrew and Henry, 3 grandchildren, Jay, Daniel, and Kenneth, and sister, Charlotte.
She is preceded in death by her sister, Janice.
The family will receive friends on Sunday, March 28, 2021, at Dillow-Taylor Funeral Home, from 1:00 PM to 3:00 PM. Sharing of memories and reading of scripture will begin at 2:30 PM.
I'm so sorry to hear about Brenda's passing. She was such a sweet lady. I remember the first time we met, we had attended the Johnson City Symphony's Christmas concert with Zachary, Andrew and Henry's class. The kids were going to eat at McDonald's before returning to school. Brenda and I got there before the buses and got busy getting drinks, ketchups, napkins, etc ready for kids. We didn't even know each other's name at that point, but the manager was so impressed with our organization and team work he tried to hire us on the spot. Over the next 15 years or so, our paths would cross many times, mainly through school and scouting. Brenda was such a blessing to me when I went back to work full time. She was always available to get Jonathan to scout meetings when we had scheduling conflicts. I hadn't seen her in several years but I will always think of her fondly. Keeping you in my thoughts and prayers. Much love. Lisa Hamrick
03/28/2021
Eden Montgomery
I am so sorry to hear about the passing of Ms Brenda. While I worked with her only a short time at the Food City in Johnson City before I moved to Erwin our paths crossed many times. She was always so sweet and helpful to me. I'll miss hearing her voice on the phone and seeing her smiling face when I would come to the store. She was a nice lady and will be missed.
I went to school with Andrew and Henry from Kindergarten all the way to high school. I send my condolences to her family, friends and anyone who was important to her.
I worked with Brenda for over five years. She was a great person and we had many laughs while working. We shared a love of the food network and would often talk about recipes and shows from food network. She was a great trainer and trained a lot of people during her 5 years as csc. She will be truly missed by all at food city 629. I'm so sorry for your loss, she will be forever in all of our hearts.
I worked with Brenda for several years at food city she was a nice person. I'm so sorry for your loss. My prayers and thoughts are with during this difficult time.
03/27/2021
Georgia Garland-Food City Co-worker
My prayers are with your family so sorry for your loss. Brenda will be greatly missed.
I worked with Brenda for 3 years. She was always very pleasant and very good at her job. She had an impact on many people's lives. Thanks to her, many young and old people are able to have a livelihood. I had no idea she was sick and I'm very sorry for your loss. She will be missed.