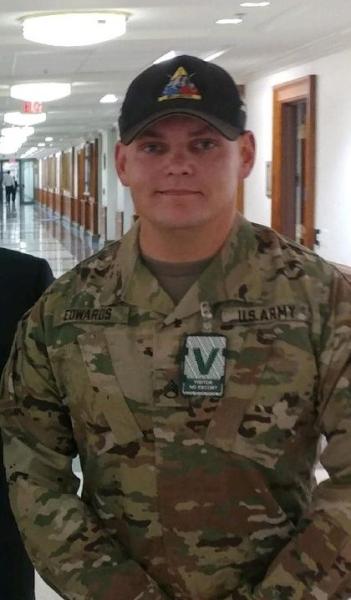 Allan M Edwards, 31 of Washington County, TN, passed away on 15 March 2021. He leaves behind his wife Erica Michelle Edwards, their daughter Scarlett, stepson Josiah Perez, stepdaughter Lilli Lopez, and stepson Leonus Lopez. His sons Allan M Edwards Jr and Adam Edwards with his first wife Crystal Edwards. His two sons Riley Edwards and Adrian Edwards. Mother and father Becky and Carl "Jack" McKee, Brother Brandon McKee his daughter Shayla, Sister Jessica McKee her daughter Jaclyn Tarlton, Grandmother Dorothy McKee and several aunts and uncles.
Allan gave his best to everything he did. He was a car enthusiast, enjoyed riding motorcycles, which lead to him helping with numerous charities. He will forever be loved and missed by many.
Sergeant First Class Allan M. Edwards entered into the United States Army at Ft Knox, KY in March of 2008 where he completed basic and advance individual training (AIT) as a 19K Armor Crewman. He served over twelve years with two tour overseas in both Afghanistan and Korea with his final duty station at Ft Bliss where he was promoted in April of 2020 to the rank of SFC. His awards and decoration include a Meritorious Service Medal, four Army Commendation Medals, five Army Achievement Medals, four Army Good Conduct Medals, a National Defense Service Medal, an Afghanistan Campaign Medal, a Global War on Terrorism Service Medal, a Korean Defense Service Medal, three Noncommissioned Officer Professional Development Ribbons, an Army Service Ribbon, two Overseas Service Ribbons, a NATO Medal, a Master Gunner Identification Badge, a Marksmanship Qualification Badge Expert-Pistol, and a Marksmanship Qualification Badge Expert Carbine.
The family will receive friends from 12:00-2:00 PM, Saturday, March 27, 2021 at Dillow-Taylor Funeral Home. The memorial service will be at 2:00 PM with Pastor Jeremy Dykes officiating. Graveside services will follow at Edwards Cemetery with military honors.
03/29/2021
Andrew Broyles
One of my best good friends. I still can't believe it. Was looking forward to back to shinagins when you came home to retire. I wish you could see how loved you were. Peace dude shake all the hands out there like we all always did everytime we saw each other.
Allen helped my husband on the farm. He was always a good worker an very respectful an polite. We will miss him, he always visited when he came home So sorry for your loss.
03/28/2021
Matthew fender
this is so sad allan was a good man he really made something of his life he showed a country boy could make it out of the country
03/27/2021
April Collins/Gayle White (Lou Fox Dr neighbors)
Remembering Allen and sending deepest sympathy.
May God bless you and your family I'm so sorry
03/25/2021
Tina & Johhny Edwards
So sorry for your lose, its never easy. If you need anything call we here for you and your family. We love you guys.
God Bless your family. Allan worked for me right before he went in the Army. Loved that guy and loved being in his presence and have a lot of memories.