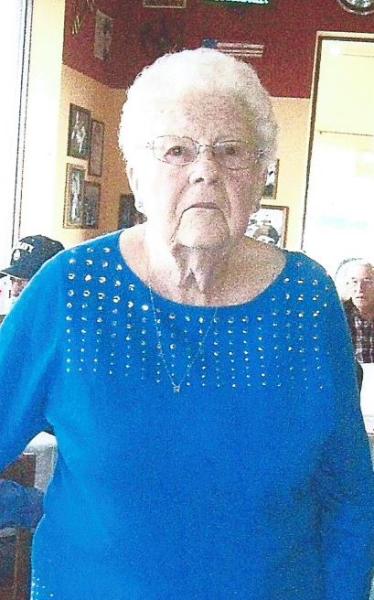 Juanita Ogle O'Dell, age 91, of Johnson City passed away on Thursday, March 18, 2021.
She was raised in the Smith Creek section of Washington County, Virginia. She was preceded in death by her parents Charles S. & Maude Ogle, her brother, Roy M. Ogle, her husband, Raymond O'Dell and her son, Ray O'Dell.
She is survived by her daughter Joy O'Dell Yates and her favorite son-in-law Dale; her sister Marie (Randall) Hodges; her sister-in-law Elva Sammons, special family members Kathy (Bruce) Pealer, Holly (Bob) Guy, and Larry (Diane) O'Dell. She is also survived by her special friends Hunter, Waddell, Miyah Maupin, Tamee Tweed, and Ron Hite and several nieces and nephews.
Juanita was a member of New Salem Baptist Church in Limestone, Tennessee.
Juanita graduated from Greendale High School in Greendale, VA in 1946. She attended Radford College and ETSU. She taught school in Washington County, VA and then moved to Tennessee to marry Raymond O'Dell. She worked as an Instructional Assistant at Davy Crockett High School in Jonesborough, TN until she retired in 1992.
Juanita was a member of the Washington County Tennessee Women Democrat Party, the Ladies Auxiliary of the American Legion, and the United Commercial Travelers Council 552 in Johnson City and at various times, she served as secretary or treasurer in these organizations. For many years, she worked as an officer in her voting precinct during local and state elections.
Juanita loved her family and her friends, was a great cook, and an avid reader. She loved to write stories and poems. She was also a member of the community center water exercise classes for many years.
Due to the Covid-19 Pandemic, there will not be formal services. A private graveside service will be conducted by Rev. Jerry Eggers of Greendale Chapel Church of Abingdon, VA.
In lieu of flowers, memorial donations may be made to Dawn of Hope Foundations, 500 E. Oakland Ave. Johnson City, TN 37601 or to the Southern Appalachian Ronald McDonald House Charites 418 N. State of Franklin Rd. Johnson City, TN 37604.
03/25/2021
Dennis & Sherry Shroyer
Mrs. O'Dell was an amazing person. While we are thankful that she is no longer struggling with health concerns, we know she will be greatly missed by her family and friends. May God bless you all!
My beautiful Juanita! She was one of a kind. She made me feel so special; she encouraged me and always loved me. We had a special bond and I'm forever grateful for what she meant to my life!
03/23/2021
Brenda Royston Cole
Mrs. O'Dell was a very sweet kind lady. She will be missed. So sorry for your loss Joyce. Will keep you in my prayers. Much love...
03/23/2021
Bill and Janie Riley Bonsor
Prayers and healing for the family. Always enjoyed the O'Dell and Yates gatherings. Great memories
03/23/2021
Jackie and Danny Riley ,Earl Yates
Sorry for your loss
03/23/2021
Roy and Nancy Gillis
Joy, please know we are praying for your family; I certainly cherish the days of Sunday school at New Salem with your Mom as our teacher when we were kids. Also, I always enjoyed working with Juanita at David Crockett High School. How blessed it was to grow up in our families by godly parents! Raymond and Juanita were wonderful friends of my family and shared many happy occasions withinthe church family.
Joy please know you and Dale are in my thoughts and Prayers. I have such fond childhood memories of sitting on the porch at your parents house with aunt Juanita and uncle Raymond and you and Ray. I so loved our trips "down home" as mom would call it. I am so very sorry for your loss!
03/22/2021
Jerry K Huskins
I knew Juanita and Raymond many years ago. I was on the County Commission from 1982 until 1990. Had it not been for the Odell's I would have never been elected. She was a good person, and a good friend. My condolences to her family.
So sorry to hear of Mrs. O'Dell's passing. We worked together at David Crockett High School. She was a very special lady!
Sending my condolences to you. I met Ms. Juanita years ago when we attended a weekly Bible study at Faith Fellowship Church in JC. I loved her sweet spirit and sense of humor but mostly her heart for God. I am thankful that He allowed our paths to cross on this earth and i look forward to seeing her in heaven. God bless all of you. Susan Katko
03/21/2021
Susie Gillis Bennett
So sorry, sending love and prayers. Susie
Joy, I was so sorry to read of your mother's passing. Please know you and Dale are in my thoughts and prayers. May God wrap His arms around you and bring you peace and comfort during this time. Much love, Sandy
Sincere sympathy to Joy and Dale and other family members in the loss of such a beautiful and special lady.