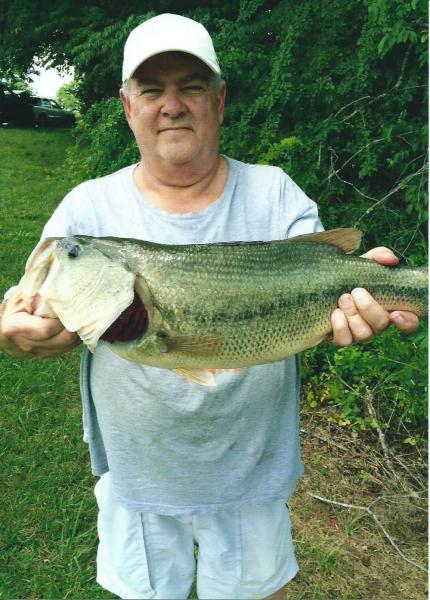 Mr. Ronnie D. Yarbor, age 69, Jonesborough, passed away Monday, March 15, 2021 at Holston Valley Hospital.
Mr. Yarbor was born in Greeneville, TN and the son of the late Brownlow & Millie Laws Yarbor. He was also preceded in death by a son, Shane Yarbor.
He was an Engineer at ITT. Mr. Yarbor loved fishing, gardening and UT Vols. He was a loving husband, brother and uncle.
Survivors include his wife, Sharon Yarbor; sisters, Rita Brown, Tina Yarbor and Lisa Burgner; step-sons, Samuel Martin and Jason Martin; nephews and niece, Eddie McLemore and wife Chris, Amber Brown, Kevin Yarbor, and Max Burgner; brother-in-law and sister-in-law, Matt & Gina Renfro; brother-in-law and daughters, Alan Rush and Kaycee Rush; Josie Sparks husband Rusty and family; special close friends, Johnny Chandley, Gale Hensley and Randy Bacon.
The family would like to extend a special thank you to Holston Valley Hospital and Orchard View for their wonderful care.
Funeral services will be conducted 7:00 pm Thursday, March 18, 2021 at Dillow-Taylor Funeral Home with Pastor Craig Ponder officiating. The family will receive friends from 5:00-7:00 pm Thursday prior to the service.
03/21/2021
Angela Sheehan
I worked with Ronnie many years ago and he was a fine person. R.I.P. old friend.
03/20/2021
Debbie Payne- Morrison
I last talked with Ronnie when he called about our WCA Class of 1970 High School reunion to which he was so looking forward. Unfortunately it had to be cancelled. However, it was great hearing his voice! He sounded just like the same Ronnie from years ago. For those who know the Lord, "To be absent from the world, is to present with Christ." Oh, what a joy that must be for him! But for those who loved him most, who were so close to him, it can be so challenging, especially all the "firsts." The first week, first month and every first occasion where he was always there before and now, no longer will be. Every person grieves in their own way and time. I took several grief workshops after my mother died and found the best way of handling grief was walking through it with the Lord, not ignoring it. The person who loves the most, grieves the most and rightly so. Our fast speed world allows little time for grieving and few know how to help or what to say. Truly only God knows your heart and can help you get through it. HE is always available. I look forward to reconnecting with Ronnie again on "the other side," where there will be no pain or tears and only good memories. I've learned to be thankful for my mother's passing (6 years ago) that she's no longer in pain and grateful for how God blessed us over the years even through her passing. May God be your comfort and strength during this time and the days ahead. Psalms offers many comforting scriptures.
03/19/2021
Diana Mauk Leonard
Rita, Tina, Lisa and family, I am very sorry to hear of your loss. You are in my thoughts and prayers.
03/18/2021
Barbara Austin Morgan
I would just like to express my condolences to Ronnie's entire family. We were classmates from 2nd grade until we graduated. He was certainly a fine person and a good friend. May he rest in peace and may you all find comfort in a loving God who cares for us all.
03/18/2021
Shirley Broyles Roark
Lisa, Tina & Rita, I can't imagine how painful this loss is for you. So very sorry. I'll be thinking of you all and sending prayers.
Rita, Tina and Lisa. It's been a long time since we all went to school together and a lot of fond memories. It's always hard to lose a sibling and loved one, but seek comfort in the Lord that Ronnie is resting in Peace and Comfort with the Lord now and well taken care of.
03/18/2021
David and Mary Kaye OBrien
So sorry for your loss. Our prayers are with the family.
03/17/2021
Susie Gillis Bennett
So sorry, sending love and prayers to you all dear family. Love, Susie
03/17/2021
Jo Ann Morrison
Sharon, my son, daughter and I cannot express enough, the loss we are feeling for you and your family. I know Randy was a wonderful man. He is finally without pain. And his soul is in one of the Golden Mansions in Heaven. Love you much!!!
So sorry to hear about the passing of Ronnie , was always a good guy, I grew up with him many years ago.
03/17/2021
Wassan Broyles
Hey Rita, sorry to see that Ronnie has left us. I know it's hard to lose a loved one especially a close member of ones family that you have been around your whole life. It has been a very long time since I have seen Ronnie but looking at the picture that is in the paper he enjoyed life to the fullest. Try not to be too sad, you know that Ronnie would not want that for you or your family. Remember the fond memories and the good times that you shared as a family. M
Very sorry for your loss. I worked with Ron at TI/Siemens. Praying for all the family.
Ronnie was such a great guy. We graduated together. Sending prayers for his family.