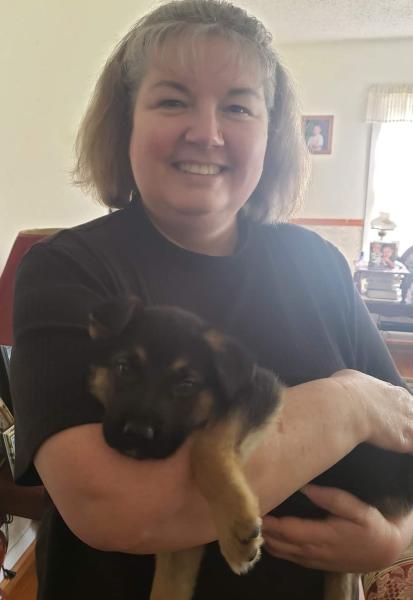 Mrs. Barbara Ruth Story, Jonesborough, passed away Saturday, February 13, 2021 at the Johnson City Medical Center.
Mrs. Story was born in Johnson City, daughter of the late Junior and Lillian Scalf. In addition to her parents, she was also preceded in death by her grandparents, Carrie and Otis Graybeal, and Jim Ed Scalf.
Barbara's goal in life was to make everybody happy. She loved crafting.
Left to cherish her memory are her husband, Mark Story; son, David Story and fiancé Kelley Taylor; brother, Otis "Brother" Scalf and wife Sandy; sister, Lisa Marlow and husband, Jeff; special dogs, Oscar, Rosie, and Zoey; and several aunts, uncles, nieces, and nephews.
The family will receive friends at Dillow-Taylor Funeral Home from 12:00-1:30 PM, Saturday, February
20, 2021. Internment services will follow 2:00 PM at Washington County Memory Gardens with Pastor Todd Wolfe officiating.
I am deeply saddened to hear of Barbara's passing. I worked with Barbara at GVDC for many years, such a sweet soul! May God Bless and comfort your family at this time.
Lisa, my prayers and thoughts are with you and your family! May God wrap his arms around you and comfort you in this sad time. I love you!
So wanted to have lunch with you sweetie ❣️you tried to take care of everyone else❣️ No more suffering and happy I'm sure to see your parents❣️ Will miss your sweet smile
Mark and David so sorry for your lost. She was an amazing woman. I truly loved her to pieces we had so much in common. I just hate we never got our night on the town. I am sending you lots of love hugs and prayers. David she is now your guardian angel and she will be in your forever til you meet again. I am here if you ever need anything. Love you guys.
Mark , I am so sorry to hear this sad news of Barbs passing . I am heart broken over your loss , if there is anything you need Ro-Ho just let me know . RO-HO is what your daddy used to call you when you were little see I remembered . Mark give David a hug for me . Call if you need anything , LOVE YOU cousin Butch & Kelli 423-480-5659
We wont be able to come to the services; but my condolences for Mark and David. Barbara was a wonderful woman and will be greatly missed. Continued prayers. We love you.
02/18/2021
Jeff and Mechelle Carter
Mark and David we are so so sorry . Barbara was an amazing person and so kind. She was always willing to lend a hand . She will be truly missed. Our thoughts and prayers will be with you all. We love you all and will be here if there is anything we can do to help.
Our luv is with barbara she got to met God and go to heaven she will always be in our hearts and soon we will be with her.she was so loveley in her own way. my prayers our with her and her family.May god bless
May God bless you Mark and David at this time of loss. Barbara was an incredible lady, wonderful cousin to me and dear friend. She will be forever loved and missed. I love you all. Rhonda
02/17/2021
Melissa Speck and family
We will miss you my true friend. I love you girl.