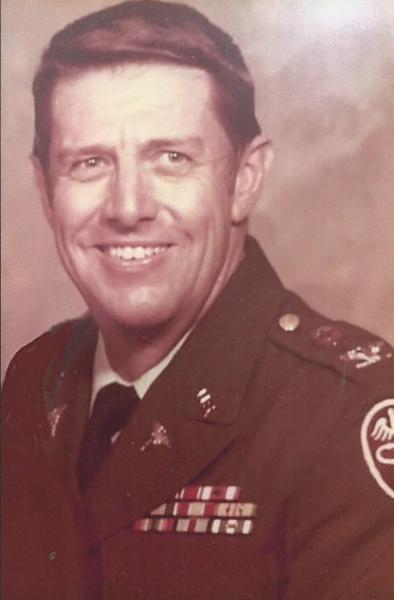 Col. David Quincy Storie IV of Harker Heights, Texas died Monday, February 9, 2021 at the home of his son in Johnson City, Tennessee. Born July 26, 1934 in Chariton, Iowa, he was the son of the late Dr. David Quincy Storie III and Sally Bayless Storie.
Col. Storie was a 1958 graduate of the University of Iowa College of Dentistry and was a member of the Delta Sigma Delta Fraternity. He joined the Army after graduation and had a distinguished 30 -year career in the military. He completed a one- year general practice residency at Tripler General Hospital, Hawaii. In July of 1966, he completed a fixed prosthodontic residency at Fort Benning, Georgia. Known as an excellent clinician and teacher, Col. Storie taught fixed prosthodontics for the Army's two-year General Practice Residency programs at Fort Hood, Texas, (two tours) and Fort Benning, Georgia. He published professional articles in the Journal of Prosthetic Dentistry, Journal of Academy of General Dentistry and Journal of the American Dental Association. In 1970, Col. Storie commanded 39th Medical Detachment KJ (Dental Services) in Vietnam. Their mission was to to provide dental care to troops on the front- line firebases. Col. Storie was awarded the Bronze Star, the Order of Military Medical Merit, the Legion of Merit, along with multiple Meritorious Service Medals. He was member of the American Dental Association and the American Academy of Crown and Bridge Prosthodontics. He loved spending time outdoors, hunting, fishing, and shooting. He loved scuba diving and achieved the rating of Dive master. He was an accomplished wood carver, gunsmith, and was known for his custom gunstock work.
Survivors include his two sons, Dr. David John Storie and wife, Nancy of Johnson City, Tennessee, and James Michael Storie and wife, Laurie of Snoqualmie, Washington. Six grandchildren, Dr. John Quincy Storie and wife Maggie, Diane Elizabeth, Alison Taylor, James Michael, Mackenzie Jo, and Madison Elizabeth Storie. Two great grandchildren, Tallon and Mason Gatch; and a sister-in-law, Margaret Lenz Fay of Hutchinson, Minnesota.
In addition to his parents, his wife, Elizabeth Houg Storie, preceded him in death.
A graveside service will be conducted at Immanuel Lutheran Church Cemetery, Killeen, Texas at a later date.
The family would like to extend their special thanks to his wonderful caregivers, Kathy Hartley, Michelle True, Heather Leonard of Dominion Senior Living, Janice Tester, Joyce Bennett, Teresa Pickle, and Diana Hughes, and Caris Hospice.
02/18/2021
Dr. John and Karen Bradshaw
To: Dr. David Storie & Family We are sadden to hear of your fathers recent death. We appreciate and applaud his distinguished & honored service in dentistry and our military. Please know that you and your family have our respect and condolences for his passing. We have and will continue to remember you and the Storie family in our prayers. Respectfully, Dr. John and Karen Bradshaw
02/16/2021
Maria Wyche Bryan, DDS
What a beautiful legacy and what a tremendous role model! David & Nancy, you are in my thoughts and prayers. Peace be with you, Maria Bryan
Dave, I extend my condolences and sympathy to you and your family. I expect God will comfort you in this time of sorrow. Mike Rogers DDS
I have such fond memories of the Storie family from our childhood at Fort Campbell. We all lived on the same circle. May the memory of Colonel Storie always be a blessing! God bless you all!
02/13/2021
Timothy K Ball PhD Esq
I did not know this man but transiently meeting him once or twice in my younger days as i had the pleasure of being school and play mates with his son, David. This man must have been a wonderful person because of the characteristics he instilled in that son with whom im familiar. You are measured in part by your progeny, and this man has left a mountain of strength and character in his own. Im sure that he will be missed.
I enjoyed take care of DQ at his last days, glad I got to know him an the family , Had some good days taken care of him ,An sometime I would get a laugh out if him ,Rest in Peace DQ
02/11/2021
Carla Dunn, Dominion Senior Living Johnson City
We send our deepest condolences to the Storie Family. Thank you for allowing us to know, love and care for such a remarkable man. Doc, as we affectionately called me, was a man of few words, but when he spoke everyone listened. He is missed by our team members and especially by those veterans that sat with him for lunch and dinner. May God continue to bless you and your family.
02/11/2021
Betty and Mas Konatsu
Remembering Dave fondly. We were neighbors and good friends on Redwood Drive in Harker Heights, Texas.