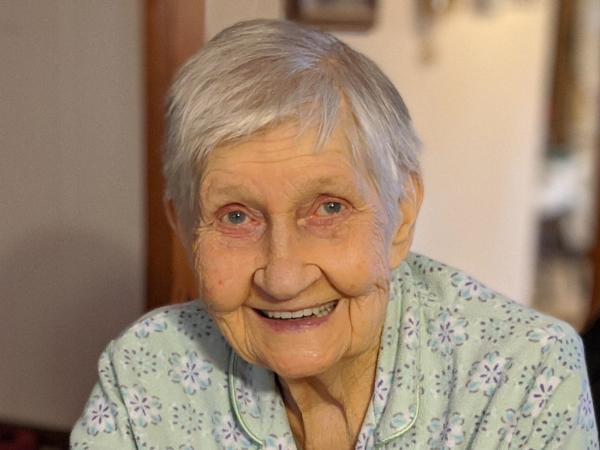 Elizabeth Juanita Kirk Holden, loving mother, grandmother and great grandmother, went home to be with her Lord and her husband of 70 years on February 6, 2021.
Mrs. Holden was born on June 26, 1933 to the late William Granville and Mattie Fowler Kirk. She was preceded in death by her husband, James Delmar Holden, June 20, 2019, two brothers, two sisters and her parents.
Juanita was a stay-at-home mother and helped manage her husband's general contracting business. She loved all animals and her current two babies, Lily and Peanut. Her other passion was working in the garden, especially with her grandson, Daniel. She loved flowers and her beautiful yard showed her love in the spring and summer. Everyone was her friend and her kindness was known to all who knew her.
Juanita was of the Christian faith and loved her Lord. She loved reading stories how the Lord blessed others, but little did she know what a blessing she was to others.
Survivors include two daughters, Cherrie Cloyd and Vicki Ward; three grandchildren, Melissa Cloyd, Nicholas Ward (Robyn), and Daniel Cloyd; one great grandson, Oliver Ward; two special nieces who were like daughters, Shirley Lewis Leonard and Angel Kirk Waddoups (Matt).
Memorial donations may be made to the Washington County Johnson City Animal Shelter, in memory of Juanita Holden. 3411 N Roan, Johnson City, TN, or Jonesborough United Methodist Church Choir, P.O. Box 115, Jonesborough, TN 37659.
There will be a private family graveside at Monte Vista Burial Park with Pastor Mark Huffine, a family lifetime friend, officiating.
02/10/2021
Lisa Honeycutt
She was both "mamaw" and "Aunt Juanita" in my experience. Her laugh and the look she'd give you when you were being silly or goofy will be what in remember and miss the most. I might have been the tag a long friend, but she always made me feel welcome. She loved her family fiercely and my heart is with all of you who loved her too.
Mr. & Mrs. Holden was my landlord for a while there at Malone. We loved them both. Always had a smile and kind word. They will be missed.
Vicki, I'm sorry about you losing your mom. I know what it's like, I lost mine in 2016. SORRY AGAIN
02/09/2021
Everett and Susan Scott
I can only imagine the reunion Mama, Delmar, and Juanita are having in heaven!!! Mama loved them so much!!! Prayers of comfort and peace for the family during this time of sadness
02/09/2021
Susan and Mark McKeller
We got to know Juanita just a bit in the last few years and found her to be a special lady. She was gracious but sassy, and always made us feel welcome and at home when in her presence. Our thoughts and prayers are with the whole family. She will be so missed!
02/09/2021
Crystal Stevenson Anderson
Sorry for your loss.A wonderful lady.
Cherrie and Melissa, so very sorry to hear about the death of your mother and grandmother. I hope your special memories of her bring you comfort, and please know you are in my prayers.
02/09/2021
Judy Ward Archer
Cherri, Vicki and families,. I am so sorry to see this. Your Mom was a sweet lady. What a reunion she is having with my Mamawand her whole family. Prayers for all of you.
02/09/2021
Pamela Daniels
So sorry to hear of your Mom's passing. What a precious woman, always gracious and loving! Lifting the family up!
02/08/2021
Stella mae coffey turnmire-lewis
Vicki and cherri i want u both know I enjoyed being a friend to your mom over the years she could make u laugh and cry other than that she was a good Christian lady thank u for sharing her with us over the years love u both remember one thing that your mom loved u both very much and I love her too may God bless u everyday k love u stella mae coffey turnmire-lewis