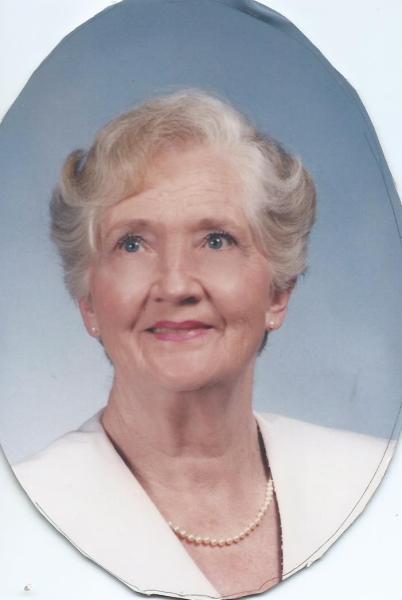 Mrs. Geraldine Ruble Bradley, age 91, Jonesborough, passed away Saturday, January 9, 2021 at Franklin Woods Community Hospital.
Mrs. Bradley was born in Washington County and the daughter of the late James Hunter & Maude Browning Ruble. She was also preceded in death by her husband, Jack Lee Bradley, Sr., three sisters, Marie Foster, Helen Jones and Ruth McAmis and a brother, Curtis Ruble.
She was a member of Marvin's Chapel United Methodist Church.
Mrs. Bradley was a 1946 graduate of Washington College. She worked 30 years as Office Manager at the Medical Group for Dr.'s Wofford, McKinnon, Hall Allen, McGowan, Cole and Allison, and several more. Delores Young, Jane Dillow, Mary Nell Webb, and Charlotte Hughes were her co-workers that she met for lunch with once a month
Survivors include a son, Jack Lee Bradley, Jr., Jonesborough; sister, Maude Cutshall, Tusculum; and several nephews and nieces.
The family would like to extend a special thank you to Family Ministries at the John M. Reed Center in Limestone for their wonderful care.
Graveside services will be conducted 10;00 AM, Tuesday, January 12, 2021 at Monte Vista Burial Park with Rev. Ricky Clowers officiating.
Pallbearers will be Terry Sams, Rick Sams, Edward Farr, James Michael Sanders, Bryson Young and Robert McGraw.
Memorial donations may be made to Marvin's Chapel United Methodist Church Building Fund 1870 Old Boones Creek Rd. Johnson City, TN 37615.
01/15/2021
Sharon Rice Honea
So Sorry To Hear About Mrs. Gearldine. She Was A Very Kind and Sweet Lady. I Got To Know Her When My Mom Came To John Reed. My Thoughts and Prayers for All The Family.
01/12/2021
Collier and Emily Jordan
So sorry to hear about the loss of your mother - we remember her fondly from my days with The Medical Group and her kindness to us when we first moved to Johnson City fresh out of medical training almost 40 years ago - I never knew a better practice manager in all those years - we are thinking of you and your family.
01/11/2021
Wassan and Vickie Broyles
I never had the pleasure of knowing Mrs. Bradley but I know some of the family members. It's always hard losing a loved one but just keep in mind we are going to a better place. Geraldine has moved on to be with the Lord but will live forever in your hearts and souls. Our heartfelt condolences go out to all the friends and family and may the Lord be with all of you now and forever and always keep the faith. Wassan and Vickie Broyles
01/11/2021
Sharon (Johnson) Jones
Rusty, My heart goes out to you in the loss of your mother. My parents, Arlie and Gertrude (Slemons) Johnson, were such good friends of your parents and we shared so many good times over our "growing up years. I wish I could attend these services in honor of your sweet mother. The Ruble family and the Slemons family have such deep roots in the Conklin community, and our mothers were childhood friends. My deepest condolences to you.
01/10/2021
Tony C. Laws Chief South Toe Fire & Rescue
You and your family are in our thoughts and prayers
Rusty, I'm so sorry to her about the loss of your mother. Although I can't be there, I will have you in my thoughts and prayers. Condolences, Judy Adams
01/09/2021
Mark and Kathy Shelton
As former neighbors of Geraldine we appreciate the love, kindness and generosity she shared with us over the years we knew her. We know she will be greatly missed. Keeping you in our thoughts and prayers.