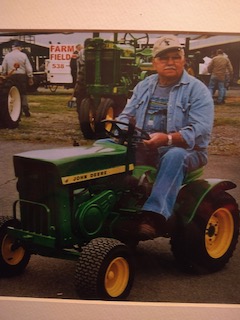 Mr. Charles "Charlie" Poore (Water Boy), age 90, Johnson City, passed away Thursday, December 31, 2020 at Johnson City Medical Center.
Mr. Poore was born April 20, 1930 in Washington County, TN and a resident of Knob Creek community for over 70 years. He was the son of the late Charlie & Nettie Gleen Poore. He was also preceded in death by his wife, Eleanor Martin Poore in 2002, brothers, Hiram Poore and Turner Poore, sisters, Lucille McInturff and Gladys Edwards.
He owned and operated Charles Poore Water Pump Sales & Service for many years. Charlie enjoyed the mountains and was an avid bear hunter. He took with him a wealth of knowledge about the mountains and rives of this area. When he was in good health his time was spent traveling the ridges and hollows listening to his dog's chase racoons or bears. Any community he took you into he could point out the houses where he dug the water well. He was known as "Water Boy" on his CB Radio as he communicated with his fellow hunters. His interests included country music and restoring antique cars and trucks. He was most proud of his garden every year.
Survivors include his nephew, Tilman Poore (Sue), nieces, Nettie Jean Beckett (Danny), Georgia Haynes and Ruby McCurry (Dale); long-time friend and caregiver, Jolene Fletcher; and several great nieces and nephews.
The family would like to extend a special thank you to Crissie at Ballad Health Home Care for her professional care and friendship. Also, to Steven Tester and Sam Lewis for their help by bring breakfast every morning and seeing to his nightly comfort and Jeff McCurry for keeping his medical equipment working.
Due to the Covid-19 Pandemic, there will not be a formal visitation but friends may come by Dillow-Taylor Funeral Home from 9:00-4:00 PM, Tuesday, January 5, 2021 to view Mr. Poore and sign the register book.
Graveside services will be conducted 2:00 PM, Wednesday, January 6, 2021 at Boones Creek Christian Church Cemetery with Rev. Mike Robinson officiating. If you would like to go in procession to the cemetery please meet at Dillow-Taylor Funeral Home at 1:15 PM.
Pallbearers will be family & friends.
In lieu of flowers, memorial donations may be made to Washington County Animal Shelter 3411 N. Roan Street Johnson City, TN 37604 or Good Samaritan Ministries P.O. Box 2441 Johnson City, TN 37605.
01/05/2021
Barbara & Bob Mason
We are deeply sorry for your loss, and will always remember Charles fondly. Especially of him riding on his tractor. He would stop when we were in the backyard and talk for a few minutes. It has been our honor and joy for so many years to have been friends with adjoining property. Years ago there was Maude, the horse, along with the cows. Maude was mischievous. She would start at the top of the hill stomping her hoofs and then run down and race our labs along the property line. We miss seeing the cows too, as I'm sure Charles did as well. Charles was terrific and kind hearted! We will miss you Charles Poore!
01/03/2021
Tawana Carroll 2300 clerical associate
My condolences go to the family, ur in my thoughts and prayers