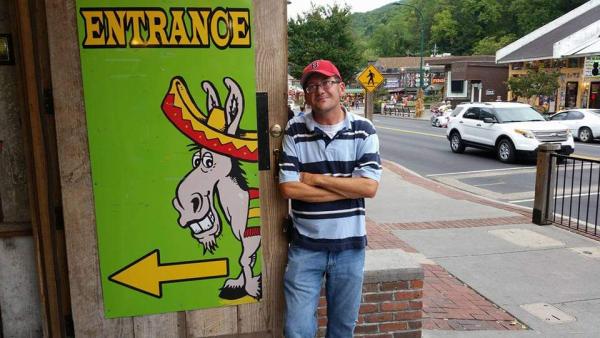 Mr. Timothy Nathaniel Tye, age 43, Telford, passed away Tuesday, December 29, 2020 at Johnson City Medical Center.
Mr. Tye was born in Middlesboro, KY and the son of Marilyn Phyllis Tye, Telford and James O. Tye, Corbin, KY. He was also preceded in death by his maternal grandmother, Marie Walker, paternal grandparents, Paul & Lora Tye and one uncle, Edward Tye.
He was of the Baptist faith and at an early age he attended Lone Mountain Baptist Church where he was a member.
Tim loved to play Texas Hold'em and was an avid NASCAR fan and loved to travel.
In addition to his parents, fiancé' Christina Wolfe, Telford; aunt, Kathy Walker, New Tazewell, TN; cousin, Chloe Muncey, New Tazewell; special friends, Nick Rodifer, Johnson City and Jerry Toney, Telford; and other cousins.
A Celebration of Life Services will be conducted 1:00 PM Saturday, January 9, 2021 at New Hope Brethren Church.
I offer prayers and condolences to Mrs. Tye and Tim's extended family during this time of grief. I wish I could meet the family and old friends in person, but current conditions preclude me from doing so. Tim was a good friend and a good man. In high school we had our adventures with 4H and Scholars Bowl. Those stories are too many to mention! But, after we graduated high school, we lost touch. It would be many years later we would reconnect. And, during this second period of time, I saw firsthand the man Tim became: kind, considerate, and respectful. I always appreciated the way he respected my mother when he saw her. Tim, like all humans, had his highs and lows, but at he reflected goodness at his core. May God bless you "Timmy Tye."
01/05/2021
Rachael -John Greene
Phyllis & Christina, We are so sorry to hear of Tim's passing. He was a wonderful friend for so many years. I pray the Lord brings you all peace during this time of great sadness. We will cherish our memories of Tim always. John & Rachael Greene
01/02/2021
Donna & Kenneth Campbell
Phyllis, we were so sad to hear of Tim's untimely death. During his high school years, he was like a member of our family, hanging out in the basement and going to different school events with us. You'll be in our prayers during the difficult days to come.
Phyllis, I was deeply saddened to read of Tim's passing. We've been out of touch for a while now, and I do want to pass on my heartfelt thoughts and prayers to you and the family. May God Bless.
Phyllis, There are no words that a person can say to you that will lessen your pain. I have been where you are now, 13 years ago this past Dec. 2. and you came to my home to see me and hugged me. That meant so much to me. Just know that you are in my heart today. I didn't know Tim, except when he came by to see you at work, but being your son I am sure he was a fine young man. May he Rest in Peace. God Bless and keep you through the days ahead. Your friend Regina
12/31/2020
Sherri Hodges White
Miss Phyllis, Words are not adequate to tell you how very sad I am to read about Tim's death. Please know I am praying for you and thinking of you during this time. You have been so strong on my heart recently, but I have lost your contact information, and would love to hear from you when you can. You can contact me at sherrileewhite@yahoo.com. Tim was a great young man with a wonderful sense of humor. He had such optimism and joy for life. You raised a terrific son. Loving you from Nashville, Always...Sherri
I knew Tim through the poker league. A really, really nice guy. To his friends and family I'm so sorry for your loss. May he rest in peace and the peace of God be with you all. Sincerely, Mike Mathes