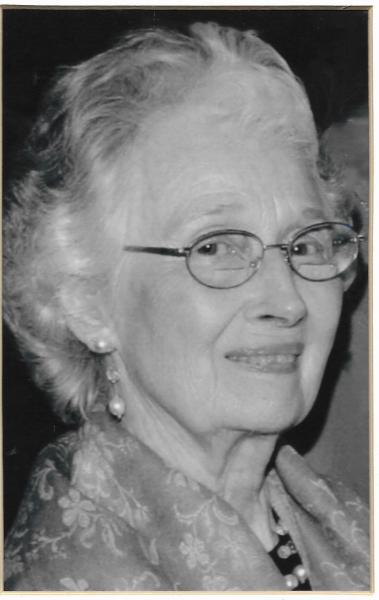 Wilma Thomas Florence
Wilma Ann Thomas Florence, 95 died December 26th, 2020 following a short illness. She passed away peacefully, surrounded by her children.
Wilma was born in York, South Carolina, December 16, 1925 to David Dunlap Thomas and Elsie Ben Jane Hartness. She was the third of six children. Wilma attended grade school and graduated from high school in York. During WWII, she worked at the tracer bullet factory outside of Charlotte North Carolina. Wilma attended Appalachian State University before obtaining a nursing degree from Duke University in 1946.
In 1947, Wilma married Joseph A. Florence, III and moved to Norfolk, Virginia where Joe was pharmacist and owner of the Florence Drug Co. She enjoyed a career as a registered nurse and her work as manager of the family pharmacy.
Wilma was a person of deep faith and was a member of Ocean View Baptist Church in Norfolk. After moving to Jonesborough Tennessee in 2012, she became a member of the Jonesborough Presbyterian Church. She was also a dedicated member of the Golden Heirs Community Choir.
Wilma truly lived life to the fullest, enjoying simple pleasures, chatting with friends and family, cooking, making kefir, writing letters, and crocheting scarfs for the shawl ministry. She thoroughly loved her family. She had an uncanny ability to reach people in profound and positive ways. She was always supportive and the strength of her family.
She is preceded in death by her husband, Joseph A. Florence, III, by a daughter, Sara Jane Florence (Kevin Gregory) and by a son, Thomas R. Florence. She is survived by children: W. Ann Florence, M. Lea Florence (Geoffrey Hoare), Dr. Joseph A. Florence, IV (the Rev. Kaye Florence); grandchildren: Heather M. Sheets, Staff Sergeant John Mills (Kim), Nora Beauchamp (James), Gabriel Hoare (Liz Born), Maggie Roll (Les), Joseph Florence, V (Tess Wise), and Lea Carter Florence (Adam Trusner); and great grandchildren: Alex Mills, Evan and Garrett Sheets, Annabelle and Emmaline Beauchamp, and Silas and Wyatt Roll.
A private graveside service will be held at Forest Lawn Cemetery in Norfolk, Virginia with the Rev. Rob Edwards officiating.
A service of Celebration of Life will be held at a later date at the Jonesborough Presbyterian Church with the Rev. Allen Huff officiating.
In lieu of flowers, contributions may be made to Jonesborough Presbyterian Church, PO Box 383, Jonesborough, TN 37659.
01/04/2021
Kurt and Joanne Nelson
Wilma was so gracious to our family when we purchased the Florence family home on Longdale Drive in 2004. I know she prayed for us and for God's continued presence in every room. We loved living on "The Point" and seeing the sunrise on the water every morning. And the azaleas...! Now in heaven, Wilma is seeing more beauty than our eyes can imagine. Like King David, she is gazing upon her Savior! Thank you for publishing this obituary in Norfolk as well as Jonesborough.
01/04/2021
Claudia Canoles Troutman
Dear Joe and family, Thinking of your lovely, dear mother with fond memories from over fifty years ago when you and I were in Middle and High School. She was indeed a special person to have left such an indelible impression on me after all this time. Please know that my thoughts and prayers are with you all.
01/03/2021
Marty Leiderman
I was saddened to see your mother's obituary in the paper this morning. I didn't realize that Sara and Thomas had passed away. I have fond memories of all your family. May their memories be for a blessing. I don't know if you remember me. We were neighbors on Leicester Avenue. Ironically, I came across a picture of Joe Boy, Ann, Sara and me from New Year's Eve1959. I wish there was some way to share it with you.
01/03/2021
Jane Neirle Dantonio
Sending condolences to your family. Mrs. Florence (and Mr. Florence) were a blessing to my parents, both at Ocean View Baptist Church and at the pharmacy.
01/03/2021
Lynn DiDomenico Homza
I would like to express my condolences on your mothers passing. My father, Pete was your fathers partner in Ocean View, Florence Drug and Florence Pharmacy. May she rest in peace.
12/30/2020
Lydia Fisher Sweatt
Wilma and her family are dear blessings our lives. She loved the simple beauty of daisies.