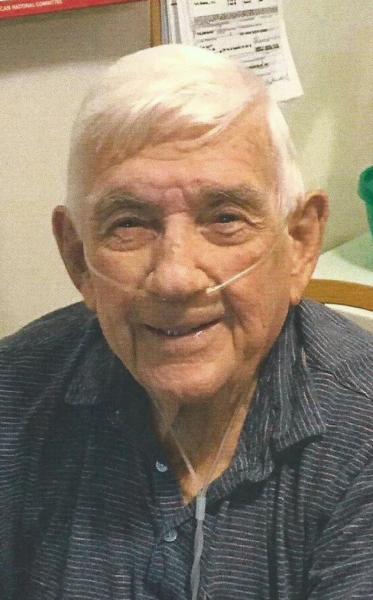 Mr. Milton D. Hensley, Sr., age 89, Johnson City, passed away Sunday, December 20, 2020 at Johnson City Medical Center.
Mr. Hensley was born in Madison County, NC and the son of the late Coleman & Zoa Chandley Hensley. He was also preceded in death by his wife, Mary Sue Hensley; siblings, Donald, Tom, Russell, Frank, Weaver, Margaret, FloElla, Odie and Ruth, and two great-grandchildren, Kathryn Edwards and Avery Harrison.
He was a member of Central Church of Christ.
Mr. Hensley was a Master Barber in Limestone and Jonesborough, a Charter Member of Limestone Fire Department, 60-year Mason, a member of Jericho Shriners, and former President of Limestone Ruritan.
Survivors include his children, Linda Estes (David), Susan Malone (Tim), Diane Silvers (Ted), Mickey Hensley (Jackie) and Karen Nunley (Clarence); brother, David Hensley (Jean); nine grandchildren and numerous great-grandchildren.
Funeral services will be conducted 3:00 pm Saturday, December 26, 2020 at Dillow-Taylor Funeral Home. The family will receive friends from 1:00-3:00 pm Saturday prior to the services. Due to the Covid-19 Pandemic friends may come by Dillow-Taylor Funeral Home Saturday morning after 8:00 am to avoid the crowds.
12/31/2020
lonnie Humphreys
God be with u all. Your dad. GREAT person. Bought me my first pair of glasses back 58 tears ago and gave me my first job sweeping floor at barber shop and shining shoes. Cant remember how many time he left people sitting in barber chair or in shop when there was a fire. He and lots of others went out when weather terrible in equipment that they would haul to junk yard now. Remember after he crossed little bridge at Anna Mae and Mytrle Davis on way to grass fire at Chuckey School.. As soon as he crossed the bridge it collasped in the creek. He did lots for little league both coaching and umpiring. He has a lastly memory in my heart. WITH OUR LOVE LONNIE&GEORGIA HUMPHREYS
Linda, Susan, and family it's always difficult to release those we love. May comfort and peace surround you thru the passing of your wonderful father
12/24/2020
Terry Hensley & family
Ours condolences to Milton's family !! Such a fun an loving man !! Cut hundreds of heads of hair !!!
I had the honor and pleasure to have been Milton's Caregiver for the past year and I will really miss our coffee and conversation sessions. He shared wonderful stories of his life and it was touching to see how his face lit up when talking about his children, Milton was so proud of all of his kids, I felt like I knew them before I had the pleasure of meeting most of them. RIP my good friend, I will always cherish our time together.
I was saddened to hear of Miltons passing. He was always cheerful and good friend to talk to when you needed it. My condolences to David,Benji and the family. Godspeed Milton
Milton was a great man and a great barber. He will forever be remembered in Limestone. So very sorry.
12/23/2020
Barbara Austin Morgan
Linda, Susan and entire family, So sorry to hear of your father's passing. May God comfort you all during this time. You are in my thoughts!
12/23/2020
Darlene Carter
I am so dory to hear of the passing of Melton. What a good man he was. Will never forget all the good times I had living beside of you. My prayers go out to you and your family.
12/22/2020
Wassan and Vickie Broyles
So sorry to hear about Milton. It's been a few years since he stopped by the Hardware in Limestone and hollered at me. He seen me outside and he stopped and we chatted for a pretty good while. I have very fond memories of Milton when he was a barber in Limestone. I would go in the shop and ask Milton if he needed someone to sweep the floor and even though I was a only 5 or 6 he would give me a nickel or a dime depending on how bad the floor was. Sometime he would let me sweep up because I think he just felt sorry for me and would give me a nickel. For me that was a lot of money since I didn't have even a penny in my pocket. You know back then you could buy something like kitts at Miss Ettas store for a penny or even a fishing hook at the hardware. He always had a joke to tell and always was asking about the tarheels in NC. Until I was older I didn't know what he was talking about but he was referring to my cousin's that lived in Boone NC. I also have fond memories of Milton on the old Limestone ballfield or cooking chicken down at the Davey Crockett Celebration standing beside Bill Collett with sweat running down their cheeks and just having a good old time. Fond memories of a time gone by and Men that have left us with memories that we will never forget. My heartfelt condolences go out to the friends and family of Milton Hensley. May he live on forever in our hearts and minds, Wassan and Vickie Broyles.
I am so saddened of Uncle Milts passing. He was always fun to speak with. He sure was a talker and always had a story to say! He never met a stranger. He was so good to all of us even after years of not being together. Prayers to all who knew him and loved him!! He so wanted to make it to 90. Heaven gained another Angel. Love you Uncle Milt. Until we meet again!!
12/22/2020
Linda Winegar Greenwell
Milton was a good one!! He cut my dad's hair for years and then my husband's after we married. I used to love to go with Daddy when he went. Prayers for you all
12/22/2020
Carroll Foster
So sorry for your loss he was a good man he was my barber for years I always enjoyed our conversations due to the virus I will not be able to show my sympathy in person but will be thinking about the family
12/22/2020
David and Sheila Frakes
We knew Milton from church services at Central Church of Christ in Johnson City. He was a fine and pleasant man and will be missed. You are in our thoughts and prayers.
12/22/2020
Steve & Debbie Ingram
We knew Milton from Central Church of Christ and visited with him a few times. We enjoyed listening to his recollections from long ago and enjoyed his company. He was such a friendly, open hearted man. We will miss him at church! Our deepest sympathies for your loss.
12/22/2020
Eddie Matthews
I am so sorry to hear about Milton passing. He was my barber from 5 years old to 50. I remember my dad and mom heading off to Milton's house all most every week end to play cards. He was a man you can be proud of.
I was saddened to learn of Milton's passing. I so enjoyed the time spent with him as his caregiver. He was a very special man. My deepest sympathy for your family. My the Peace and Comfort our Lord Jesus be with you all.