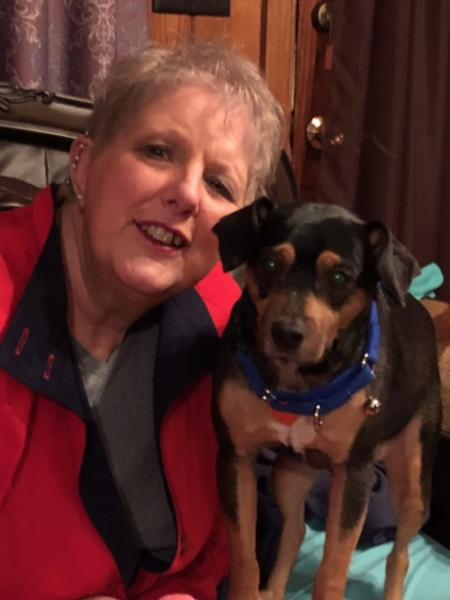 Ms. Elizabeth Diane Byers Wilhoit, age 59, Limestone, passed away Friday, December 4, 2020 at Johnson City Medical Center.
Ms. Wilhoit was born May 17, 1961 in Washington County and the daughter of the late James Dillard & Ilsa Claudette McCourry Byers.
She was an LPN at the Center on Aging and Health in Erwin.
Ms. Wilhoit was a member of Mustard Seed Church.
Survivors include two daughters, Rachael Wilhoit (Jorden Gardner) and Tiffany Renee Matthews (Daniel); grandchildren, Nehemiah Gardner, Noah Gardner, Tristan Matthews and Rigby Matthews; sister, Debbie Byers; aunt, Betty Willis; and several cousins.
Funeral services will be conducted 8:00 pm Saturday, December 5, 2020 at Dillow-Taylor Funeral Home with Rev. Jerry Powers officiating. The family will receive friends from 6:00-8:00 pm Saturday prior to the service.
Graveside services will be conducted 3:00 pm Sunday, December 6, 2020 at Pleasant Grove Baptist Cemetery.
Pallbearers will be family & friends.
12/08/2020
Steve Reynolds
My Sincerest Sympathies & Heartfelt Prayers for the Family of Diane. I met her years ago, Sweet, Gentle Lady.
12/06/2020
Rhonda McGee Watts and Nancy Collette
Our sincerest condolences go out to the entire family. We wish you much comfort in the memories that will flood your heart in the coming days and months. Prayers go out to Debbie for a speedy recovery.
I am so sorry for your loss. Diane was an wonder woman. I use to work with with Diane, loved working with her. Even on rough days she could get all of us smiling an laughing. She was truly a blessing to all of us who knew her,staff an patients alike. She made each day she was there a good day. She will be missed but never forgotten.
12/05/2020
Rebecca Harris ( Becky Hall)
I am so sorry guys. Diane was a great person whom I share some fun memories with from back in our younger days when she and Eddie were our youth leaders. I enjoyed sharing music with her at mustard seed and way back when we were at Telford together. My thoughts and prayers are with you guys!!!
12/05/2020
Tina McCracken(Bennett)
Debbie - I am so sorry for your loss. She was a good friend and a nice person. She will be missed very much . Just remember the good times you all had together .
12/05/2020
Jeff & Pam Murray
Debbie, We are saddened to learn of the loss of your precious sister. Please know we are lifting you up in our prayers during this most difficult time.
Tiffany & Daniel and family, We are so sorry about your mom. Your family is in our thoughts and prayers.
12/05/2020
Frank and Peggy Huscroft
Debbie, we are so sorry for your lose. Ours prayers are with you and your family.
12/05/2020
Terrie Freshour
Diane was a precious soul, I met her at Lifecare of Greeneville. She was a hard worker, the residents loved her. She will be greatly missed. Rest In Peace my friend, until we meet again. Love Terrie
Family, my heart is heavy. I was shocked to see Diane passing. She was my moms nurse at COA and was so good to her. Mom passed in February Diane gave me words of comfort. Mom loved her as I. I know you will miss her and her little residents will too. I pray the Lords arms of love and comfort hold you close now and in the days to come. Mom and my world was brighter knowing Diane. Prayers, Retia Shealy
12/05/2020
Melissa Minton
Sorry to hear of this. Prayers for comfort and grace along with sweet memories
My condolences to the family. Diane will be missed.
Tiffany, Rachel, Debbie, and families, I am so very sorry for your loss. My prayer is for peace and hope during this difficult time. God is with you. I will miss seeing Diane coming home from work and blowing the horn and waving at me. She had a great smile! Love and prayers.
12/05/2020
Patsy Morelock
Tiffany and family so sorry about your mom I know she will be singing in heaven with your mamaw I loved to here you all sing Please let me know if I can do anything for you love you Nana
12/04/2020
Tommie J. Douglas
So sad to hear of such a great loss. My prayers go out to the family. Diane will b missed greatly.
12/04/2020
Judy Douglas Briggs
I am so sorry to hear of the passing of Diane. I've known Diane for so many years, went to school with her and Debbie and also at one time attended church at Telford Baptist Church and sang with her and her mother, Claudette. I have y'all in Prayers today and days to follow. With Deepest Sympathy, Judy Douglas Briggs & Family
12/04/2020
Melissa Schaeffer
Prayers for family! Diane was such a joy to work worth. She was such a smart, caring and beautiful person. She will be truly missed.
12/04/2020
Terry Richardson
I worked with Diane for several years as staff nurse on Birch Wing at Lifecare. She was the best work partner I ever had. I loved to work with her. She was such an excellent and caring nurse. We worked so well together. She was a good friend to me. I haven't seen her since I retired and she left Lifecare. We always felt like we could talk with each other when we were troubled. Love you, Dear Diane.