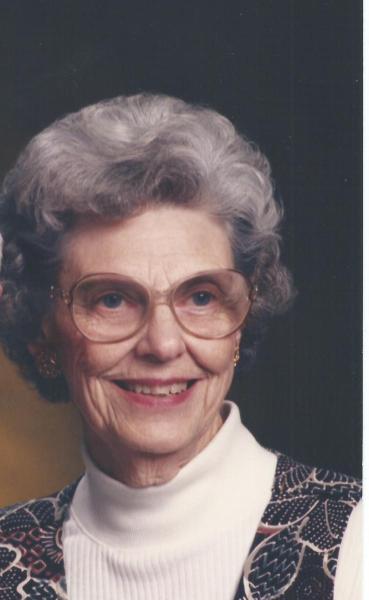 Katherine Elizabeth Smith Maloney died Tuesday, November 10, 2020 at Johnson City's Cornerstone Village Independent Living from causes incident to age. She was born December 24, 1922 on the family farm in Monroe/Loudon Counties, TN. Her parents were Mr. and Mrs. James Garland (Maude McCollum) Smith. Katherine moved to Maryville with her family during the Great Depression, graduated from Maryville High School in 1938 and attended Draughon Business College in Knoxville.
She worked in the business offices at the University of Tennessee and ALCOA before marrying W.A. Maloney, a lifelong resident of Washington County, in January 1947. He was owner and operator of Eureka Roller Mill, a fourth generation business in Telford. They resided in Telford until 2006 when they relocated to Cornerstone, formerly Appalachian Christian Village.
Survivors include her nephew, Scott Trundle (Liz) of Jacksonville, FL, and nieces Ginger Trundle Manley (John) of Franklin, TN and Marion Smith Butcher of Lawrenceville, GA. Her siblings, Helen Smith Crownover of Tampa, Alice Smith Trundle of Maryville, Charles B. Smith of Lawrenceville, GA, and James G. Smith V of Kaneohe, HI died before her. She remained close to her husband's nephews; Jack Maloney, Telford, and Guy Kingsley (Lucy), Mendocino, CA; a niece, Carol Robson, Mendocino; a great nephew, Darrell Kingsley (Stephanie), Coalfield, TN and their son, Joseph, a UT engineering student. Martha Squibb and Kathy Shortt of Johnson City were special friends.
Katherine was a member of Telford United Methodist Church and served on its Altar Guild. She was active with the Telford Ruritan and Garden Clubs. In retirement she served on Cornerstone residents councils. She loved to read, solve puzzles, and watch Tennessee girls basketball. Most of all, she loved her family.
Graveside services will be conducted at 11:00 am, Friday, November 13, 2020 at Telford Cemetery with Pastor Jeremy Dykes officiating. The family will receive friends graveside prior to the service. Covid 19 precautions will be in place.
The family expresses its appreciation to Brenda McInturff, Kathy Shortt, and the staff of Cornerstone Village for the loving care given Katherine.
Memorial donations may be made to Telford United Methodist Church, 1775 Old State Route 34, Telford, TN 37690, or Ballad Health Hospice, 509 Med Tech Parkway, Ste.200, Johnson City, TN, 37604.
11/13/2020
Kay and Sonny Miller
So sad to hear of Katherine's passing. Always remember her at Telford Methodist Church where she was involved in about everything that went on in the church. Blessings to the family.
11/12/2020
Suzanne Huffman
Katherine was an inspiration and hope to my mother when she lived at the Village a few years ago. We especially remember the aprons.
11/11/2020
David and Pat Boshears
Great memories of Katherine and Dub from Telford community and Telford Methodist Church. Katherine was a sweet lady coupled with great intelligence! Our hearts go out to all of her family. They have lost a dear member of their family and community.
I am saddened to hear of Katherine's death. She grew up next to my Maternal grandparents in Maryville and was introduced to Dub by my Grandmother Fawn Bright Allen from Fall Branch, then living in Maryville. She was almost like a double cousin to my Mother. Fond and dear memories of Katherine and Dub.