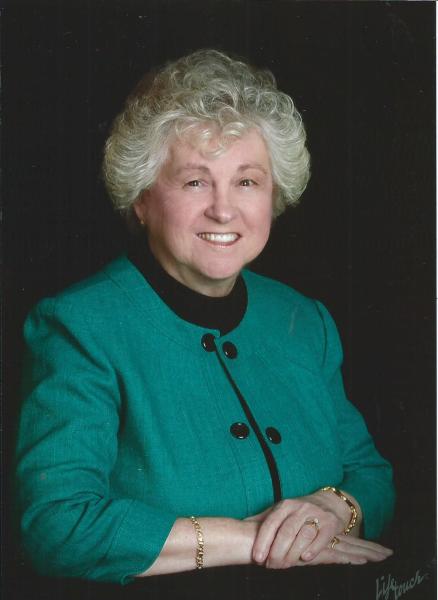 On September 30, in answer to her daughter's persistent prayers, and as she listened to the words of the song "No More Night," Thelma Nichols Thompson was promoted to Heaven after an extended illness. She was born April 20, 1937 in Franklin County, VA and for a number of years lived in Hopewell, VA where she graduated from High School in 1955. She is survived by her husband, Pastor Ron E. Thompson; three children: Kimberly Nokleby of St. Petersburg, FL, Evangeline "Angie" Hales (Douglas) of Lynchburg, VA, and Melody Archer (Kent) of Limestone, TN; six grandchildren: Ronald Watt (Amanda) of Seattle, WA, Cody Nokleby of St. Petersburg, FL, Magan Snell (Gabe) of Knoxville, TN, Camilla Archer of Limestone, TN, Jessica Hales and Zachary Hales of Lynchburg, VA; one great-grandson, Caden Snell of Knoxville, TN; brothers: Wendell Nichols (Shelvia) of Wakefield, VA, Maurice Nichols (Dolores) of Albemarle, NC, and Timothy Nichols of Angier, NC; one sister, Carolyn Walker (Jerry) of Raleigh, NC, and numerous nieces and nephews. She was preceded in death by her parents, Linford and Sarah Nichols of Hopewell, VA, and sister, Barbara Piner of Hopewell, VA.
Thelma came to faith in Christ early at her father's knee. While an active member of the Church of the Brethren in Hopewell, VA she met her future husband, Ron, in the young people's organization. They were married on April 23, 1957 and began a ministry together that has continued for over 63 years. Together they served churches in Akron, IN; Buena Vista, Roanoke and Richmond, VA; Mesa, AZ; and Aiken, SC. In every church Thelma was usually actively involved in women's ministries, children's ministries or in the nursery department. She was also a gifted bookkeeper and employed for several years at Lee Medical Lab in Richmond, VA, as well as at World Bazaar and Home Center Kitchen in Roanoke, VA. Serving in the same capacity with Ripe For Harvest World Outreach for over 20 years Thelma cultivated a lasting and loving relationship with over 200 missionary families in 37 countries. Conducting children's classes was her responsibility as part of an evangelistic ministry team that conducted 78 First Love Renewal Seminars throughout the United States and in several foreign countries. Thelma was a great lover and supporter of the nation of Israel and toured there on two occasions. Her five-star pendant proudly worn from the Holy Land was a constant testimony of her prayers for the peace of Jerusalem and her concern for the chosen people of God.
In the home, Thelma was a persistent, patient, and caring mother of her children. Personally, she was an avid student of the Bible, reading it through yearly in many different versions. She enjoyed reading Christian literature as well and always was a faithful prayer warrior often praying Psalm 19:14 or II Cor. 5:17 before making a phone call or writing a letter to someone. Thelma appreciated music and enjoyed being the audience while Ron, Angie, and Melody sang around the piano just for fun or practicing for a performance. Always fond of the old hymns, her two favorites were: "It Is Well With My Soul" and "At Calvary." She loved and wanted to see things grow whether it was her many house plants, or her garden, or her children. A favorite pastime was feeding and watching her birds, especially hummingbirds. With only a limited college education, Thelma possessed a wisdom, discernment, patience, and attention to details that exceeded any academic achievement. Along with her spiritual gift of giving, her testimony was a living example of the virtuous woman spoken of in Proverbs 31. Thelma Thompson leaves behind a legacy that touched the lives of so many people that only eternity will reveal what God was able to accomplish through her life.
Funeral services will be conducted 8:00 pm Monday, October 5, 2020 at Dillow-Taylor Funeral Home with Pastor Don Soule, Dr. Vic Young and Reverend Lester Lattany officiating. The family will receive friends from 6:00-8:00 pm Monday prior to the service.
Entombment services will be conducted 11:00 am Tuesday, October 6, 2020 at Washington County Memory Gardens.
The Funeral will be lived streamed Monday night at 8:00 PM, on ourYouTube channel, Dillowtaylor Funeral Home.
10/09/2020
Dr.Fred and Carolyn Eichelman
Carolyn and I are sorry we could not have been closer than Salem, Virginia and as I have had eye treatments causing problems with my vision could not send anything until now. Though we did not meet Thelma until a couple years ago I feel I have known her for 67 years. Pastor Ron was my roommate at Bridgewater College our first two years where we did our undergraduate work. Ron to be a pastor, me to become a teacher. While my interest was writing, Ron's was always Thelma and music at which he remains tops. We think the world of this couple and love them. We stand ready, far away as we are, to help any way possible. Blessings, love and Prayers, Fred and Carolyn.
10/05/2020
Susan Burnette Beheler
My deepest sympathy
I'm so sorry for the family's lost! While I never knew her, I feel like I did through her testimony! What a wonderful testimony of a life well lived! I pray for the family during the grieving process and for perfect peace knowing she is with Jesus!
So sorry for your loss. You can rest assured she's in the arms of Jesus now. Keeping your family in my prayers.