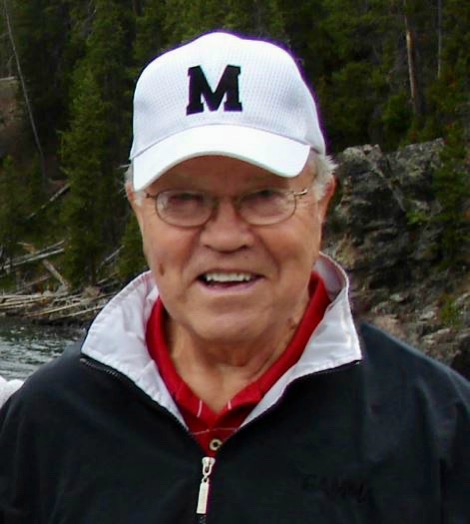 Coach Duard B. Walker, Sr., age 95, passed away on Tuesday, August 18th, 2020, at his Johnson City residence with his entire family at his side. Duard was born in Johnson City on October 13th, 1924, and raised in Piney Flats, Tennessee. He was the son of the late Dumas and Lessie Gay Walker. Duard was also preceded in death by a brother, Norman, who was killed in WWII. After achieving academic success and playing an active role in sports in high school, he entered East Tennessee State and played baseball as a freshman. He transferred to Milligan College the next year and played several sports. As World War II was underway, he was assigned to the Navy V-12 College Training Program at Milligan. As a LTJG, he later participated in the battles at Iwo Jima and Okinawa.
After three years in the Navy, he returned to Milligan in 1946, where he remains the only person to have earned 12 varsity letters in five different sports. He was also awarded the Scholar Athlete Trophy. He met Carolyn Roberts while at Milligan, and they married on August 14th, 1947. In 1948, Duard and Carolyn became the first married couple to be crowned May King and Queen at Milligan. After graduating in 1948 and completing his Master's Degree at Columbia University, he coached boys and girls basketball, football and taught for two years at Farragut High School in Knoxville.
He returned to Milligan in 1951 to teach various classes in Health and Physical Education. Through the years, he coached baseball, basketball, track & field, cross country and tennis. His cross country teams won seven consecutive conference championships. He was especially pleased with a 1957-58 season sweep against then arch-rival East Tennessee State in basketball. He was also Athletic Director, Dean of Men and Head Resident of a men's dormitory.
Walker received Milligan's highest honor, the Fide et Amore medallion for Distinguished Service. He was also an inaugural member of the Milligan Hall of Fame, a distinguished Milligan alumni, the 2001 NAIA National Athletic Director of the Year, an inductee into the 2008 class of the NAIA Hall of Fame, the Carter County Sports Hall of Fame, the Northeast Tennessee Hall of Fame and was inducted into the Tennessee Sports Hall of Fame in 2016. The Appalachian Athletic Conference named the Duard Walker All-Sports Trophy in his honor. In December of 2000, Sports Illustrated featured him with an article entitled, "Like a Rock", detailing his life and legacy.
Actively involved in Hopwood Christian Church, he served in several capacities, including Deacon, Elder, Trustee and Chairman of the Board. His outreach to the community included: Little League coach, Chairman of the Board of the West Carter County Volunteer Fire Department, President of the Optimist Club, TSSAA basketball and football official and served as a Tennessee TSSAA Football Commissioner. Duard enjoyed an active lifestyle, spending time with his family, including his love of horses, playing tennis, badminton and pickleball. His participation in the Senior Games led his team to a National 3rd place in badminton. At age 91, he won gold in the 100 and 50 yard dashes, shot put, discus, javelin, softball throw, long jump, shuffleboard and pickleball. In leading by example, Duard's students realized what he taught went beyond academics and sports. He taught them about life and having the character and integrity to be the best they could be. This past August 14th, Duard and Carolyn celebrated their 73rd wedding anniversary with their five children, all of them Milligan graduates.
Survivors include his wife of 73 years, Carolyn (Roberts) Walker; brother, John Wallace (Sue) Walker; children Cindy (Billy) Gober, Teresa (Kevin) Knox, Buff (Debbie) Walker, Gary (Gina) Walker, and Tracy (Susan) Walker; grandchildren, Chad (Jessica) Fulwider, Derrick (Whitney) Fulwider, Jace (Beth) Fulwider, Denyse (Paul) Brackett, Greg (Joni) Gober, Jennifer (Matt) Storm, Tony (Lisa) Stout, Anlyn (John) Hughes, Stephanie Sibley, Trey Walker, Sky Walker, Gavin Walker, Brent (Amanda) Parker, Brittany (Andy) Tynon, Kyle (Dara) Knox, Katie (Tyler) Pearson, Keith (Alyssa) Knox and 15 great grandchildren; sister-in-law, Pat (Clark) Aldridge-Hinkle; nieces and nephews include Jeff (Mary Ellen) Walker, Robin (David) Jimenez, Jeff (Tembra) Aldridge and Melanie Aldridge.
Duard donated his body to the Quillen School of Medicine for medical research. Due to the coronavirus, a memorial service/celebration of life will be held at a later date (to be determined). In lieu of flowers, donations may be sent to The Duard & Carolyn Walker Scholarship Fund (Milligan University, Duard & Carolyn Walker Scholarship Fund, P.O. Box 750, Milligan, TN 37682) and/or Hopwood Memorial Christian Church (Hopwood Memorial Christian Church Building Fund, P.O. Box 149, Milligan, TN 37682.
10/28/2020
Allen E. Sellars
I was a student at Emmanuel School of Religion (former name) from 1970 to 1973 while working on my Master of Divinity degree. We had a "tennis for lunch" bunch on the old Milligan College tennis courts. Those who usually played were Dr. Robert Fife, Dr. C. Robert Wetzel, Jeff Campbell, myself and, of course, Duard. In 1972, Milligan had no tennis coach, and, I suppose, impressed with my tennis skills, Coach Walker ask if I was interested in coaching the team that year. At first, I said I was too busy, but then changed my mind. If you look at the picture, the name was posted as Jon Hollars, but that is me on the far right, Allen E. Sellars. I thank Duard for his confidence and send condolences to his family. We all will miss this great man who had such a gentleman's demeanor at all times. May God give his grace to his family in this very hard time.
08/25/2020
Dr. Charles W. Gee
Duard welcomed me to Milligan as a new faculty member and we spent many hours competing on the tennis and pickleball courts. He thoroughly enjoyed interacting with students, faculty and the administration and was not hesitant to let you know what he thought about any topic related to life at Milligan. He lived a long and full life and the Quillen College of Medicine students will get a rare look into the anatomy of this 95 year old gentleman. Pam and Chuck
I had the pleasure of meeting and sitting next to him and your mother on the plane going home from a wonderful vacation at my sister and brother-in-law's. This was in November 2018. He was the most pleasant and friendly person on the plane. It was an awesome experience for me when he realized we were in the same town and were headed to Florida. I feel honored that God put your father and mother together in the same place on the same plane. God bless him and may he Rest In Peace.
Was a player on the 1957-1958 basketball team that defeated ETSU twice and was so glad to see how much Coach Walker wanted the win for our school. He taught people with the way he lived - with character, humility, and grace. RIP COACH. WALKER....
Buff & Debbie and Family, my heart goes out to all of you after the loss of your Da. Buff, I personally know how much of an inspiration and guiding force your Father was throughout your life. Words cannot express just how much he will be missed. Knowing that we will see him again on the other side of Eternity gives us that promised hope from Jesus to carry us through these grief-filled times. Know that you are in my prayers. Always your friend, Paul
My condolences to the entire Walker family. My best childhood memories are from growing up around Milligan and playing ball with the Walker kids. I always loved your father, he always had a encouraging word, or joke to brighten my day. He always took the time to get the ponies out during the summer and create memories I'll cherish forever. I want to thank him for being a leader in the his community ,a great role model , and teaching me good sportsmanship and how to live a full life.
Coach Walker was my professor. Please accept my deepest sympathy. He was a great man and will be missed. Milligan College Class of 1978.
08/22/2020
Richard and Joni Baker Maples
Our condolences to entire Walker family.A lifelong friend to the Oakes and the Baker family. May God Bless- Richard And Joni Baker Maples
08/22/2020
Carol Lewis Honeycutt
Teresa, so sorry to hear about your dad, but I know he is in a better place. I would see him at the Elizabethton Choral Club concerts that my mom and yours were singing. I remember when he came to reprimand me for telling a student to go on in your home, everybody else does.. when we were in elementary school. I couldn't get over that they let everyone in the door. Ooops, they were in the back when the student went in. I think that was 4th grade. I hate that this virus keeps us away. I would like to see you and your family. We dont even get to have our 50th class reunion this year. Again so sorry, your dad was a great man. Carolyn, Cindy, and the rest, Buff, Gary and Tracy and families my condolences. HUGS
Coach Walker as my friend and mentor We continued this friendship for 50 years He was the most outstanding man I ever met. I will truly miss him but will never forget him My prayers are with his family and love ones Thank you Coach for all the advice you gave me over the years.
I am deeply saddened by the news of Coach's passing. Coach, Carolyn, and their family were so kind to me during my Milligan years. The Coach was always equitable in his dealings with those of us who lived under his roof at Webb Hall. I remember how he responded to help when a broke my front teeth in a dorm room accident. He quickly called his personal dentist and asked him to see me on a Saturday afternoon. I am indebted to Coach and his family who shared him with us. He was a solid role model and mentor on how to be a Godly man. My prayers are with Carolyn and the family. (Bob Hayden, Class of 1980)
Hearing the sad news about Mr Walker's passing brought a flood of pleasant memories about working several years for his eldest son, Buff. I believe Buff learned his traits of integrity, fairness, and good leadership from his parents, and I credit his father's influence for shaping Buff's hilarious sense of humor and good character. I send my condolences to the entire family and especially to my acquaintances within the family. God bless you and keep you.
My condolences to the whole family. Coach was the surrogate dad we all had in Webb Hall. He earned respect and love from all of the residents as if he was our own parent. When I think back of a face of Milligan, his face is always the one I will see. He always set the example of how to live a Christ like life. I know many of his accomplishments were in athletics, but to me, his real accomplishment was his life and the family he raised in a dorm (after I became a dad, I realized how hard that had to be). Coach, I hope to see you in Heaven one day. I know you are there playing pickleball with the angels right now.
08/21/2020
Jimmie Carmichael
Coach was always smiling and sharing with and about someone in a sports activity in the area. He was to many the very thing that sports are about. Thank you coach you have hit another home run.
08/21/2020
Tim Smith, Milligan '80
Very thankful to have known Coach Walker as my tennis coach and friend. True man of faith and character that leaves a lasting legacy. Prayers and condolences for all his dear family.
08/21/2020
Vicki Webb Hubbs
It is so sad to hear about Duard's passing. I was his first cousin. My family has such great memories. Me and my sisters (Cathy, Connie, and Patty would visit and spend the night on several occasions. Duard would ride us around campus on a pony cart, camp out in a tent, watch a colt being born, and much more. We mostly played with Cindy and Teresa because they were nearer our age. I know this is hard; but because of our faith and trust in God, He will get us through. We know we will see our loved ones again in heaven. Our thoughts and prayers are with you all. God bless. (Isaiah 66:24).
To the entire Walker family, We wish to extend our sympathy for your loss. What a legacy Coach has established for a life well lived. We loved him, dearly. He will forever have a place in our hearts. Blessings for each one. Love, Jim and Adie Hyder
Coming from a small village in Virginia Coach Walker became my "second father" when I entered Milligan as a green country boy. As I played basketball for the Buffaloes (1961-1965) I respected and admired Coach as a leader of men. Without his encouragement I am certain I would not have followed the career path (following in his footsteps) as I have. Love to all of you. I loved your husband/father/grandchildren as a member of my family. God bless, you will be kept in my prayers and Coach in my book of cherished memories.
Coach, thank you for being you. :) A man of integrity, strength, honor. All with a wicked sense of humor. Remember Sarah, my daughter, who was 3 when I began working at MC(U). She adored you then and she still does today. To the Walker family, thank you for sharing this wonderful man with all of us. Peace of Christ to all of you. Melissa
Coach, you were highly responsible for my becoming an athlete. We first met when I was 14 years old at Farragut High School. I went on to accomplish much in athletics and later became a coach my self. My whole career in education seemed to be a continuation of my relationship with you. I have loved you as a great example for giving back to those who helped us. Your friendship and guidance will remain in my memory forever. Rest in peace and know that there are thousands out there that loved you very much.
08/20/2020
Dr. Michael Amstein
Thoughts and prayers for the Walker family. May God bless all of you during this difficult time.