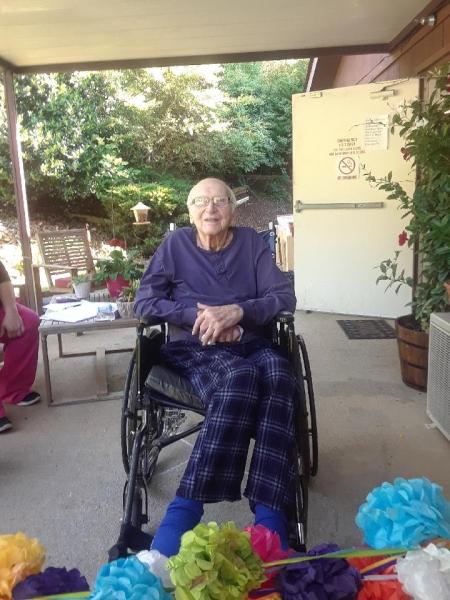 Blain Ferrel Brobeck, 93, Jonesborough, Tennessee, passed away on Thursday, July 23, 2020. Mr. Brobeck was born in Washington County, Tennessee, and was the son of the late Lunsford Pitt Brobeck and Ethel Lockner Brobeck.
Blain served in the United States Navy for two years aboard an air craft carrier. After that, Blains life work was in quality control and engineering manufacturing. In the late 1940's, he worked in Akron, Ohio, with Goodyear Aircraft, he then moved to Florida to work at Pratt Whitney Aircraft, following that he worked at Herd Lock Company in Greeneville, Tennessee, he then joined Raytheon in Bristol, Tennessee, and his final job site being Hammond Orgon in Johnson City, Tennessee.
Survivors include two daughters, Linda Brobeck Hamilton (Steve) of Vashon, Washington, and Rhea Brobeck Harvey of Vashon, Washington, 7 grandchildren, 9 great grandchildren and several nieces and nephews. Also survived is Millie Brobeck, his ex-wife, best friend and caregiver.
Blain was preceded in death by his two sons, Steven Ferrell Brobeck and Robert Blain Brobeck, one granddaughter, Karla Marie Tuma, three brothers, Jake Brobeck, Willis Voil "Toby" and Rena Mae Brobeck, and Von and Maenell Brobeck, four sisters and brother-in-laws, Erma and Sam Hansard, Bonnie and Will Hill, Daisy and Paul Painter, Thelma Jean Caudle, Violet and Stanley Gamble, and one nephew, Stanley Kei Gamble.
A visitation will be held at Dillow-Taylor Funeral Home on Monday, July 27, 2020, from 9am to 12pm, with a graveside service starting at 1pm at Salem Cemetery, Limestone, with Pastor John Moore officiating.