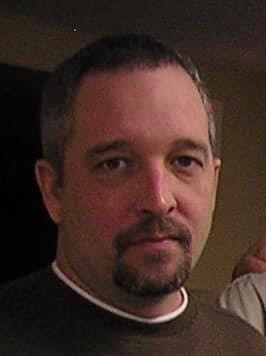 Stuart Edison May (47) of Memphis, TN died September 22, 2019 at Lima Memorial Hospital in Lima, OH.
Stuart was born in Jonesborough, TN on February 9th, 1972 to Larry A. May of Memphis, TN and Mary Yvonne Spradling May of Bruce, MS. He graduated from Bruce High School in Bruce, MS before serving in the Navy until honorably discharged. He later attended Mississippi State University where he obtained a Master's degree in Mechanical Engineering. Stuart was a self-taught and accomplished musician who loved playing guitar. Stuart was best known for his sharp wit, sense of humor, and big heart. His friendship, unique perspectives, and loving presence leave a tangible void in this world and are deeply missed by those close to Stuart.
Along with his loving parents, Stuart is survived by his daughter Madison May, his son Gauge May, his brothers Reuben May, Daniel May, and Gregory May, his step mother Jo May, step sister Shana Hyman, along with many caring aunts, uncles, nieces, nephews, and cousins. Stuart is preceded in death by his Grandparents James and Nadine (Newman) Spradling of Water Valley, MS, along with John and Ruby (Murr) May of Jonesborough, TN.
Inurnment services will be conducted 12, Noon, Saturday, July 18, 2020 at McCarty Cemetery with Rev. David Reese officiating.
Just read about your loss. May God give you strength through this time of sorrow.Please contact me at 865 335 5388.
My most heartfelt condolences to all. I cannot imagine how hard it has been to lose your son and brother. I grew attached to all you kids over the summers in Jonesborough and know that as adults you have become more endearing to all you meet. I hope each of you find peace in your memories, adventures, and love.