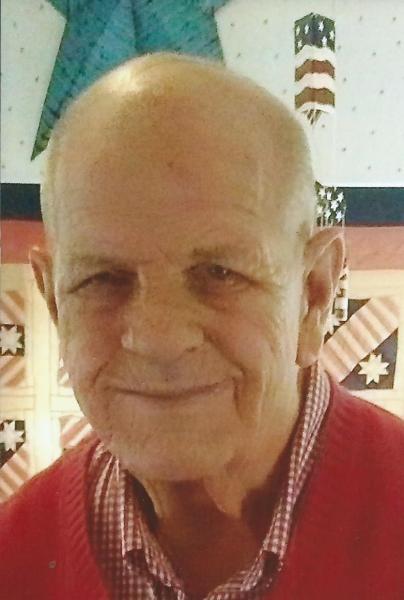 In the 14th chapter of the book of John, Jesus assures believers that He is going ahead to prepare a place for them. In the early afternoon of Sunday, July 12th, our Heavenly Father called William Harrison (Mr. Bill) Dykes, Jr. home to the place He had prepared just for him. Praise God, he was ready to go!
Bill was born November 5, 1949 to the late W.H. & Emogene Loyd Dykes, and grew up in the New Victory community. After marriage to Rebecca in September of 1970, he moved to the Conklin community. Bill loved living with a daily view of the Nolichucky and the mountains, always saying they changed every day.
Bill was a long-time member of Mount Wesley Methodist Church, and he also loved worshipping at Jackson Park Church where his son is the pastor. He considered both to be his home church. Bill was also a member of the United Emmaus Community. He was blessed with many lifelong friendships formed on those walks.
In 1971 Bill began work at Memorial Hospital as an Inhalation Therapist. With on the job training and evening vocational classes Bill became a Certified Respiratory Therapy Technician and became the Respiratory Supervisor Day Shift. He worked in several areas, spending ten years in the NICU, and retired in 2012 after over 41 years of service. During those years he met and grew to love many co-workers and staff. They were like family to Bill and each one was treated exactly the same - sharing hugs, smiles, words of encouragement, and often tears. In 2004, Bill was one of three employees to be chosen for the Servant's Heart Award, and he truly did have the heart to serve others. In retirement, Bill was filled with enough memories of work and friends to last a lifetime. Bill is the only person we know to attend his own receiving of friends. On July 2nd, co-workers and the community came together to have a drive-by parade to wave to and encourage Bill. He was able to come to the front porch and wave to his friends passing by. Later in the evening, he enjoyed a special firework show right outside of his window. What a tribute to a life well lived.
Other than his parents Bill was predeceased by grandparents Flora and Byrd Loyd and Eldora and Gordon Dykes, and other family members.
Left to miss Bill and cherish his memory are his wife Rebecca and their son Jeremy and his wife Andrea, of whom he was so proud. Uncles and aunt Everette and Naomi Loyd and Carlos Peterson along with several cousins survive Bill. Also left to miss Bill is his brother by choice, Brian Dillow and wife Kathy and their family.
During Bill's illness, we have been so blessed by the love and concern for our family. You have been there to meet all our needs and we will always be grateful. We pray God blesses you for those acts of kindness. Bill felt your love and prayers every day, and we ask you to continue to pray for us. Without the Amedisys team, we could not have cared for Bill at home. We will always be grateful to you for that gift.
A private burial will be held at Mount Wesley Cemetery. His son Jeremy and friend Carroll Murphy will lead the service.
Because of the current conditions around us many people are in need. Instead of flowers please honor Bill's memory by donating to others - that is a true Servant's Heart.
07/23/2020
Shirley Broyles Roark
Rebecca & family, So very sorry to hear of Bill's passing. I only met him one time but I felt like I had known him for a very long time. We were at a West View reunion. I took a precious picture of Rebecca & him. Wish I had gotten to know him better. My sincere condolences to you all.
Worked with Bill his 1st 2-3 years at Memorial Hospital. He was a very caring man who always did extra for his patients. When I moved back to the area I went to JCMC just to see him & reconnect. Saw him a few times over the years, the last time voting 2 years ago. He was the same Bill that I knew & loved despite not feeling very well. My thoughts and prayers are with his family & all those who loved him. He was a great many with such a servants heart! Heaven gained an angel!
07/15/2020
Victor and Debbie Kagan
Rebecca, Jeremy and Andrea we were so sorry to hear about Bill. He was a good friend. He will be missed by so many. The lives he touched are immense. We love you and know that God has his arms around you. Love, Vic and Debbie
07/15/2020
David and Sandra Holt
We send our deep heartfelt sympathy. Conklin will not be the same without this man who shared Jesus when he smiled. We were honored to have known Bill as a neighbor and friend for many years. You are all in our thoughts and prayers as you press on. God will continue to bless you. Thinking of the song, "When We All Get to Heaven". What a day of rejoicing that will be! When we all see Jesus, we'll sing and SHOUT the VICTORY!
07/15/2020
Claude & Cindy Terry
What a blessing to know and work with Bill at JCMC. He was a ray of sunshine and truly could brighten and change your day. Always there with a hug, smile and encouragement. We think of him often and fondly. May God bless the family! Claude & Cindy Terry
07/15/2020
Kathryn Wilhoit, RN, PhD
I loved working with Bill. His hugs were the best. Our best memory to Sahara and laugh was the weekend we were working at the "old" Memorial Hosptial, Bill in RT and I was house supervisor. A sick newborn was born, one that needed a ventilator. Drs. Fish and Berry were young physicians who had arrived in Johnson City. They needed a place to give the infant the intensive care it needed. Bill, Environmental Services snd myself turned a storage room next to the nursery in to that special care unit! We laughed about not getting fired! Bill was always a can do and let's get it done kind of guy! Great times, a great man. I know you are on a special assignment in heaven!
Rebecca and Family: Bill was a wonderful man. He always had time to say Hi at the hospital no matter how busy. My sincerest condolences.
Oh how I loved this man! He was always so kind and ready with a smile on his face. I know he blew the gates of heaven open wide when he got there. I am praying for you all know and may the wonderful memories of him comfort you at this time.
07/15/2020
Jim/Connie Peterson
Mr. Bill will be missed by his family, community and endless list of friends. A Blessing to all who had the opportunity to know Bill. Our love and sincere sympathy to Rebecca, Jeremy and Andrea.
07/15/2020
Pamela Daniels
What a remarkable, loving, kind and example of a true man of God! I'm so sorry to hear of Bill's passing! His life has had purpose and Godly gain. His love for our Lord Jesus has touched my life and the life of this community. Rebecca, Jeremy and Andrea thank you for sharing him with us! His witness has blessed my life! I'm grateful to have known him.
Dear Rebecca, Bill was SO loved. I want you to know that he had an ongoing and profound affect on Ken's life. As you know it began through the Emmaus Community, but was rekindled many times through the years. May God's peace fill and surround you from now until your reunion with our Savior and your beloved Bill.
07/15/2020
Kent Walker and family at Olde Towne Pharmacy
Our Condolences. He will be missed (has been already). I enjoyed bantering with Bill and hated the days he came by and wasn't feeling well. Kent
I am so sorry to hear about Bill , God knows you will miss him. He will comfort you and love you.
07/14/2020
Barbara Austin Morgan
Rebecca and Family, So sorry for your loss. You are in my thoughts and prayers! Bill was such a kind person. I am so glad that you have a wonderful friend in Jesus to lean on. GOD BLESS YOU!!!!
07/14/2020
Richard & Shelby Hartley
It was a pleasure to work along side of Bill at the hospital. Even though we worked in different departments, our work would often overlap. Bill always had a smile and friendly hello for everyone he came into contact with on his rounds. The patients loved him as did all the employees. He will be missed.
07/14/2020
Thomas Williams
So sorry for your loss. Have known Bill since high school. Bill was one of the nicest guy I ever meet. Worked with him at JC Med for several Years. Saddens my Heart to hear of his passing. May God watch over Bill and his Family. He will be missed.
07/14/2020
Elizabeth Mason
Bill had only been working for about a year when I went to work in the old Memorial Hospital in Inhalation Therapy. He had boundless energy, warm hugs, good shoulder rubs, a wicked sense of humor, and a genuine concern for all around him. He was a big teddy bear. I left after a couple of years, and later went to work at JCMC on Pediatrics. It was a bright spot in the day to see him again. It hurt him that JCMC no longer had that feeling of family in the hospital. Again, I left, and a couple of years, I was entering the pulmonologist's office, and I heard my name whispered. It was Bill and Rebecca. He said this is what happens when you smoke for 30 years. It was sweet to catch up with these 2 remarkable people. I'm sorry I didn't get to participate in the parade, but I know that meant the world to him. He was one of a kind, and leaves many warm memories. Peace and grace to Rebecca and Jeremy.
07/14/2020
Russell & Cheryl Treadway
Dykes family, we are so sorry to learn of the passing of Mr. Dykes. In reading the beautiful obituary, it is obvious he was loved and admired. We are praying that God will put his loving arms around all of you during this difficult time. All of you will be in our thoughts and prayers.
I work with Bill from 1982 till 2005. Bill was a wonderful person and a great co-worker. When my mother gotten sick and was in the hospital she met Bill and instantly loved him. He took wonderful care of her. When she pass he came up to 2500 at JCMC just to give me a hug and his condolences. You couldn't get better care from just anyone. My heart breaks with reading this. I know his love will carry on for a life time . Prays for his family at this time.
bill will be truly missed by all. i feel blessed to have known him.
07/14/2020
Pedro and Connie Zamora
We are so very sorry to learn of Bill's passing. Rebecca, Jeremy and Andrea, we are praying for God's loving arms to hold you tight during this time. Thinking of you.
Mr Bill was one of the kindest people I ever had the chance to meet.He always had a great story to tell and gave me some great advice on so many subjects, especially marriage I know he will be missed.Heaven has another angel
07/14/2020
Carroll Foster
So sorry to hear about your loss but sometimes when our health deteriorates so much that trying to live is worse than death you have my prayers and sympathy for your loss
I worked with Bill many years ago. He made an impression on me from the moment we met. Always smiling and giving hugs when we needed it most. We always knew that he was a Christian man not because he told us but he showed us every day. He cared about everyone and made sure we feel it. A fine and hard working man who always gave everything he had everyday. Your family is in my prayers. So sorry for your loss. Bill was a special man.
07/14/2020
Amy Statzer-Guire LPN
Such memories of working with Bill at the hospital, always had a hug and forever kissing you on the forehead , great resource and teacher in the medical field .
It was with regret that I learned of Mr. Dykes passing.My sincere condolences and prayers for Jeremy and his family.
07/14/2020
Judith Taylor Niswonger Children's Hospital
Bill was truly one of the kindest people I ever knew and always had a smile and a kind word when i met him in the hallway. He was deeply missed when he retired. Prayers are with all the family. May God grant you peace.
I met Mr. Bill while working at JCMC. He was always a ray of sunshine and had a hug and smile for everyone. I later found out that he and my mother attended Lamar High School together. After his retirement, I so enjoyed seeing him in town, especially at storytelling events. Mr. Bill was certainly one of a kind and will be missed by many. My life has been blessed by being touched by his. I pray for peace and comfort for his family and for those who loved him. May your memories of him make you smile. Much love.
07/14/2020
Debbie Morrison
So sorry for the loss of one of God's precious, precious servants and a dear sweet man. Knowing Bill is walking and talking with Jesus now is a great comfort to all. God bless each of you with precious memories in abundance! I bet Jesus will take him fishing! Love to all who grieve this loss, Debbie
Bill was a blessing to be around. He always had a smile and words of encouragement. I knew him when I worked as a nurse at the hospital. He also took care of my mother in ICU when she was on a ventilator at the old Memorial Hospital, he always was very loving and caring when he was there in the room with my mother. I will never forget the loving and kind and caring spirit he had for everyone he met. He always treated everyone the same and with love and dignity. God bless him and his family. Prayers for everyone at this sorrowful time. Linda Gentry
07/14/2020
David and Pat Boshears
We lost a dear friend and are deeply saddened. However, we know that Bill has simply moved his spirit to a place where he will be completely at home. Phil Hinton and Bill will be sharing some great times. They say there are no tears in heaven, but Bill may shed joyful ones, as he always did on earth. Our heart goes out to Rebecca and Jeremy, but rejoices with them of a life well lived! De Colores!
Bill was a very special man to so many people. My mother and I both worked with him at JCMC and I will always remember his hugs and the goodness that he always gave to everyone around him. In this life, we don't meet many true, genuine goodhearted souls, but Bill was one for the ages. Thank you, Bill, for all the laughs, good times and great memories. To the family, may God Bless each of you in this time of loss. Heaven got a little brighter when Bill arrived!
07/14/2020
Lynn and Rayett Bachman
Words can not express how blessed we have been that God allowed our paths to cross with Mr. Bill. What a sweet gentle spirit and an inspiration to all who met him. Family, please accept our sincere condolences and our prayers for you in the days ahead. Thank you for sharing the precious gift of Mr. Bill with us all, for our lives are forever changed because of it. Love you all.
07/14/2020
Howard and Betty Gillis
Rebecca, Jeremy and Andrea, So sorry to hear of your loss. Bill was a special man loved by everyone who knew him. Our thoughts and prayers are with all of you.
Bill was such a kind, gentle and warm hearted soul. I worked with him for many years from 1995 until his retirement. He never changed, always the same gentle sweet smile on his face and a warm hug when needed. He walked me through the death of my father in 2002 with those warm hugs and gentle advice. He was one of the best men I have ever known and truly represented daily what it means to have "A Servants Heart". I am so sorry for your loss, but I know you take comfort in knowing he is with the Father. You were all blessed to be his family and we were all blessed to be his work family. May God Bless You, Betty Hinkle
07/14/2020
Teresa Milhorn
So sorry for your lost of this sweet man he sure will be missed at the yard sale at the church land when we have it again
07/14/2020
Virginia & Larry Weaver
Rebecca, Jeremy & family, We are so sorry for your loss of a very special person. We didn't know Bill for long, but he was always kind & very personable. By reading his obituary , we know why he was such a well-like individual. Blessings to all
07/14/2020
Carolyn Campbell
I knew Bill and Rebecca even before they married and loved them both. We even did MYF together. Such a loving wonderful God fearing couple. So sad to hear Bill's gone. But I'm sure he's celebrating in Heaven right now. So glad he got to see his parade of friends. But believe me he had lots more. My heart hurts for Rebecca and his son Jeremy and daughter-in-law. So sorry for the loss--Prayers for family
I've known Bill 55-60 years. Always liked him and enjoyed his good personality. Worked tobacco together as teenagers and made many fun memories. My prayers are with you Rebecca and we'll meet again.
Bill you will be missed.
07/13/2020
Vickie Torbett
Rebecca, I wanted you to know that I am thinking of you and your family. Bill was a good friend to many and it was an honor to be one of those friends. Vickie Torbett
He had an absolute heart of gold! He was such a positive person, always had a smile and a kind word-even the worst shift was made brighter when he walked through the ICU! Gonna miss you Mr Bill! Go rest easy honey.
I am so sorry for your loss. I enjoyed working with Bill at JCMC for a few years. He loved those preemies, and was as good as it gets with them. Will miss him even though we haven't seen each other in some time. Praying for the family
I am sorry for your loss Bill has been a friend of our family for years. Bill was a good man & friend we will miss he. The good part we will see him again one day. Prayers for the Dykes family.
Loved bill. He thought me a lot
07/13/2020
Rod and Karen Collins and family
Rebecca,Jeremy,Andrea, Our hearts are saddened of the loss of Bill❤️He was truly a wonderful friend to our family, we love you all and praying for you during this difficult time.
What a wonderful man and such fun to be around. He will be greatly missed, prayers for his family who has been blessed by him through the years.
07/13/2020
Norman and Rose Ellen Thomas
Bill was the kindest man. What a wonderful smile he had, one that you can close your eyes and still see. We send you our most deepest sympathies and condolences. We send you a strong hug. God has blessed us!!!
I will miss my friend !!! You couldnt ask for a better person, always had a hug to give and a smile to share. Prayers for his family!!! JESUS is holding Bill's hand and the celebration of his children coming home!!! Til we meet again Mr Bill...love you!!!
07/13/2020
Kathy Cooper Bennett
Rebecca, I just want you to know you are in my prayers and thoughts. May God give you strength for the day's ahead. May be surround you in his loving arms of comfort and peace. Love, Kathy
07/13/2020
Brenda Mathes-Story
Bill was "one" of a kind. He will be truly missed on this Earth. I went to school with Bill, and worked with him at the Old Hospital , and at the New JCMCH. Bill was the kind of person that you enjoyed running into at work. He was always cheerful, encouraging and kind. Heaven has truly gained a New Angel. I am so sorry for your loss. Brenda
Jeremy and family. God's grace and comfort to you. We are sorry for your loss. Terry, Waynette, Dawson and Sarena.
07/13/2020
James&Tina&TJ McCracken
So sorry for your loss . He was a good man he will be truly missed .
07/13/2020
Jack & Jill Leonard
We have lost a treasure and heaven has gained a wonderful angel. Please accept our condolences and prayers for your loss. Jack & Jill
07/13/2020
Susan Franceschina
I will always remember Bill from our days together at the Med Center...scrubs, white lab coat and always in a hurry. He was such a wonderful person to know. Always with a hug, a smile, and never a negative thing to be said about anything or anyone. May God comfort you at this time and hold you all in His loving arms. Bill will certainly be missed by all who knew him.
Loved Bill