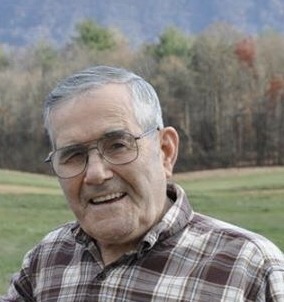 Mr. Brown Barnett, age 83, of Telford, passed away peacefully at his residence with his family by his side Monday, June 8, 2020.
He was a native of Carter County and the son of the late Wiley Paul & Maude Jarrett Barnett. He was also preceded in death by his sisters, Margie Lou Francis and Shirley Barnett, his brothers, Wiley Paul Morten, Jr., Teddy Dean Barnett, Bobby Jack Barnett and Lloyd Dean Barnett.
He was a member of Community Baptist Church and served as a Sunday School Teacher and Church Bus Driver.
Mr. Barnett retired from American Water Heaters after 40 years of service.
He was a United States Army Veteran.
Survivors include his wife of 50 years, Nancy Ann Mashburn Barnett, of the home; two daughters, Michelle Draper and husband, Mike of Telford and Leslie Stout and husband Jess of Jonesborough; one son, Harvey "Andy" Barnett and wife Rebecca of Telford; seven grandchildren, Andora "Nikki" Barnett, Johnson City, Elizabeth Fox and husband Logan of Ohio, Joseph Draper, Telford, Corporal Jess Stout Jr. US Marines, Azaria Barnett and Zane Barnett of Telford, Haley Stout of Jonesborough; six great-grandsons, Cameron, Trysten, Kyren, Braeden, Apollo, and Roman; one brother, Dallas Barnett and wife Nancy; one sister, Jean McGee; two sisters-in-law, Anita Barnett and Effie Barnett; two brothers-in-law, Don Mashburn and John Mashburn and wife Diana; and lots of nieces and nephews.
At the request of Mr. Barnett, his body was donated to the Anatomical Gift Program at ETSU.
The family would like to thank James H. Quillen VA Medical Center, especially Dr. Hamm and Dr. Haddadin for their wonderful care.
Memorial services will be conducted 6:00 pm Thursday, June 11, 2020 at Dillow-Taylor Funeral Home with Rev. Roy Yelton and Rev. John David Shanks officiating. The family will receive friends from 4:00-6:00 pm Thursday prior to the service.
Nancy, I'm so sorry for your loss. I enjoyed working with you.
Remembering a great brother-in-law. We sisters-in-law got some of the best ones ever when we married into this family. He will be missed by all the kids, grandkids, and great grandkids and you Nancy. Love and miss you all. Anita
06/09/2020
LaVerne Barnette Gouge
We were first cousins and close friends all our lives! Brown was a very good Christian man, had a loving and caring family. I love you Nancy and your children! We will always be family, we will never forget each other! My love and prayers will always be with you all.