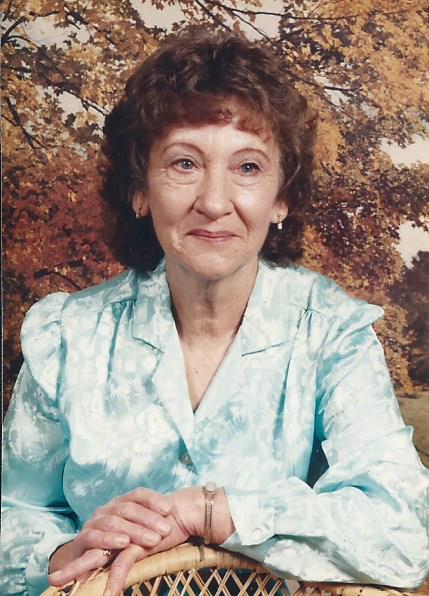 Miriam Jane Barlow Archer, age 92, Jonesborough, passed away Saturday, March 21, 2020 at her home after a six-year battle with dementia.
Miriam was born in Banner Elk, North Carolina to the late William Harrison Barlow and Lunda Estella Ramsey Barlow on January 30, 1928. Miriam moved to Tennessee with her family as a young child. She was a 1946 graduate of Lamar High School and attended ETSU.
Miriam married in November 1948 to the late Richard Mitchell Archer and lived in the Lamar community for the remainder of her life. She was blessed with four children.
In addition to her husband and her parents she was preceded in death by her six sisters, Janette Barlow, Edith Barlow Jones and husband Tip, Ruth Barlow Raper and husband Tom, Margaret Barlow Collins and husband Minton, Mildred Barlow Privette and husband Bill, and Ester Barlow; two sisters-in-law, Elizabeth Archer Bell and husband Edgar and Virginia Archer Cooper and husband Glen; two brothers-in-law, Fred Archer and wife Sue, and Robert (Bob) Archer; and four nephews Tommy Raper, Marion Hugh Bell, Joshua Cooper and Jon Becka.
Survivors include two sons Terry Archer, Richard Alan Archer and wife Catherine; two daughters, Connie Archer and Sherry Archer Rice; sister-in-law, Pauline Miller Archer Phillips and several nieces and nephews.
Miriam was an active and devoted member of Bethesda United Methodist Church. She loved singing in the choir and being involved in the Bethesda Women's Group. She loved her church family.
Miriam retired in the 1980's from Anderson's Catalog Showroom in Johnson City where she was the office manager. Miriam loved being outdoors working in her flower and vegetable garden and taking care of her yard. She was a lover of Mustangs. It was the only car she would drive. When her husband passed away in 2004 she started a journal for him letting him know all the things going on on earth and how proud she was of their 4 children. She kept this journal for 10 years until dementia stopped her from putting her words on paper. She was diagnosed in 2014 with dementia, but was able to live the remainder of her life in the home she and her husband built an raised their 4 children. She was taken care of by her children.
To the people who loved and knew Miriam she was a daughter, sister, aunt, cousin, friend, wife, and most of all a mother. To her husband and children she was the world.
Her funeral service will be 1:00 PM Wednesday, March 25, 2020 at Bethesda United Church with Pastor Clyde Hester officiating and Alice Phillips musician. Due to the virus health crisis, the family requests attendance be limited to her family members and her church family that feel comfortable getting out.
Interment will follow at Bethesda Cemetery. Pallbearers will be Terry Archer, Alan Archer, Steven Tolley, Gary Butler, Carl Archer, and Wayne Jones.
In lieu of flowers the family requests memorial donations to Bethesda United Methodist Church Building Fund, 4708 Cherokee Road, Jonesborough, TN 37659.
Condolences may be sent to the Archer family online at www.dillow-taylor.com.
Dillow-Taylor Funeral Home & Cremation Services, Jonesborough, TN 753-3821
04/01/2020
Sandra Berry Fox
So sorry to here about Miriam! Didn't know anything about her passing .
03/28/2020
Michael & Robbyn Maylott
Dear Terry & Family, We pray that the memories of your mother will sustain you in the coming months & years. Sending our love & prayers
Praying for all
03/26/2020
Tommy & Debbie Simpson
We are very sorry for the loss of your mother. You will never regret staying with your mother in her home and you all will receive stars in your crown for doing so.
03/26/2020
Karen Reaves Huffine
I know all of you so this is for all of the family. I am so sorry to hear about the passing of your mother. Our mothers are precious, a gift from God they are the rock of the family. I pray that everyone of you find peace at this time of great loss, I don't get to see any of you very much but i will be praying for you. Alan hope you are doing ok.
I am sorry for your loss, I went to high school with Alan and worked for years with Connie, I never knew your mother worked at Anderson's, my dad and mom would take my brother and I there every weekend in the late sixties and early seventies, we probably met your mom but didn't know who she was, those were the good times.....
03/25/2020
Louise Shelton
Sorry to hear about your mother's passing. I send prayers for your family. I will always remember the fun times we shared at Siemens. May God give you comfort during this time. Your mother was a wonderful friend and person. Give love to your family.
03/25/2020
Mary Ann Counts & Keitha Campbell
Dear Connie, we are so sorry you have lost one so precious to your heart. Please know you and your family are in our thoughts and prayers.
03/25/2020
Steve and Jennifer Henley
Sending prays for your family in this time of sorrow. Steve and I have good memories of the time we spent at your home when we were younger and in school. Your mother was kind and generous and we always felt welcomed in her home. In the coming day may you find comfort in your memories of your loving mother.
03/25/2020
Jackie McPherson
Terry, Alan and family, I was saddened to read of your mother's passing. I also lost my mother to this mind robbing disease. Losing your mother is one of the hardest things we must endure but remember we will see them again at the side of our Lord. My deepest sympathies to you all. I will always remember all the good times we had at Texas Instruments and the softball games. May the Lord comfort and sustain you all during this sad time.
03/25/2020
Patsy Peterson lowery
So very sorry about your Moma she was a very sweet lady. You all are in my thoughts an prayers
My thoughts and prayers are with your family. I always enjoyed seeing her at church. She will be missed. God bless.
03/24/2020
Chris Linda Cooper
Prayers for family
03/24/2020
Tim, Sherry, Ash, & Ali Williams
Terry, We are sorry to hear about your mother's passing. Keeping you in our thoughts and prayers.
Alan, Terry, and others, Seems like only yesterday that Alan was just telling me about your mother's condition. Prayers for you all during this difficult time.
03/23/2020
David Hartsell and Debbie
Our thoughts and prayers for the Archer family. She was a wonderful woman because it shows in her children and her reward is well deserved. God bless you during this time and cherish the memories. Your Friends . . . David and Debbie
Our thoughts and prayers are with you guys in this time of need. Jim and Leta
I'm so sorry for your loss. I worked with Miriam at Anderson's for many years. I managed the stockroom when we were downtown Johnson City for several years. You all are in my thoughts and prayers.
03/23/2020
Janice and Mike Harris
We are so sorry to hear the loss of your mother. It is so hard to lose your parents. The picture in the paper is a good picture of her. Your family is in our thoughts and prayers. May God bless your family. In Gods love Jan and Mike Harris
03/23/2020
Libby Grindstaff
Sherry...my thoughts and prayers are with you and your family during this time.