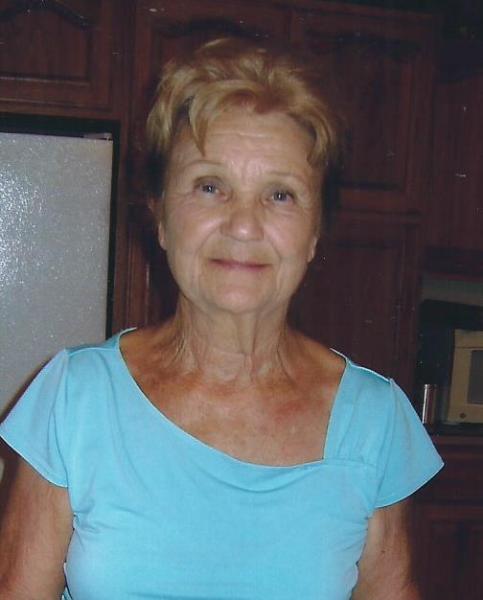 Mrs. Margaret Jean Verble, age 78, Jonesborough, passed away Saturday, March 14, 2020 at her residence.
Mrs. Verble was born in Marion, Ohio and the daughter of the late Tom & Helen Hacker Waits. She was also preceded in death by a daughter, Debbie Oddo, daughter-in-law, Missy Jolliff, grandson, Trevor Spencer, great-grandson, Skylar Spencer, sisters and brothers, Betty Winn, Dorothy Livingston, Tom Hennessee, Bob Hennessee, Dick Hennessee, Doris Fugate, Carol Kennedy and Bonnie Gilbert.
Survivors include her husband, Donald "Red" Verble, Jonesborough; children, Jeff Jolliff, Karen Albert (Bruce), Michael Jolliff (Susan), and Julie Bandagski (Ed),; step-children, John Verble (Sharon) and Terrie Verble; grandchildren, Mitchell Sims, Sarah Sims, Matthew Sims, Sabrina Sims, Megan Wesner, Jessica Spencer, Misty Oddo, Kristy Oddo, Kayla McCowan, Kurtis McCowan, Sarah Verble, John-Keith Verble and Katie Verble; fifteen great-grandchildren; brother, Sammy Waits (Rosemary); sisters-in-law, Helen Greenwell, Thelma Price and Bonnie Verble; and several nephews and nieces.
Funeral services will be conducted 2:30 pm Tuesday, March 17, 2020 at the Dillow-Taylor Funeral Home with Pastor Tommy Clark and Mr. John Verble officiating. The family will receive friends from 1:00-2:30 pm Tuesday prior to the service. Interment services will follow at Cherry Grove Cemetery.
Pallbearers will be Michael Jolliff, John-Keith Verble, Matthew Sims, Matt Cox, Bill Cox, and Bruce Albert.
I'm so very sorry to hear this. Sending prayers to you all.
So sorry for your loss. Thinking of you all at this difficult time.
03/17/2020
Sandi hennessee Moody
My heart goes out to all aunt jeans children, grandchildren and her very special husband. I loved her very much and will miss talking to her. Hugs to all.
03/17/2020
Stefani Hennessee Saleem
Extending my love and prayers to the family during this difficult time. May everyone find comfort in their happy memories and reminiscing of times past. Rest in peace, Aunt Jean. ❤
So very sorry for your loss praying for you all
I love you so much momma, my heart is broken, I'm not sure how I can go through this next chapter of life without you. I miss you so much.