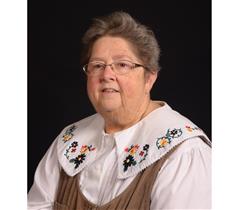 Mrs. Linda Anne Howard Smith, age 74, Johnson City, passed away Thursday, March 12, 2020 at The Waters of Johnson City.
Mrs. Smith was born in Norwich, England and the daughter of the late George Edwin & Grace Eleanor Marskell Howard. She was also preceded in death by a sister Kathy Malmstrom and a nephew, Benjamin Howard.
She was a member of Boones Creek Christian Church. She was also a member of Boones Creek Christian Church Quilting Ladies and Single Women of Grace.
Mrs. Smith retired from ETSU after 40 years of services in the Admissions Department.
Survivors include a son, Andrew David Smith, Johnson City; three sisters, Christine Barrett, Susan Howard and Karen Howard; brothers, Michael Howard, Kevin Howard (Marie), Keith Howard (Ruth) and Bryan Horton (Joy); nieces and nephews, Laura Howard, Daniel Howard, Jonathan Howard and Thomas Howard; and step-mother, Jeri Howard.
Memorial services are canceled for Saturday, March 21, 2020 at Boones Creek Christian Church.
In lieu of flowers, memorial donations may be made to Boones Creek Christian Church 2684 Boones Creek Rd. Johnson City, TN 37615.
03/20/2020
Karen Orsini - Single Women of Grace member
My thoughts and prayers are with the family. May God wrap his arms around each of you and give you peace, comfort and support in your time of need. I loved and will miss Linda.
03/20/2020
Darrell & Sharon Cameron
Linda was a sweet friend of many. She fought a good fight and has received her reward in the presence of Jesus.
03/19/2020
Steve Wilkinson
I had the privilege of working with Linda in the ETSU Admissions Office for more than 30 years. She was quite brilliant in her work as transcript analyst and was probably the most knowledgeable person in the state in this regard. I have many fond memories of the time spent with Linda, including the delicious peanut butter cookies she made for me each Christmas! I will miss her, and offer my condolences to Andy and other family members,
03/15/2020
John & Barbara Stevens
May God be with each member and friend of the family during this time. You are in our prayers.
03/15/2020
Ron Satterfield
I am saddened to learn of Linda's passing. May God give the family peace in this difficult time. We were school mates in the class of 1964.