Maxie Tate Vaughan
03/09/2020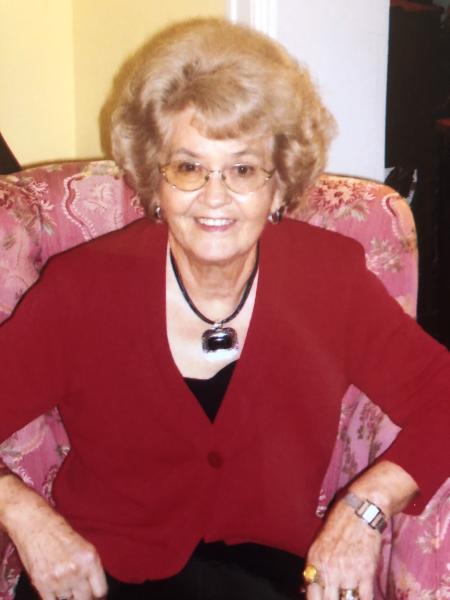 Maxie Tate Vaughan, 92, of Johnson City entered into glory on Monday, March 9, 2020 after a lengthy illness surrounded by her family.
Maxie grew up in the Boones Creek area and attended Boones Creek High School where she excelled in girls' basketball. After her marriage, she moved to Oak Ridge, TN where her husband worked on the Manhattan Project. After the war, they returned to East Tennessee where she owned and operated her own beauty salon in her home for many years. She was a lifelong and devoted member of Oak Grove Baptist Church, Gray, TN where she was active in the Sunshine Sunday School Class and sang in the choir and various ensembles, often on the radio with her sister and friend Dallas Snyder. Maxie and her husband were also very active in the building of the new church. She also worked with Meals-on-Wheels delivering food and cooking for family and friends. She was an active member of the Order of the Eastern Star and served in several local and state offices, including a past Worthy Matron.
Maxie was preceded in death by her husband John B. Vaughan; parents Ada Ellison Tate and Billy Nathaniel Tate; son Gale Edward Vaughan; and brother Bill Tate, Jr.
Survivors include her children Barbara Vaughan Williams, and husband Fontaine of Leesburg, VA; Billy Lynn Vaughan of Kingsport, TN; and Vicki Vaughan Sells, and husband Sam of Nashville, TN; brother Marshall Tate; sister Palma Hodges; six grandchildren: William Stacy Vaughan, and wife Tammy; Fontaine Leon Williams, III, and wife Angi; Wendi Raeuchle, and husband Joseph; Holly Loraine Vaughan; Stephen Walker Sells, and wife Annie; Matthew Vaughan Sells, and wife Chelsea; and five great-grandchildren.
The family would like to especially thank Betty Scalf and Virginia Brown along with the nurses and staff at NHC Healthcare and Elmcroft Senior Living in Johnson City for their loving care and support.
A graveside service will be held on Saturday, March 14, 2020 at 1:00 PM at the Monte Vista Memorial Park and Cemetery in Johnson City with Rev. Sherrel Nave officiating.
In lieu of flowers, the family asks for donations to be made to Oak Grove Baptist Church, 396 Oak Grove Road, Gray, TN 37215.
Leave an Eulogy or Condolence for Maxie Tate Vaughan
EULOGIES & CONDOLENCES
03/14/2020
Karen & Terry Welch
Our thoughts and prayers are with your family during this very sad time. May God bless and comfort you.
Aunt Maxie was kind of like a second mother to this entire family. She and uncle John were always there when I needed someone to just lean on. I have thought all week of the wonderful family reunions we used to have. What a great bunch of cooks.
03/14/2020
Mary Nell (Ellison) Douglas
Dear Palma & Marshall and family: Our hearts were saddened by the news of Maxie's passing, yet we know that she is in Jesus' arms right now. I have a funny story to share with you all. It was 1953 & I had just married Fred Douglas, and we were headed on our honeymoon to Virginia, passing through Gray to stop & say "hey" to all of you. THAT's WHEN our car broke down !!!! FORTUNATELY, Maxie's dear husband came to our rescue & somehow managed to "fix" whatever was wrong, while "us girls" got to sit a spell & laugh a lot .... I still think often of the wonderful moments we all have had with each other through the years. P.S. Dear Palma, Junior & I would love to come & take you to lunch when this "virus scare" is over & it's safe for people our age to get out again. I'll stay in touch with Jackie & see when a good time would be for us to come up. Susan (Ronnie's wife) will bring us & we'll stop by, pick you up & decide on the BEST restaurant we can go to & spend some of Junior's money, OK? Sending all my love today & in all the days to come. You all are in my heart & my prayers. With love, Mary Nell
03/12/2020
Linda Young McReynolds
Barbara, Bill and Vicki, I was so sorry to hear about your sweet mother. I have many fond memories of her from our high school days. My thoughts and prayers are with all of you and your families.
03/11/2020
Anita Hodges Taylor
So very sorry for your loss. Am thankful for the hope we have of a Heavenly Reunion one glorious day.
03/11/2020
Cindy Friday Beavers
Love to everyone and may you find peace knowing what a beautiful person Maxie was. Sending thoughts and prayers~
03/11/2020
Daniels Family
A lot of fond memories with your mother as our neighbor over the years. You all are in our thoughts and prayers. So sorry for your loss.
one of the sweetest Ladies that I have ever met she Loved our Church and visits and I have known all the family for years she will be missed but we know where she is at she Loved Jesus
03/11/2020
Brenda/Ralph McDaniel
Your mother was always a beautiful and special lady. We are out of town and are unavailable to show our respects at the visitation and funeral. Please know our thoughts are with you at this trying time. The last time I talked with Maxie was at an Oak Grove meal. I shared with her some of my interactions with Gale when we both worked at the VA. She seemed to enjoy hearing about my knowing Gale.
03/11/2020
Betsy Katcham Shaw
My condolences to my sweet friend Barbara and her family on the death of her Mother. I have sweet memories of staying in their home and loved her parents. I just lost my precious Mother and relate to your pain. God bless you and much love. Betsy Katcham Shaw
03/10/2020
Karen Greear Moore
My thoughts and prayers are with the whole family at this time.