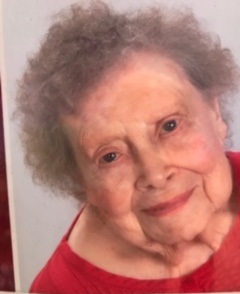 Lydia Belle Mullins Collins," almost 100" of Abingdon, VA died Sunday, February 9, 2020. Lydia was born February 26, 1920 in Flat Gap, VA, to John Calvin Mullins and Vie Bolling Mullins. She was preceded in death by her parents and two brothers, Otis and Oliver Mullins; by a cherished granddaughter Teresa Lynn Peake Foulke; and three great-grandchildren, Victoria Grace Chittester, Kaitlyn Paige Drews, and John Gregory "Jory" Bowers.
Lydia is survived by four children Dorothy Chittester, Fayetteville, NC; PeggyAnn Peake, Gray, TN; James C. Collins, Astatula, FL; and Jane Hilt and husband RW, Abingdon, VA. She is also survived by 12 grandchildren, John Chittester, Greg Chittester, Deborah Peake Denney, Kathleen Chittester Holland, Barbara Peake Roark, Beverly Peake Moore, John Daniels III, Thomas Peake II, Claudette Peake Decker, Jill Daniels Thompson, and James Wesley Collins. She has 20 great-grandchildren and 18 great-great-grandchildren. She was a beloved aunt to Eugene, Reginald (deceased), Raymond, and Eleanor Mullins, as well as numerous Collins family nieces and nephews.
Lydia was a stay-at-home mom while her children were young; later, she became a businesswoman, owning the Trail Auto and Home Supply Store, the St. Charles Café, the Pennington Gap Motel and Restaurant, and Belle's Boutique. She was employed by Jantzen Knitting Mills in Portland, Oregon; by Belk in Leesburg FL, and as an EKG technician at Halifax Hospital in Ormond Beach, FL and most recently as a senior citizen caregiver in Mount Dora, FL
Lydia was a dedicated church worker, serving as a Sunday School and VBS teacher, leader of the Young Women's YWA's and GA's, a WMU officer, and leader in the Cradle Roll and Seniors' Extension Department. She is a member of the First Baptist Church, Bristol, VA, and a member of the Eastern Star, Norton, VA.
Lydia was an avid bridge player and enjoyed travelling and all kinds of crafts, including making quilts and crocheting items for family and friends. Her friendship and smile will never be forgotten. She always made sure her family knew how much she loved them. Lydia loved life, was a great storyteller and filled every room with laughter.
Lydia was a long-time resident of Commonwealth Senior Living, and the family expresses our heart-felt gratitude to Kathy Gentry and other staff members who loved Mother.
A celebration of her life will be held Saturday, February 29 at 12:30 pm at Abingdon Baptist Church, Abingdon, VA. The family will receive friends in the Fellowship Hall following the service.
02/16/2020
Ellen Mitchell
Dearest Lydia, or Granny (as this is the name I know you by), I never got to meet you, but I know three of your offsprings and they are perfect representations of who you are--though them I know of your strength, your hard work, your kindness, your generosity, your humor, and your love. These qualities all shine, no will continue to glow within your family. Godspeed dear Lydia, rest now your earthy body, and fly in your eternal glory. Your gifts remain forever in our hearts and memories.