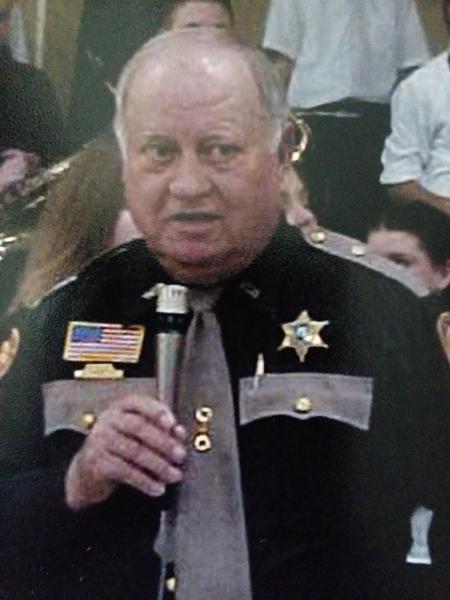 Mr. Alfred S. Wheelock, age 91, Kingsport, passed away Tuesday, January 14, 2020 at his residence.
Mr. Wheelock was born in Washington County and the son of the late Grant & Fina Ferguson Wheelock. He was also preceded in death by a son, Steve Wheelock, brothers and sisters, Niles, Newt, James Nathan, Grant, Jr., Lucy and Eula.
He was owner and operator of East TN Paving Company, served 42 years as Washington County Constable and was a member of VFW Honor Guard.
Survivors include four children, Robin Wheelock, Karla White, Darla Shaffer and Gloria Carrier; sister, Ceola Cox; eight grandchildren, ten great-grandchildren and several nephews and nieces.
Funeral services for Mr. Wheelock will be 6:00 PM, Saturday, January 18, 2020 at Dillow-Taylor Funeral Home with Rev. Gene Lasley officiating. The family will receive friends from 4:00-6:00 PM prior to the service.
Graveside services will be conducted 2:00 PM, Sunday, January 19, 2020 at Harmony Cemetery with Dr. Michael Oaks officiating.
Pallbearers will be grandsons and Washington County Constables.
01/20/2020
Ginger Steadman
Im really sorry I couldn't be there. Uncle Al was one of the few good men left from a remarkable generation. An incredible father, uncle, brother who served his family, community, and country. Love you all - you are in my prayers.
01/18/2020
Kathy Lewis Shelton
My family is thinking of you during this difficult time. May the prayers and kind deeds of your friends and loved ones bring you peace and comfort in the days ahead. Please accept our deepest condolences.
01/18/2020
Sherman johnson
Gloria, Darla, Karla, Robin so sorry for your lost!! I thought the world of AL and all the great things he did for the community!!! Love you guys and wish you the best!!!!
01/18/2020
Helen Rush Adkins
My thoughts and prayers are with you all.
01/18/2020
Eva, Tim and Terry Daniels
We are so sorry for your loss. You all are in our thoughts and prayers.
Robin and entire family, so sorry for your lost. My love and prayers to you and your family. If you need anything let me know. Love you
01/16/2020
Dennis Lee Williams
Mr Wheelock, service Gray with I lived they he was a good and kind man, he helped my brother bring home a Christmas tree one year. My prayers are with your family and this sad time.
01/16/2020
Tony and sherry cox
Don, Darla, and Trevor, We are so sorry for your loss. We are praying for comfort. You will see him again. Thank the Lord for His blessed hope.
01/16/2020
Gilbert F. Storey
Sorry for your loss he was a close and dear friend and will be dearly missed by everyove that knew him
Sorry for your loss . My thoughts and prayers are with you .
01/16/2020
Joey Ferguson, Pawleys Island, SC
When I was 14, I worked an entire summer with Uncle Al and Steve on the paving crew. It was tough, hot, dirty work. But Al and Steve were tough guys and always encouraged me. Although they were part of my extended family, I always felt closer to Uncle Al because of our experiences that summer way back in 1970. My deceased mother dearly loved Uncle Al, as Al was always so kind, funny, and welcoming to her when she was young. Al had the caring Wheelock spirit of helping people when they needed help. As a constable, Al had a comforting presence for those under his watch. For those up to no good, Al was a force with which to be reckoned. I am not aware of a more respected man by his peers, colleagues, and friends alike. I regret I didn't live close enough in the later years to maintain our relationship, but Robin always kept me up-to-date on how he was doing. Robin, thank you so much for taking care of Uncle Al all these years. Even living away, I was always comforted knowing that Uncle Al was still around and doing pretty well. Although that comfort is now gone, I know he is with the Lord and I look forward to seeing him again as we sing hymns together and worship our Savior together, forever and ever. Amen.
A true legend in law enforcement, a man that did so much for the community and all the families and friends in East Tennessee. He will be missed by all! Prayers for his family during this sad time!
I remember Al keeping a close watch on Gray many years ago. I am sorry for your loss! Prayers for comfort and peace for the family at this difficult time.
01/16/2020
Don and Pat Gray
Robin we were sorry to read about your Dads passing. We have know him for many years.
01/15/2020
Lisa and Mark Bacon
We are so sorry for your loss. Al was like a second dad to Mark. Very nice man and will not be forgotten
01/15/2020
Therese Carrier
To Al's family- May you have God's peace; For His lovingkindness is everlasting. God Bless