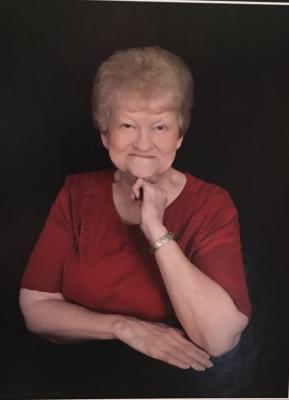 Mrs. B. Jewell Jones, age 83, Limestone, passed away Friday December 27, 2019 at her residence.
Mrs. Jones was a native of Washington County and the daughter of the late Amos and Ella Hensley Estepp. She was also preceded in death by an infant baby, sisters, Ruth Swatzell and Bertha Maude Martin, brothers, Armos Estepp, infant James Estepp, Roy Estepp, Hestel "Heck" Estepp, Vestel "Beck" Estepp, Ervin Estepp, and Charles Estepp.
Caring for others was evident in her work as nursing assistant at John M. Reed Nursing Home, Limestone. Later she retired from Plus Mark, Greeneville.
For special occasions such as their 50Th wedding anniversary and her 80TH birthday, the favorite gift was having family around her. But that family trip to see the Atlanta Braves play baseball was well-remembered, too.
Jewell Attended Limestone Free Will Baptist Church, which members of her family helped establish.
For Jewell it was all about family. Her husband of 66 years, Archie Jones, was the love of her life. Their daughter Debbie and son-in-law Dwight Mitchell, and grand dog Casey completed their family. Her heart expanded though, to include Patrick and Deanna who called her "Mamaw Jewell." She was "Mama" Jewell to Debbie's Friends, who were taken into the fold as needed. "I gave Mama more children than Daddy did," Debbie remembers. Jewell perked up for family get-togethers, especially when nieces gathered around her for "Cousin Get-togethers." Her family expanded to include friends met at Camp River's Landing, Pigeon Forge. Campfires brought folks from many states to the circle, which Jewell was reluctant to leave.
Special thanks to Missy, Tammy, Tina, Ambra and Angie, who made her rehabilitation at NHC, Johnson City easier.
Funeral services for Jewell will be Monday December 30, 2019, 7:00PM at Limestone Free Will Baptist Church with Pastor Tim Broyles and Tim Roach Officiating. The family will receive family and friends from 5:00 to 7:00PM prior to the service.
Graveside services will be Tuesday December 31, 2019 11:00 AM at Urbana Cemetery, Limestone. Pallbearers will be Patrick Phillips, Chris Estepp, Roger Dickerson, Tim Randolph, Tony Bowman and Tony Randolph.
12/31/2019
James&Tina&TJ McCracken
I am so sorry for loss .. I know words can not help right now but just remember the good times you all had together . But we are so sorry for you all and the family .
12/31/2019
Judy Smith & KC
My heart breaks for all of you. I loved being one of Mama Jewell's girls. So glad the Lord prompted me to go to East Tennessee to see her a few weeks ago. I'll always remember her love and chocolate pudding and the many visits in her home. RIP Mama Jewell. I know you're kicking up your heels on the streets of gold, no more pain. We'll see you again one day!! Hope you and my mama have met up steer.
12/31/2019
Randy and Tammy Hiatt
Enjoyed camping with Jewell, will always remember her sweet face. We are so sorry for your loss.
12/30/2019
Debby Bradberry
My deepest condolences to your family. May the precious memories help you through this difficult time. Love you. Debby
12/29/2019
Barbara Morgan
Debbie, Dwight and Family, Jewel was such a precious and loving person. I loved her bunches. Love and prayers, Barb
Debbie You have my deepest sympathies, prayers and hugs! This is a most difficult time and unfortunately, your life will never be the same. I can't describe the pain associated with the loss of a parent!!! I love you my dear friend! Condolences Deborah Webb