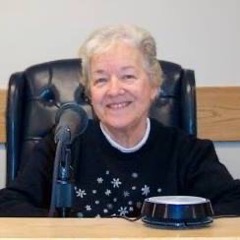 Mary Lynne Gearhart, age 80, Jonesborough, passed away peacefully Wednesday, December 18, 2019.
She was born July 8, 1939 in Wood, Pennsylvania to Merle and Mildred Foore.
She worked for the Defense Department, Washington, D.C. before retiring in 2000. She moved to Jonesborough and became an Alderman for the city. Her favorite project was the Senior Center in town.
She was preceded in death by her husband, Carl O. Gearhart. She was also preceded in death by her beloved pets, "Butter", "Fuzzy", and "Scooter".
She is survived by her daughter, Vonnie Hoopes, son-in-law, John Hoopes; grandson, John Hoopes Jr. and wife Jennifer; granddaughter, Jennifer Wiggs and husband Daniel Wiggs, US Navy; great-grandchildren, Madison Hoopes, Christopher Wiggs, Austin Hoopes, Abbigail Wiggs and Ashleigh Hoopes; sister, Anne Douglass and brother-in-law George; nieces, Donna Harrington, Janice Williams and Karen Williams.
Mary Lynne had a huge heart; the world was a better place with her in it. We will miss her smile.
No formal funeral functions will be conducted. A private memorial will be held at a later date.
Memorial donations may be made to Wounded Warrior Project P.O. Box 758516, Topeka, Kansas 66675-8516
12/20/2019
Roberta Richardson
Mary Lynne was my friend for 64 years. I walked in the front door of Western High School as a brand new student, having just moved back to Washington, D. C. I was barely in the door when two beautiful girls walked right up, chatted with me, and said to come with them so they could introduce me to their friends. One of them had coal black hair and the bluest eyes imaginable. That was Mary Lynne. She was beautiful inside and out, very generous and sweet, and truly had the voice of an angel. We used to beg her to sing The Lord's Prayer because when she hit that gorgeous high note at the end we would get chills. She was always a supportive friend and I always felt better for talking to her. Way back when I was going away to college, she came to my house to say goodbye. She had a pair of pearl ear rings that she knew I liked and she handed them to me as we said goodbye. I still treasure them as the beautiful gesture of friendship that they represent. I loved her and she will always be in my heart. Miss you, M.L.
12/19/2019
Joan Hylton Miller
Such a sad day to learn of Ms. Mary's passing. She was the biggest cheerleader for the success of the Jonesborough Senior Center. Mary was dedicated to the center as an alderwoman and served the Sr Ctr. Advisory Board to see that the area seniors had a place to meet and socialize in a safe place. She was a lady with a big heart. Thank you Mary for your belief in us and support. Your smile will be missed, I'm glad I got to work with you. Joan Miller
12/18/2019
Richard and Priscilla Knode
Mary was a wonderful neighbor. She would always stop or wave at us when we were outside. We are grateful for all she did for the town of Jonesborough and for our neighborhood. We loved the Halloween get together at her house every year. We will sure miss Mary.