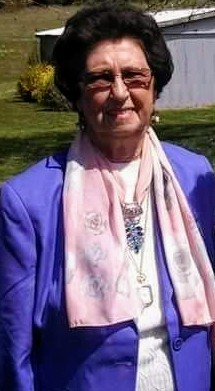 Mrs. Zenna Mae Humphreys, age 94, Limestone, went to be with the Lord Tuesday, September 10, 2019 at her residence surrounded by her family.
Mrs. Humphreys was born in Washington County and the daughter of the late Billy & Maude Thompson Ervin. She was also preceded in death by her husband, Horace Bynum Humphreys, one sister and two brothers.
She was a member of Mt. Wesley United Methodist Church.
Survivors include one daughter and son-in-law, Debbie & Jim Lamb, Limestone; granddaughter, Amy Lamb, Limestone; two special nieces, Mary and Stella McKee.
The family would like to extend a special thank you to Ballad Health Care, Nicole, Travis, Tim, Allison, Deb, Nickie, Sarah, Beth, Ivey and Victoria for their wonderful loving care.
Private services will be conducted.
09/15/2019
David and Sandra Holt
We want to extend our deep heart felt sympathy to you all. We know you will miss her greatly. What a special lady who always encouraged others! We will be saying extra prayers for you all as you continue to move forward. Sending our hugs, David and Sandra
Debbie I have known your mom all my life. I loved her very much. I love you an Amy If you need anything all you have to do is ask. You are in my thoughts and prayers.
09/11/2019
Susie Gillis Bennett
So sorry, sending love and prayers. So many good times and memories thru the years! Love, Susie
09/11/2019
Howard and Betty Gillis
Debbie, your mom was a special lady. We have spent some good times with her and your dad over the years. sorry for your loss. our prayers are with your family.