Sherry Ann Myers
08/31/2019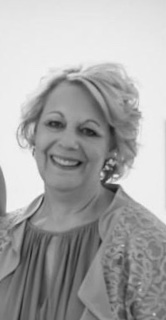 Mrs. Sherry Ann Myers, age 62, of Sulphur Springs, went peacefully into the arms of her Lord and Savior Jesus Christ on Saturday, August 31, 2019 at her residence after a long battle with cancer.
Survivors include her husband of 44 years, Chris Myers; daughters and sons-in-law, Heather & Scott Newton and Jill & Jonathan Fox; granddaughters, Ashlyn & Nicollette Newton, Harper & Kennedy Fox; parents, Rev. Phillip & Beverly Graeber; sisters and brother-in-law, Susan & David Cannon; and several special aunts, uncles, nieces and nephews.
She was a member of Trinity Church of the Brethren.
Mrs. Myers enjoyed spending time traveling with her husband, spending time with her daughters and sons-in-law, but most of all enjoyed cuddling, singing, baking and watching all her granddaughters grow.
Funeral services will be conducted 7:00 pm Thursday, September 5, 2019 at Trinity Church of the Brethren with Pastor Scott Kinnick and Rev. Phillip Graeber officiating. The family will receive friends from 4:30-7:00 pm Thursday prior to the service and other times at the residence.
Honorary pallbearers will be Kevin Myers, Danny Schapeler, Dustin Schapeler, Peter Flood, Jason Flood, Andrew Myers, Joseph Myers and Matthew Myers.
Leave an Eulogy or Condolence for Sherry Ann Myers
EULOGIES & CONDOLENCES
Sherry and I worked together for many years. I miss her every day.
09/05/2019
Larry and Betty Barr
So sorry to hear about your loss. Just found out about it or we would have been there. We are keeping the family in our prayers. Know that God will be your strength.
09/03/2019
Paula Schapeler
Rest in peace sweet Sherry. You will be missed. Loved you for 44 years, you are my sister.
Sherry will be greatly missed by her church family. We have enjoyed many years of laughter and joy at Trinity, especially teaching the children's Sunday School class and youth outing. She was a dedicated, hard working church member who served the Lord. I hope you all find comfort in knowing that she is no longer suffering and know that she is in a much better place. Love you - Phil, Bev, Chris, Heather and Jill. You will remain in my thoughts and prayers.
09/03/2019
Rebecca Johnson
I had the pleasure of working with Sherry for the past fewyears, but it was an honor to call her a friend. We shared in our fight with cancer and through her bravery she helped me see there was always a brighter side. Words cannot express the sadness I have for all those who love Sherry. She will be missed dearly.
09/03/2019
Joycee (Jacobsen) Novak
I had the privilege to be friends in high school. Driving around in her Volkswagen needle. We had a lot of fun! I remember when she met Chris and was in love instantly. I live a long way away but all the family will be in my prayers. She was a wonderful woman. She will be missed!
Jill and family, I am so sorry for the loss of your mother, grandmother, and wife. If I can help you in anyway please give me a call. We are praying for you.
09/02/2019
Mary Lou Couch
I had the joy of being friends with Sherry for 51 years. We shared lots of laughs, concerns, and tears. Because of the various moves we made there were some years we didn't get to see each other. When we would meet up again it was always like we had never been apart. Those kind of friends and friendships are rare. I feel blessed to have called Sherry my friend. Looking forward to when we meet again in a much better place.
I love you so much Sherry! You were my work mom and I am gonna miss you so much! You are now in heaven with God and you have your wings at last. 143!