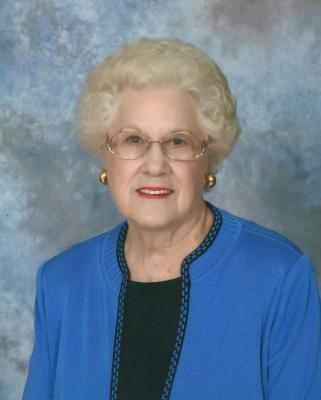 Jannette "Janey" Diehl, 89, of Jonesborough, passed away on August 26th, 2019 surrounded by family.
Born in Jonesborough, Janey graduated Jonesboro High School at the age of 16. She attended East Tennessee State College receiving a double major in business education and health/physical education. In 1951, Janey married her childhood love, John Richard Diehl and began their life together running Richard Diehl, Inc. and raising four boys.
Janey was a devoted member of Jonesborough United Methodist Church her entire life. She was also a member of the Mountain States Health Alliance Foundation and served on the board of directors for both Holston Home for Children and the ETSU Foundation. Her love for ETSU was shared through multiple education and athletic scholarships yielding to her being honored as the 1996 Outstanding Alumna of the year.
Left to cherish her memory is: son, Chris Diehl and wife Vida; son, Joe Diehl; son, Jared Diehl and wife Martha; grandchildren, Haley Diehl, Chase Diehl, Lindsay Diehl and Whitney Peters; sister, Joanne Webb. She will also be remembered by several nieces, nephews, extended family, friends and her Jonesborough United Methodist family. Janey was preceded in death by her husband, John Richard Diehl and her son John Richard Diehl, Jr.
Receiving of friends will be held at Dillow-Taylor Funeral Home, Jonesborough, from 10:00 to noon, Saturday, August 31, 2019. Graveside services, officiated by Pastor Karen Lane, will be held at Fairview Cemetery, Jonesborough, immediately following.
The family would like to offer special thanks to the entire staff at Four Oaks Healthcare Center for taking such wonderful care of Janey through her last days. In lieu of flowers, donations may be made in Janey's memory to the Jonesborough United Methodist Parish Nurse Fund.
08/31/2019
Robert and Laura Shipley
It was truly a pleasure to know your mother. She was a special lady. I am a better person for knowing her. I will pray for comfort for all your families.
Chris, I just found out last night of your lost. Dean and I are thinking and praying for you. Just take comfort in knowing where she is and knowing that she is no longer suffering.
08/31/2019
Paul and Nancy Stanton
To all the Diehl family: so sorry about your loss. Janey and her late husband Richard were dear to us over many years . Janey was always supportive of ETSU especially in scholarships and particularly in support of athletics. We all will miss her, and offer thoughts and prayers to the family. Paul and Nancy Stanton
08/29/2019
Joe and Kathy Carder
Chris, We are so sorry to hear of your mother's passing. Our thoughts and prayers are with you during this very difficult time.
08/29/2019
Mike Haire and Family
Janey will be forever in our hearts. Going with the family to the Diehi's house for Holidays and Reunions are several of our fondest memories. Her smile and graciousness is a lesson for all. Speak to her and she will always be there
The world has lost a lovely bright and generous LADY. I consider it a privilege to have known her over several decades. "Skip"
08/29/2019
Cathy and Randy Humphries
Chris & family, We send our deepest sympathy in the loss of your mother. Our thoughts and prayers are with you and your family.
The Hammett family would like to send their condolences on your loss. Janey was a very sweet lady.
08/28/2019
Kathy Ferguson
Chris and family, Mother and I are sending prayers of comfort and love in the passing of your dear Mom. Janey will always be an shining example of inspiration in my heart. I observed her showing Christian love to so many others, I can only aspire to do the same. Mother isn't well enough for me to be there to show my respect, but we join with your family in mourning this great lady.
08/28/2019
J.Shannon Zukas
Janey was such a sweet presence.The love for her Family and the Lord was ALWAYS known.My heart goes out to her boys..please find comfort in knowing that anytime I saw her she was always telling how pleased she was with her children...Jonesbourgh,Tn.Will miss such a gracious lady.
08/28/2019
Theresa Bates Connolly
Dear Chris and Family, I do not live in the area any longer but do try and keep up with school mates. I am so sorry to hear about your Mother.
08/28/2019
Lee and Susan Chase
Chris, Joe and Jarred - so sorry to hear of your mom's passing. Please be comforted by the great life she lived. We will not be able to attend the wake Saturday, but please know you are in our thoughts and prayers.
08/28/2019
Lindsay Greenway
It was a great pleasure getting to take care of Mrs. Diehl she was such a wonderful sweet lady and my thoughts and prays are with the family.
08/28/2019
Missie (Perry) Barnett
Family - my father Wade Perry worked for Richard Diehl Trucking and always spoke highly of your mother and father and how they were such wonderful people. I am sorry for your loss. Prayers for comfort and peace.
So sorry to hear about the passing of Mrs. Diehl. You and the family will be on our thoughts and prayers.
08/28/2019
Terrie Francis Spiker
Chris and family...I am so sorry to hear of your Mom's passing. She and your Dad were staples in growing up in Jonesborough. Their legacy lives on in the family they raised so well. Prayers for you all.
08/28/2019
Carter & Dianne Everhart
It has been a pleasure through the years to have known Mrs. Diehl and worked for the Diehl family. She was one of the best dressed and well thought of women of Jonesborough. She will be missed by all who knew her. Our prayers go out to Chris, Joey, Jared and the family as they grieve the loss of this special lady.
Continuing to pray for your family; thank you for allowing us to care for your mother, she will be missed greatly by all of us here at Four Oaks.