08-14-2019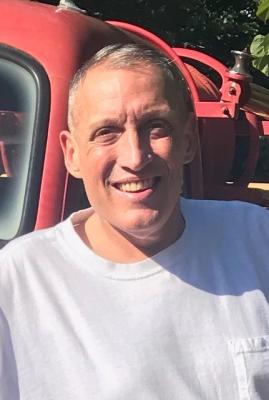 SERVICE SCHEDULE

Marion Shawn Laughrun, 54, entered heaven's gates, with his family and friends gathered round, at St. Thomas Rutherford Hospital, Murfreesboro, TN, on August 14, 2019. "Shawn" was preceded in death by his mother, Katherine Bell Laughrun, his paternal grandparents, Mr. and Mrs. A.M. Laughrun and his maternal grandparents, Mr. and Mrs. Virgil E. Bell, along with several aunts, uncles and cousins. He is survived by his parents, Bill and Glenna Laughrun, twin sister, Dawn Sparks (Kevin), sister, Shea Holder, brothers, Dustin Laughrun and Derick Cook (Amy), along with his nieces and nephews, Lauren and Hannah Sparks, Mattison (Trevin) Ayers, Jake and Autumn Holder, Jagger Laughrun, and Isaac Cook, several cousins, aunts and uncles, and a beloved Maltese niece, "Honey Beth," as well as many close friends.
Shawn was a kind, gentle and humble man with a compassionate servant's heart. He enjoyed baking, housekeeping, Christian music and spending time with his precious friends and family. He was a fun-loving, talented man, played piano, danced with Gay Whitt School of Dance, participated in youth leadership, handbell choir, youth and adult choirs at First Baptist Church, Jonesborough, Tn., and the music and drama programs at David Crockett High School. Shawn received his LPN from Johnson City Vocational School in 1987, was awarded Nurse of the Year at NE TN Rehab. Hospital in 1997, and worked at ETSU Physicians, Northside Hospital, JC Internal Medicine, Four Oaks Nursing Home, and Red Lobster. His patients and customers loved his outgoing personality and excellent care.
Shawn enjoyed the beach and spent time in SC, CA and NC, before coming back to Tennessee to be near family. He loved inspirational quotes and often clipped and quoted Bible verses, stories, poems, and recipes. His favorite was "Desiderata" which he quoted often. (https://www.desiderata.com/desiderata.html)
Shawn is an alumni of Bethel Colony of Mercy and RLMO ministries. He was of the Baptist faith and attended New Vision Baptist Church, Murfreesboro, TN. The family wishes to thank the staff at St. Louise Clinic and Dispensary of Hope, Murfreesboro, TN, Vanderbilt CCU, and St. Thomas Rutherford ER, Hospital, and CCU, for their tender loving and expert care, specifically Julie Honey, FNP, and Dr. Paul Buechel.
The family will receive friends Sunday, August 18, 2019, at Dillow-Taylor Funeral Home, Jonesborough, TN, from 2:30-4:00 p.m. Graveside service will follow at Fairview Cemetery, Jonesborough, TN, officiated by Rev. Dava Lee Russell. A Celebration of Life will be held in Murfreesboro, TN, at a later date.
In lieu of flowers, if preferred, donations may be made in his memory to: St. Thomas Rutherford Foundation, 1700 Medical Center Pkwy, Murfreesboro, TN, 37129, c/o: St. Louise Clinic.









Would you like to leave an eulogy or condolence for Marion Shawn Laughrun? If so, simply click HERE
EULOGIES & CONDOLENCES
08-22-2019
Lorrie Stewart
My thoughts an prayers for the family i reamber him an the school bus he always had a smile on his face.
08-20-2019
Michelle Mays-Small
I am so sorry for your family's loss. I remember Shawn as a smiling face with a joy for life. He was a wonderful example to all. I can still hear his laughter and see his beautiful smile and I will never forget his soup diet. I hope all your wonderful memories will help carry you through this very difficult time.
08-20-2019
Tim Campbell
To Dawn and the entire family, Please know that I am sad to hear about the passing of Shawn. We attended ETSU together and I have many fond memories of that time. Shawn was a great guy. I am grateful for the times we laughed and shared happy times together. He truly loved his family very much. I will always remember his wonderful spirit and contagious smile. Thank you, Shawn, for always being so kind to me.
08-19-2019
Rob Boone and mother Nora
You will surely be missed by all who knew you. I am sending prayers and love on the wings of angels to all of your family. I know you and Katherine are dancing and celebrating together again. RIP dear friend!
08-18-2019
Yvette Font
To the family of Shawn Laughrun: My deepest condolences to you and your family but especially to my bestie Shawn who I will miss immensely. Shawn thank you for always being there for me. The Font family
08-18-2019
Donna Brumit
Beautiful tribute video. You have so many wonderful memories. So sorry for your families loss. Shawn was a great person. Praying for your family now and in the days ahead.
08-18-2019
Mark & Kathy Shelton
We are so sorry to hear of your loss. We know Shawn will be greatly missed by all who loved him. We will be keeping all of your family in our prayers during this sad and difficult time. Much love to each of you.
08-17-2019
Don Harris
I'm so sorry for your loss. Prayers are with you during this time.
08-17-2019
Helen Campbell
my thoughts and prayers are with all the Family he was a very talented young man may he rest in peace my sympathy
08-17-2019
Debbie Roberts Higgins
Dear Dawn & Family, I remember Shawn always so sweet and kind.We went all thru high school together and I had the pleasure of running into again a few times down here in Jonesborough.He was indeed the kindest and sweetest person always smiling , always.And He s entered into Heaven s Gate before us.It saddens me to hear of this loss so very much.Because Shawn was a true friend to everyone he ever met if he liked you and Shawn liked everyone that ever came into contact with him if you were a good person.See Shawn had this way of telling if you were good or bad and he never hung out with the bad.He D Pray for you though this I know.Dawn You and My Family are truly in My thoughts and Prayers and We 'll see Shawn again one day In front of Heavens Gates always wearing that famous smile. Love and Prayers to the Entire family especially to My Beautiful Friend Dawn Laughren and her family From Mrs.Debbie Roberts Higgins
08-17-2019
Debbie Roberts Higgins
Dear Dawn & Family, I remember Shawn always so sweet and kind.We went all thru high school together and I had the pleasure of running into again a few times down here in Jonesborough.He was indeed the kindest and sweetest person always smiling , always.And He s entered into Heaven s Gate before us.It saddens me to hear of this loss so very much.Because Shawn was a true friend to everyone he ever met if he liked you and Shawn liked everyone that ever came into contact with him if you were a good person.See Shawn had this way of telling if you were good or bad and he never hung out with the bad.He D Pray for you though this I know.Dawn You and My Family are truly in My thoughts and Prayers and We 'll see Shawn again one day In front of Heavens Gates always wearing that famous smile. Love and Prayers to the Entire family especially to My Beautiful Friend Dawn Laughren and her family From Mrs.Debbie Roberts Higgins
08-17-2019
Betsy Lynch
Dawn and Family, We are so very sorry for your loss. We are thinking of you all and keeping you in our prayers! Love, Lynch Family
08-17-2019
Jerry & Gay Whitt
Dawn & Family We are so saddened for the loss of our wonderful, talented, special "Shawn". He was truly one of a kind in his spirit and in the kindness and caring that he always showed to others. We were so very blessed to have known him and shared so many precious times with him. Our deepest condolences go out to all of of you. Our thoughts and prayers are with you during this time of grief.
08-17-2019
Sam & family
We are so sorry to hear of Shawn's passing.Our prayers are with you all. We love you.
08-17-2019
Debbie Williams
Thoughts and prayers for you and your family.
08-16-2019
Angela Gordon
My heart and prayers are being said for you and your family. May the Lord give you comfort and peace.
08-16-2019
Jerry Ford
So sad to hear of Shawn's passing. As we were growing up I always considered Shawn a great friend. It had been numerous years since I saw him but I'm sure he was the same Shawn with the same smiling face! My thoughts and prayers go out to all the family. You are such a kind and sweet family and I pray for peace and comfort for all. Just know in your hearts that our loss on earth is heaven's gain!
08-16-2019
Roy and Mary Emma Bell
We are saddened to hear about Shawn. Our hearts and prayers are with each of you. So shocking for family but blessed for him. He is safe in the arms of Jesus,and with his mother, Mamaw, Papaw and other family members. He was a very sweet and lovable person.
08-16-2019
Kimberly Garland Phipps
My memories of Shawn make me smile . I didn't see him often,but every time I did - he always had a hug and that beautiful smile .My prayers go with all of you ,as the days ahead will be heartfelt and tears will flow . Much love and Blessings to all of you ❤️