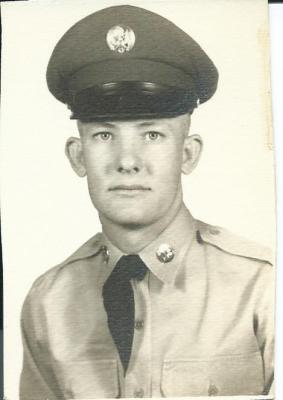 Mr. John Landon McInturff, age 75, Jonesborough, passed away Wednesday, August 14, 2019 at Johnson City Medical Center.
Mr. McInturff was born in Washington County and the son of the late Henry & Alice Hyatt McInturff. He was also preceded in death by five brothers and four sisters.
He was a member of Knob Creek Church of the Brethren.
Mr. McInturff served in the National Guard. He was a farmer and a vendor at the flea market.
Survivors include his wife, Brenda Crawford McInturff, Jonesborough; children, Becky Holt (James), John McInturff and Judy Lewis (Kevin); grandchildren, Erica Holt, Jessica Holt, Allie Lewis, Nicholas Lewis and Katie Lewis; great grandchildren, Kyra Holt and Brianna Holt; brothers and sisters, Shirley Elliott (Carl), Jane Story (Larry), Ray McInturff (Thelma) and Jerry McInturff; and several nephews and nieces.
Funeral services will be conducted 7:00 pm Saturday, August 17, 2019 at Knob Creek Church of the Brethren with Rev. Bill Ponder officiating. The family will receive friends from 5:00-7:00 pm Saturday prior to the service.
Interment services will be conducted 2:30 pm Sunday, August 18, 2019 at Monte Vista Burial Park.
Pallbearers will be Ben Neal, Mark McInturff, Mike McInturff, Jason Story, Carl Elliott and David Elliott. Honorary pallbearers will be Frankie Sell and Harold Hollifield.
In lieu of flowers, memorial donations may be made to Washington County Animal Shelter 3411 N. Roan Street Johnson City, TN 37601.
08/18/2019
Marvin and lisa Byrd booth 26 flea mkt.
known Landon and family many years.our prayers and condolences go out to all the family we know Brenda becky and daughter at the flea mkt.so sorry for you loss.Marvin and Lisa Byrd
08/16/2019
Kyleen Chinouth Kelly
Dear McInturff family, So very sorry to hear of Landon's death. He was always friendly to our family and fond memories of years ago on Knob Creek Road where we all grew up. The Chinouths and McInturff's were family with Uncle Jay and Aunt Dolly and our prayers for precious memories to give you all peace. I am sorry I live in Kentucky and can't be there in person. Mother doesn't get out in public anymore but she wanted me to write this note. God Bless, Sue and Kyle Chinouth families