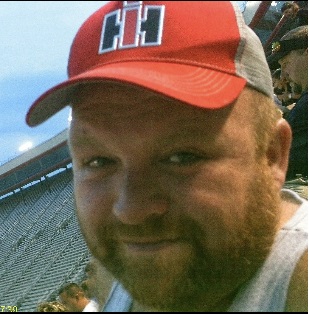 Mr. Jimmy Lynn Booth, age 48, Limestone, passed away Thursday, August 8, 2019 in Jonesborough from injuries sustained in an accident. However unexpectedly it was and as saddened as we are, he is finally with his dad and best friend farming and working on trucks in heaven.
Mr. Booth was born in Unicoi County and the son of Billie Patricia Brooks Booth of Erwin and the late Jerry Lynn Booth. He was also preceded in death by a close friend, Travis Cloyd.
He was of the Christian faith. He was loved by all. He had a heart of gold, always going out of his way to help anyone. He loved farming as much as breathing. As devastated as we are, I am sure the reunion in heaven between Jerry and Jimmy was very sweet.
Mr. Booth worked at Hexpol as a Mixer/Operator.
In addition to his mother, survivors include his wife, Torie Booth, Limestone; three sons, Alex Booth, Blaine Booth and Bo Booth; step-mother, Jane Booth; sisters, Susan Booth (Bruce), Kathey Coggins (Nathan); and many special nieces, nephews, cousins and friends.
Funeral services will be conducted 4:00 pm Sunday, August 11, 2019 at Cherokee Baptist Church, 143 Mayberry Rd. Jonesborough, TN 37659, with Rev. James Cambron officiating. The family will receive friends from 1:00-4:00 pm Sunday prior to the service at the church. Graveside services will follow at Cherokee Baptist Cemetery.
Pallbearers be Josh Bennett, Logan Lane, Frank Walters, Brandon Fender, Mike Constable, Bobby Keith, Josh McCurry, Will Beagle, Nathan Coggins and Keith Ervin. Honorary pallbearers will be the staff of Hexpol Compounding and Bruce Range.
Memorial donations may be made to Isiah House or St. Jude's 501 St. Jude's Place Memphis, TN 38105.
08/12/2019
Darlene Treadway, Carter
Susan I am so sorry to hear of the passing of your brother. Sending prayers for you and your family during this time.
08/10/2019
J.Shannon Zukas
A very good man with a great heart,just like his dad..Great Memories of our school days..Always fair to work with down at the Sawmill..prayers for the family.
08/10/2019
Heather Carver
Torie my thoughts are with you and those boys. Prayers for your entire family
I am so sorry about Jimmy. He was a fine man. I'm praying for all and my heart is breaking for you. I love the video, Jimmy loved his family and life. Continuing in prayer and sending much love. Love, Aunt Morty
08/10/2019
Howard and Betty Gillis
So sorry to hear of Jimmy's passing. Our thoughts and prayers are with your family.
08/10/2019
Anne Booth McCarver
Kathey and Susan, I am so sorry for the loss of Jimmy. I always remember him for his wonderful smile and humor growing up. He was Uncle Jerry through and through. My thought and prayers are with all the family. Love to all, Anne Margaret
08/10/2019
Marianne and Roland Oligny
We are very saddened to hear of your tragic loss. Our prayers are with you. Sincerely, Marianne and Roland Oligny
08/10/2019
Cindy (McIntosh) Lewis
Susan & Kathey, I am so sorry for your loss. I remember Jimmy when we were growing up. He always had than smile on his face just like your Daddy always did. My thoughts are with you during this time.