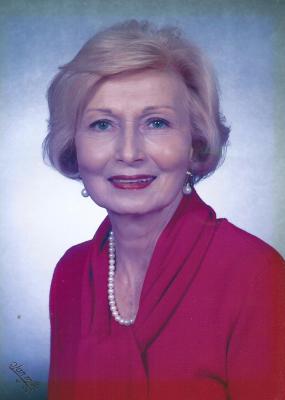 Barbara Blazer Bull, 82, of Jonesborough, passed away on August 7, 2019, with her family by her side.
Born in Cocke County, Barbara graduated Parrottsville High School in 1954. Barbara married her beloved Donald Bull, on December 22, 1954, and they spent over 64 years together, hand-in-hand, creating a beautiful family and legacy together.
Barbara attended Knoxville Business College and worked at Home Federal Savings and Loan, Gordon Furniture, then Farm Credit Services until her retirement in 1999. Barbara and Don moved to Jonesborough in 1959, and she joined Jonesborough United Methodist Church, where she was a devoted member until her death. She fellowshipped with dear friends as a member of the Sarah Mayes Women's Circle and Emmaus Reunion Group.
Barbara will be lovingly and forever remembered by her husband, Donald Bull, her daughter, Donna Malone (Steve), her grandchildren Allison Cotton (Ian), Stephanie Malone, Eric Bull, Gregory Bull, Bradley Bull, and Rachel Bull, her great-grandson, George Cotton, her sister Virginia Sheldon, and her brother-in-law Marcus Neas. Barbara will also be remembered by her numerous nieces, nephews, extended family, cherished friends, and her Jonesborough United Methodist Church family. Barbara was preceded in death by her parents, Cloyd and Ruby Blazer, her sister Mary Neas, her son, David Bull, and her daughter-in-law, Jamie Bull.
Known to her family and other loved ones as "Mommy Mommy," Barbara exemplified Christian love and service to her family, her friends, her church, and anyone who met her. Quick to show kindness and affection through word and deed, Barbara brought joy to those around her with a smile, a squeeze, a handwritten note, an apple pie, a laugh, and a kiss. She has left an unfillable space in the hearts of her family and her community, and is loved forever.
A graveside service will be held on Saturday, August 10, at 11 a.m. at Monte Vista in Johnson City, followed by a Celebration of Life service at Jonesborough United Methodist Church at 5 p.m., officiated by Pastor Karen Lane. The family will receive friends at the Church prior to the service from 2-5 p.m.
In lieu of flowers, donations may be made in Barbara's memory to the Jonesborough United Methodist Church Memorial Fund and Holston Home for Children.
08/12/2019
Ransom and Elizabeth Wiley
Don, We are sorry for your loss. Ransom and Elizabeth Wiley
08/10/2019
Jerry & Pam Love
We just heard that Barbara had passed away. It breaks our hearts. My husband Jerry worked with Barbara for several years at FCS. She was very special to us. She will be missed by everyone who knew her. She and Don were an awesome couple. They showed Christian Love and fellowship to so many. Prayers for all the family.
08/09/2019
Kyleen Chinouth Kelly
Dear Don and Family, Barbara was a special lady who always had a smile on her face. She was so helpful to our family at the FARM CREDIT BUREAU many years ago and we will always appreciate her friendliness and kindness. May precious memories give you peace and comfort. The FAMILY OF KYLE AND SUE CHINOUTH LANDMARK FARM
08/09/2019
Jack & Jill Leonard, Jr.
She was such a sweet, kind and special lady! The Bull family is in our thoughts and prayers. We are so very sorry for your loss. God's peace and strength during this time. Jack & Jill Leonard, Jr.
08/09/2019
Ronnie Sartain
What a blessing and joy to have known Ms Barbara for many years. You just couldn't help loving her because she loved you first. Glad to call her co-worker and friend. Praying our Lord Jesus' comfort and peace on Don and all the family during these days. And the most wonderful promise is we will see Ms. Barbara again! God Bless you all! Ronnie & Sheri Sartain
08/09/2019
Brian Cutshall
Barbara was a sweet, delightful woman. She was always kind and always somebody you wanted to talk with after you saw her walk into the room. God bless all those who loved Barbara.
Don I am heartbroken to hear about Barb. A true friend all the years we worked together at Farm Credit May God comfort you.